How Bustle is using Pollfish for Content Creation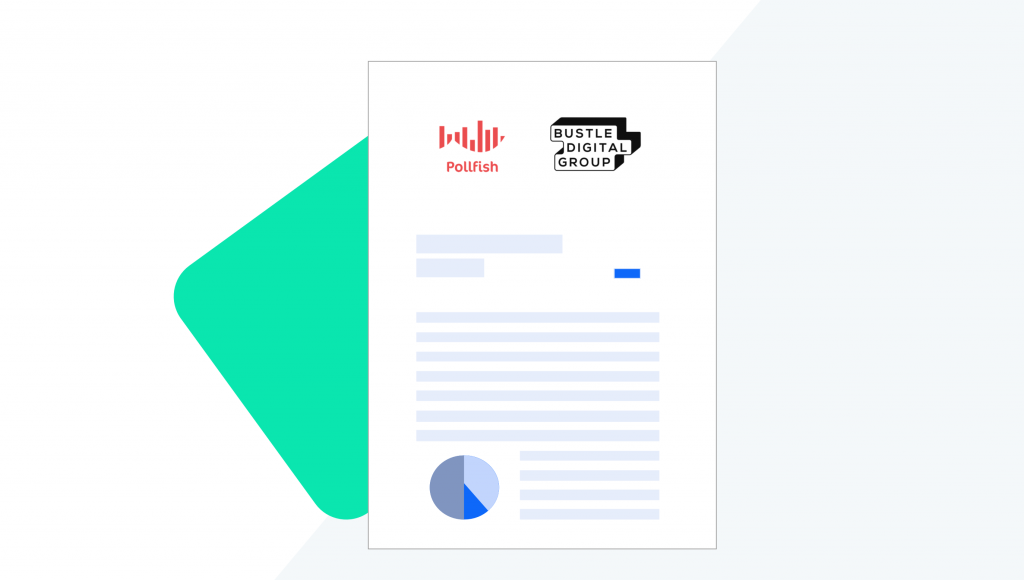 At its core, content creation is about using and designing the right content types and stories to connect a brand with its target audience. Storytelling, although always a part of human history, has evolved significantly due to technology, access, and channels by which we consume media today. 
The Challenges in Modern Content Creation
With more ways to find and consume content than ever, along with professions such as content marketers, influencers, and podcasters dedicated to using content to build a deeper connection between consumers and brands, it can be difficult for brands to cut through the noise to reach their target audience. 
Consumer behavior has also shifted from choosing products or services based solely on popularity. From where we eat to what we read, consumers use their wallets and social media platforms to express their beliefs and affiliations, meaning brands that want to stay relevant need to create content strategically.
Creating content that matters
Instead of pushing products or services, many brands have found that building authentic content is the best way to build trust with their target audience and differentiate themselves from competitors. 
Examples include campaigns to align the brand with causes and movements that their target audience cares about, educational content to help them get the most from the product—even admitting their position in the market to present a transparent, trustworthy brand. 
Building trust is even more essential for media companies who produce content for their readers to keep them informed and entertained. With so many sources for news and entertainment available to consumers, only companies that successfully connect with their audience in a meaningful way are able to maintain a competitive presence in the digital media landscape. 
Content Strategy at Bustle Digital Group
Bustle Digital Group is a digital media company that has this approach figured out. The brands that make up Bustle Digital Group are all unique and unconventional, focusing on a distinct tone, interest, and following. Their approach to content creation is to develop content that focuses on the interests and behaviors of the niche audiences for each brand, rather than producing content for the masses.  
They use research to dive deeper into understanding the target audience for each one to determine the type of content they should be producing, the stories they should be telling, and what their audience is looking for. 

Content creation research 
Bustle Digital Group has multiple ways of gathering data to be used for content creation. Their in-house insights team uses an internal panel of their readers to investigate what their most loyal readers are reacting to, what they care about, and for deeper, behavioral information that helps them determine storylines that resonate.
The insights team also conducts research using third-party tools, such as Pollfish, to help them uncover trends and reach new audiences who may or may not be current readers of their content. 
Using a mix of methods to research themes, trends, and ideas leads to a complete picture of Bustle's target audience that they can create impactful content for.
How Pollfish powers Bustle's content creation
BDG uses Pollfish to gather data that can't be obtained from their readers, which can include discovering new topics they want to cover or building out editorial pieces that they already know they plan to create. 
Credible reporting
The insights team uses Pollfish to dive deeper into specific topics that their journalists want to report on, such as learning more about how mothers were impacted by the Coronavirus in a long-form piece for Romper, one of Bustle Digital Group's brands.  
Romper's authors already knew that their readers would be interested in learning how mothers like themselves were being impacted by the coronavirus. To build the article's credibility and impact, they chose to use Pollfish to survey 2,000 mothers across the United States to learn more about the topic. 
Using Pollfish's targeting capabilities, massive audience reach, and variety of question types, the insights team was able to effectively reach a representative sample of mothers and learn new information about a developing crisis, resulting in detailed data that authors used to create 7 infographics throughout the piece. 
New trends and topics
Insights gathered from Pollfish surveys have also revealed new topics that journalists can cover. The Bustle Digital Group brand aims to develop content for progress and change, and being able to share the stories of underrepresented audiences is a part of that process. 
When the insights team at Bustle Digital Group conducted a 2,000 person survey to learn more about niche audiences being affected by the COVID-19 pandemic, they uncovered unexpected trends that led to pieces that they otherwise may not have written. 
One example was discovering that people believed that there was a social responsibility to support the greater good, yet not all groups have access to amenities that would make this possible, such as indigenous people living on reservations struggling with access to clean water during the pandemic. This sparked an insightful piece that shed light on an audience often neglected by other media outlets. 

Content types to focus on
Although the Bustle team often already knows which types of content they want to produce, they also use Pollfish to validate that they are on the right track or define what is needed when they aren't sure. 
During COVID-19, Bustle Digital Group wasn't sure whether their readers would want fun, distracting content pieces or more in-depth reporting on the pandemic. By asking questions about their readers' mental health and what they might desire to help them during this time, Bustle was able to develop the right balance of informative and entertaining content during the global pandemic.
Content creators across all industries and experience levels can benefit from research being a part of their content creation process. Using Pollfish, Bustle Digital Group was able to get the insights they needed to make a difference and stay on brand rapidly and cost-effectively, even during a difficult time. 
To use insights in your own creation process, create a free account with Pollfish and start building your own survey to learn what matters most to your target audience. 
---
Do you want to distribute your survey? Pollfish offers you access to millions of targeted consumers to get survey responses from $0.95 per complete. Launch your survey today.
Get started