Diving Into the Competitor Survey for All Competitive Analyses

All businesses should deploy the competitor survey periodically, to keep a watchful eye on their competitors and their target market's perception of their competitors. Competition is alive and well across every vertical, so it is critical to stay in the know on this front. 
94% of businesses are investing in competitor intelligence and for good reason, as one of the main reasons why businesses lose their customers is because customers abandon them for their competitors. 
In fact, 89% of customers switched to doing business with a company's rival due to poor customer service. As such, all businesses must strive to surpass their competitors in a variety of matters, from product satisfaction to customer convenience. 
That way, they can build brand trust to arm themselves against customers abandoning ship. 
This article examines the competitor survey, competitive analysis, its importance, when to use the survey and how to create one. 
Understanding the Competitor Survey
The competitor analysis survey is a critical online survey that helps businesses across industries understand their competitors' business performance, especially in comparison to themselves. 
This survey is the leading tool in competitor analysis, which is the practice of identifying your competitors and evaluating them on their strategies, target market perception, strengths and weaknesses and other key characteristics relative to your own. 
Competitor analysis allows you to assess and fully understand your market in terms of its key players. It also grants you insight into your own standing and how you compare with your direct contenders. 
Competitor analysis helps you assure that you're allotting resources in productive ways by understanding your competitors, what has worked efficiently for them and what hasn't. It assures you don't fall behind and keep up with them, whether it is through product improvement and innovation, customer support, CX and all else.  
The competitor survey helps you understand your competitors through the perceptions of your target market. After all, it is your customers whose opinions matter most and you'd be hard-pressed for an employee in your rival company to reveal trade secrets — or any at all. 
However, you can still gain competitive insights by surveying certain competitors with B2B surveys. This is especially useful in business partnerships. While you may not get access to your direct competitors, you can still collect crucial information from indirect competitors that help inform on the state of your industry and niche.
Given that competitive analysis is most productive when consistently conducted, you should deploy the competitor survey regularly. 
The Importance of the Competitor Survey
This type of survey has several advantages.
First off, by using this survey, you get access to firsthand insights from your customers, allowing you to glean all of their opinions on your competitors' performance. Whether it comes to their brand messages, products or CX, this survey gives you a clear view into how they see your business rivals.
As such, you can use this survey to form a comparison between you and the competition. You can do so by asking your respondents to choose their favorite brand in a list and include your brand. You can also ask them to rate each brand by using a ranking question.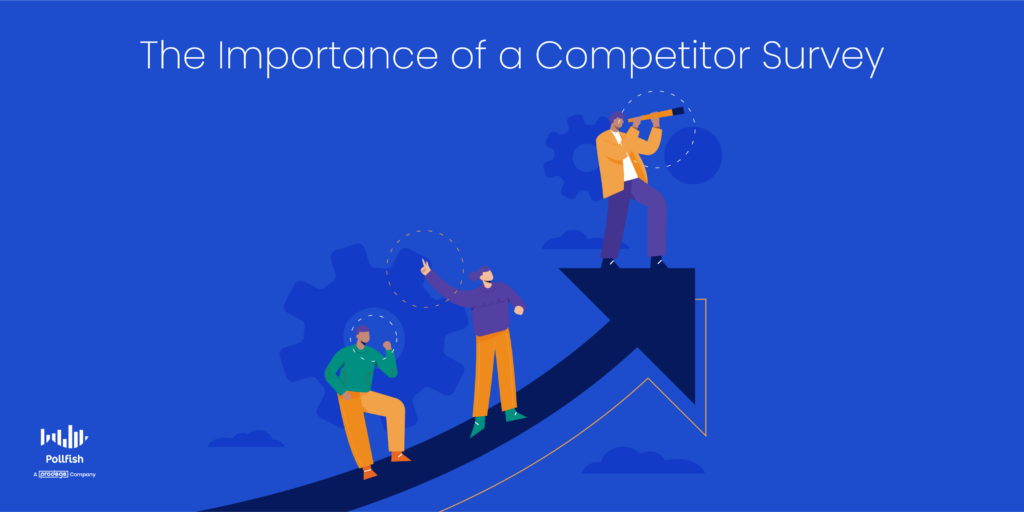 Additionally, this survey grants you key data into your customer behavior as it relates to your contenders. In this regard, you can survey customers on where they buy from your competitors,' how they shop from them, how often, whether they'll buy more during a certain event (ex: promotion) and more. In this way, you can create a kind of RFM analysis from this kind of survey. 
It allows you to conduct competitive research by keeping track of your competitors through the eyes of your customers. Essentially, it is a kind of brand tracking, but instead of focusing on how your own brand is perceived, the spotlight is on your counterparts — unless of course, you explicitly ask questions that compare you to your rivals. 
By understanding what your target market likes and dislikes about how your competitors operate, you get a twofold advantage. Firstly, you'll generate ideas on how to run marketing campaigns, how to innovate your products, augment your customer support and improve across your entire customer experience. Secondly, you'll also know what to avoid and do away with, based on what your customers view unfavorably about your opponents. 
In regards to the former, you'll also form ideas on how to target and acquire new customers, which has the potential to lower your customer acquisition cost. This is because you'll be armed with data for decision-making, the kind that shows you exactly what your target customers want and expect. 
When to Use a Competitor Survey
There are various times to implement the competitor survey for your competitive analysis. These often depend on your marketing campaigns and the time of the year. The following includes several opportune times for deploying this kind of survey.
Shortly after your competitor(s) release new products or services.

During heightened times of customer attrition. For example, when you notice high bounce rates on product and landing pages, along with customers abandoning their shopping carts.

Shortly after you released new products, a new campaign or content.

This can include new services.

This can also include new website experiences, whether you offer a new subscription, UI elements, etc. 

During an

in-home use test

.

One of many

market research techniques

, this allows companies to understand how their target market interacts with their products before they officially launch them.  

It grants businesses to understand how their customers use their products in natural settings instead of at customer facilities. 

Before launching a new product or innovating on a product idea.

You should be aware of similar such products from your competitors along with your customers' opinions of them.  

This way, when forming new products as well as post-production but before they go to market, you will understand how to best market them.
How to Create a Competitor Survey
To create a competitor survey, you will first need to work on another aspect of competitor analysis: identifying your competitors. This requires doing some secondary market research. A good starting point is to google the products sold within your niche. 
Pay attention to the first and second-page rankings of the SERP (search engine results page). Additionally, take a look at the ads that show; these will appear at the very top of the SERP and are marked by the word "ads."
When you google the common offering found in your niche, you'll notice some competitors will rank for content aside from only the products and services. Some of these will take the form of a featured snippet. This kind of positioning places content above the very first search engine result.  
Instead of appearing as a link and meta description, the snippet extracts more information from the page it's highlighting. As such, the extracted content will be longer.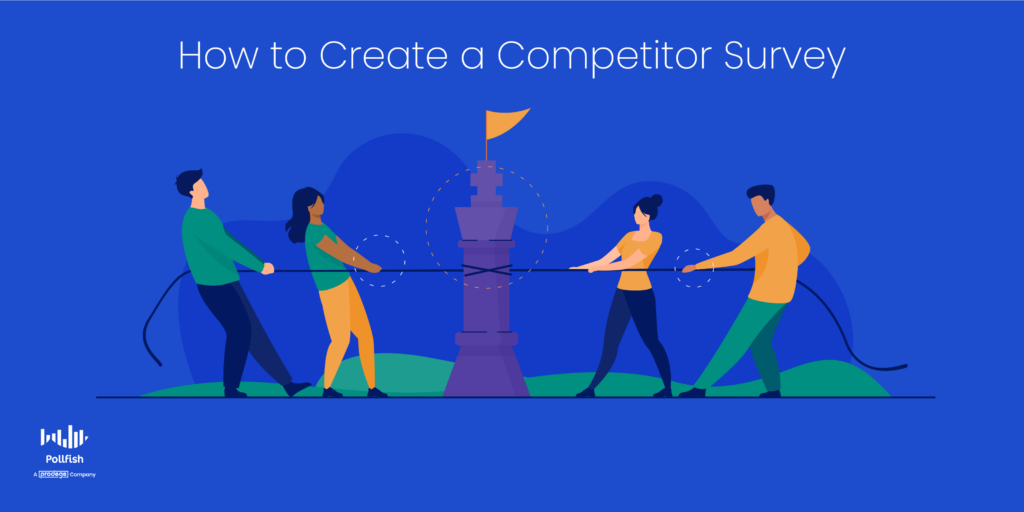 Companies that land feature snippets perform well in terms of SEO. As you're gathering your list of competitors, you can move on to the following steps, which guide you on how to create the competitor survey:
Put together a list of at least 10 competitors, including indirect competitors.

Start by understanding how customers feel about them by targeting your various market segments and

customer personas

in a preliminary competitor survey.

In this survey, conduct

brand awareness

research on your competitors to see whether your customers know about their existence before you probe any further.

This will keep your survey short, which is a general survey best practice.

Next, choose a particular theme and campaign for the survey study.

It can be based on a new product your competitor released, a seasonal campaign, or one with general questions about how customers feel about it. 

Use the above section on when to use this survey to provide some ideas on when to launch its study and what to base the study on. 

Create several key questions based on the theme of the study.

Deploy your survey at a favorable time. 

Learn about the best time to send a survey. 

You should send it to a vast publishing network, along with identified, individual customers.

Analyze your survey results.

Decide whether you need further information and if you do, create a follow-up survey. 

Choose another theme for the survey.

There are plenty of topics to base your survey on, such as testing the brand trust of your contenders or for

brand tracking

. 

Analyze and iterate if need be. 

Then, make decisions based on your customer data.
Staying Ahead of the Competition
To remain competitive, you'll need to conduct a competitive analysis of your competition. You can easily achieve this with survey research. The key is to find a stong online survey platform to carry out your research and present it in a way that's most convenient for you. 
As such, you should use an online survey platform that makes it easy to create and deploy consumer surveys. It should offer random device engagement (RDE) sampling to reach customers in their natural digital environments, as opposed to pre-recruiting them. 
You should also use a mobile-first platform since mobile dominates the digital space and no one wants to take surveys in a mobile environment that's not adept for mobile devices.  
Your online survey platform should also offer artificial intelligence and machine learning to remove low-quality data, disqualify low-quality data and offer a broad range of survey and question types.
The survey platform should offer advanced skip logic to route respondents to relevant follow-up questions based on their previous answers. It should also make it easy to form a customer journey survey to survey your respondents across their customer journeys.
Additionally, it should also allow you to survey anyone. As such, you'll need a platform with a reach to millions of consumers, along with one that offers the Distribution Link feature. This feature will allow you to send your survey to specific customers, instead of only deploying them across a vast network. 
With an online survey platform with all of these capabilities, you'll be able to gain useful insights on your competitors from your target market.
---
Do you want to distribute your survey? Pollfish offers you access to millions of targeted consumers to get survey responses from $0.95 per complete. Launch your survey today.
Get started