Driving Demand with Market Research Software
Driving demand is a constant need for all businesses, whether you operate a fledgling startup, or a long-established company. As one of the central goals that ensure business success, driving demand through lead generation is a top priority for marketers.
That's why you need to focus your marketing efforts on an agile research strategy, the kind that doesn't merely provide consumer research, but enables you to take meaningful action. Ideally, the actions you take should be effective in heightening the demand of your business's offerings.
In fact, 44% of marketers say that measuring the ROI of their demand generation initiatives is their top priority for 2021. While it is important, driving demand has its fair share of challenges.
This article explains how the correct market research software can be used for driving demand, whether it is for a product, a subscription, a service, or an experience.
The Importance of Driving Demand
Driving demand goes far beyond merely mustering desire, as it involves all feelings of interest and attraction from the customers towards a company. When businesses drive demand, they are improving across other key marketing functions and strategies.
A business with high demand requires funneling less attention and resources to brand awareness, as a significant portion of its target market doesn't just already know about the business, but desires it in some way.
Additionally, businesses that excel in driving demand have larger levels of brand equity, the idea referring to the value that a brand derives from the state of having a recognizable name. When brands have high brand equity, they are well-known and achieve success. Businesses with high levels of demand thus produce equity, since, the more consumers seek it and its offerings, the more prominent it becomes in its market.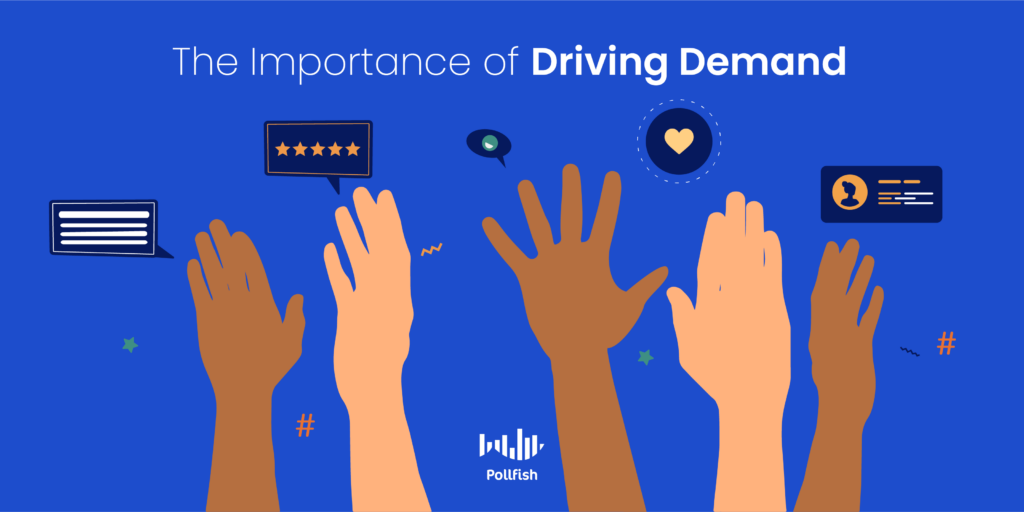 Brands with high demand also have a symbiotic relationship with cultural trends, in that these brands are responsible for forming new trends, as well as supporting existing ones. This too, raises a business's popularity and equity. 
What's more, is that when a business becomes culturally relevant, it becomes deeply ingrained in the minds of its target market, along with those who are outside of it, who may one day become customers. This is to say that this kind of brand becomes harder to forget, thereby springing to mind when a customer thinks of their needs or a cultural trend. 
Finally, when a brand exceeds in driving demand, it is building a relationship with its customers, paving the way for consumer loyalty, in which a target market chooses one brand over others in the same niche. This is especially important when it comes to establishing customer retention, which is more profitable and less expensive than customer acquisition.  
When a business secures its customer retention within its customer base, it is able to increase the customer lifetime value (CLV) of many of its customers. This value expresses the profitability a customer will provide for a brand within their entire relationship with a business. As such, brands must first retain their customers, so that they build their CLV. 
Driving Demand Across Various Functions
Driving demand is not merely a product-centric concept. On the contrary, it deals with generating conversion-bent desires and interests within many company aspects across your target market. 
For example, some sources of demand include those found in your digital experience, such as a webinar you host, your social media content or your general site content. Additionally, demand can spring from other aspects of the customer experience, such as an enjoyable on-site shopping experience or interactions with your sales representatives.
The more functions and aspects for which you summon demand in your business, the stronger the demand for your company will be. 
Fortunately, the proper market research software will allow you to garner customer and general market intelligence that focuses on driving demand. Given that consumer surveys provide a wealth of insights into customer buying behavior, desires and much more, the key is to use a strong online survey platform that can easily draw out granular customer intelligence on demand in relation to your company. 
Understanding the Conditions & Functions for Driving Demand
As the prior selection explained, businesses can drive demand across various business functions and conditions. Given that there are many options for driving demand, your business ought to take advantage of as many as possible.
This is not just for the sake of profitability, as one business function may not yield the intended results as might another. Since these are business functions and conditions, they also contribute to other areas of business, working hand-in-hand with driving demand, but this is not their sole function.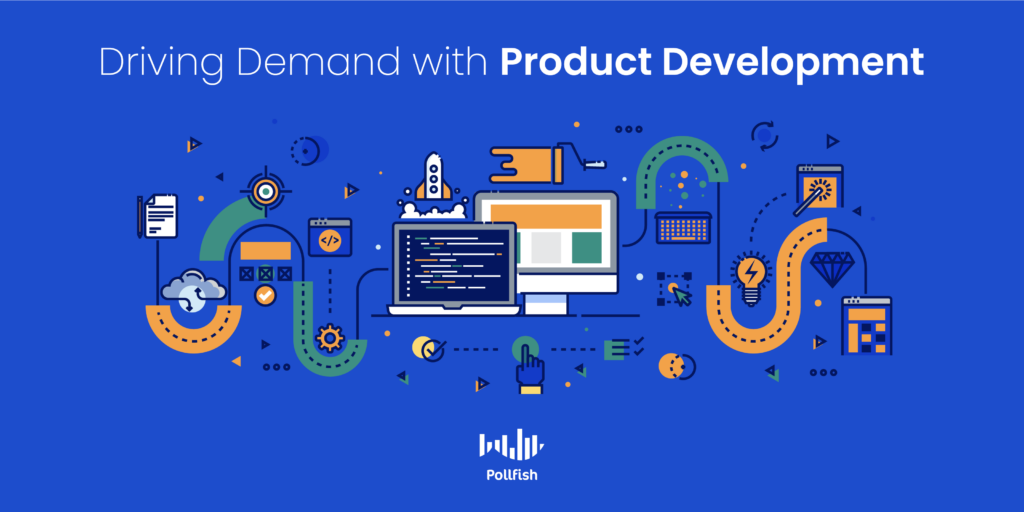 The following expresses all the different business functions and conditions that you can use to spike your demand. You can apply market research software to drive demand in all of these conditions:
Product

development

Before launching a product, you need to assure that it satisfies current market demands for it to achieve any success.

This involves taking part in the

customer development

process, a framework that dictates how businesses should bring a new product to market.

You can also quiz customers on their needs by running a

consumer survey

that focuses on their needs and feelings about current market offerings.  

Product innovation and enhancements 

Brands must examine how their current products are perceived, where they are lacking and how they can be improved. 

You can test the efficacy and all opinions of your current products via the

product satisfaction survey

.

Lead

generation

Generating leads is a must, as they are the key actors in the sales funnel, allowing brands to acquire more customers.

You can use

B2B surveys

for generating business, vendor and partner leads.

As for B2C leads, there are various marketing campaigns you can run, alongside market research campaigns to support them. This includes conducting

market research for advertising

. 

Customer

experience (CX)

This involves all the feelings that your customers develop surrounding their customer buying journey, including the pre-sales and post-sales stages.

CX also involves individual interactions with a company, including individual experiences. For example, a grand opening in-store event, an interactive content asset, virtual tours, etc. 

You can apply the

customer experience survey

to learn what customers seek and desire from their experiences with your brand.

Concept

Testing

A crucial aspect of establishing and marketing a new product, service or experience begins with

concept testing

, which allows you to gauge different concepts in relation to your target market.

You can apply

A/B testing

to your surveys to directly test concepts, should the online survey platform you use offer this in-survey feature. 

Marketing

Personalization

Marketing personalization allows brands to connect with their target market, learn what best speaks to it and allows brands to cater to it more effectively, as opposed to taking the generic route.

This drives demand, as

80% of customers are more likely to purchase when brands offer a personalized experience

.

You should rely on a

market research survey

to understand your target market on a deeper level, which will allow you to foster demand through personalization.

Advertising

and

Messaging

Advertisements and marketing collateral such as newsletters and website content propel consumers to make purchases.

These messages, especially advertisements, use sponsored content and persuasion to move the needle in demand.

Using market research software allows you to test ads before they launch, compare marketing messages and get a sense of what grabs your consumers' interest.
Staying Ahead of Your Competition with the Proper Market Research Software
To secure your business's success, you should never end your market research and marketing efforts with brand awareness and brand visibility efforts. 
Instead, you must drive demand, as this concept doesn't simply foster customer acquisition. Instead, demand powers your business by reinforcing the desires of your existing customers to continue patronizing your company and offerings.
Using market research techniques is an objectively potent approach to driving demand, as it allows you to study your target market and its various segments. Market research allows you to examine your customers' needs and desires, so that you can effectively push demand in all areas of your business, from your CX, to content, to physical interactions to the products.
To conduct market research, you need to use robust market research software, the kind that provides high-quality data and speed to insights. A good example of this is an online survey platform, the kind that offers a mobile-first approach for agile research, random device engagement (RDE) sampling to reach respondents in their natural digital environments, artificial intelligence and machine learning to disqualify poor-quality data and fraud and much more.
When you've implemented a market research tool with these capabilities, you will be able to obtain insights into all the functions and conditions laid out in the prior section, along with other areas of business that drive demand. 
---
Do you want to distribute your survey? Pollfish offers you access to millions of targeted consumers to get survey responses from $0.95 per complete. Launch your survey today.
Get started