How to Get Customer Referrals to Strengthen Your Business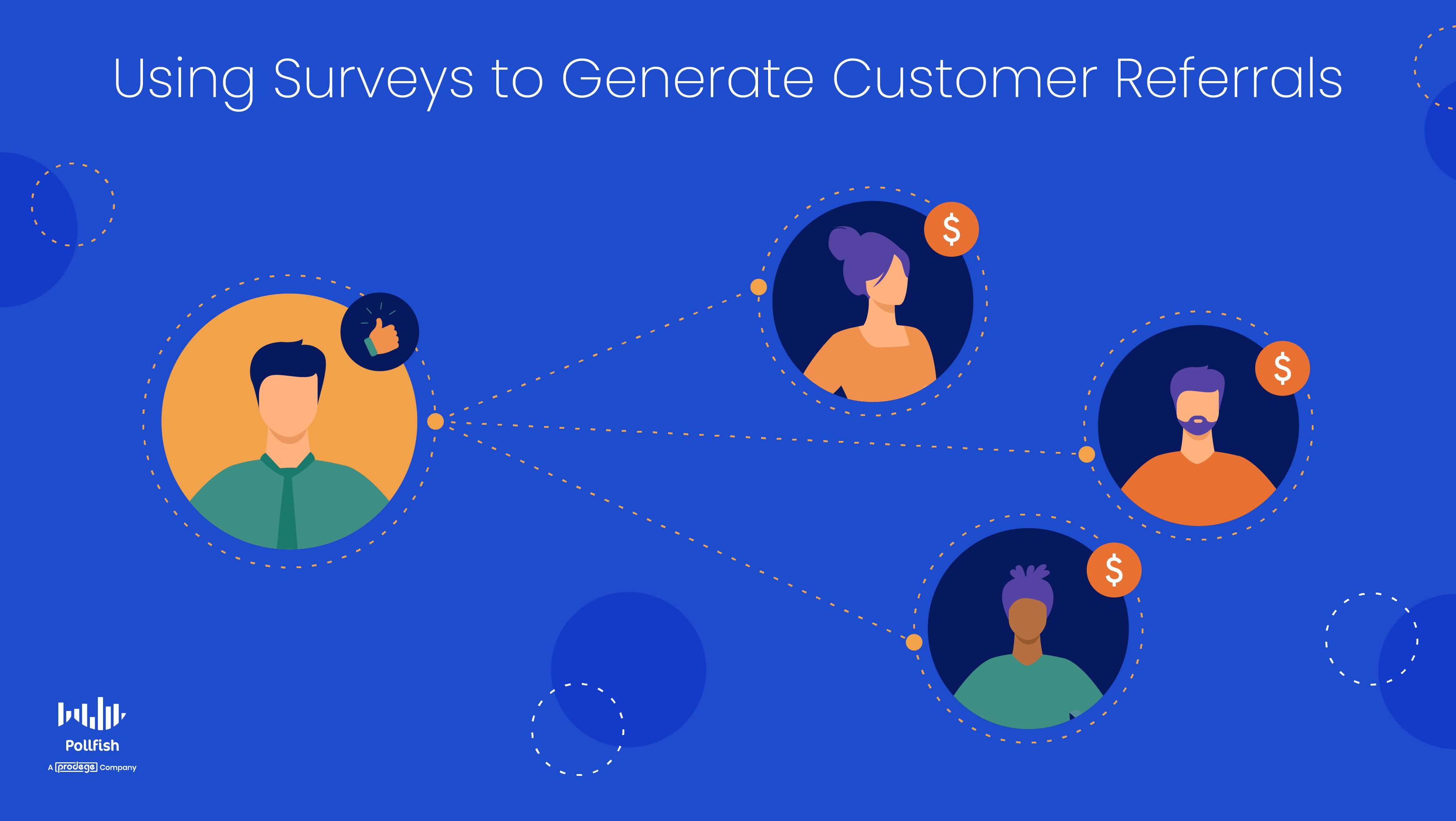 Customer referrals are one of the most powerful marketing and customer acquisition methods. They are especially effective for driving new business and even building consumer trust at the onset of customers' relationships with companies.
There is plenty of statistical evidence that proves these claims. Firstly, consumers are 400% more likely to become paying customers when they are referred. This alone shows how invaluable it is to foster customer referrals.
In addition, 92% of consumers trust referrals from people they know. As such, they are not just more likely to buy from a brand that was referred to them over one that wasn't, but are more likely to do so when someone close to them makes the referral.
As far as building trust early on goes, when customers are referred by other customers, they have a 37% higher customer retention rate. This points to trusting a brand, in that when customers themselves choose to stay with a company, they raise customer retention rate. 
Conducting surveys can help you gain referrals. 
This article examines customer referrals, including their importance, when to seek them out and how to obtain them via survey research.
Understanding Customer Referrals 
As their name suggests, customer referrals refer to the practice of customers — whether previous or existing — suggest a particular brand and its products and services to others. 
This is part of referral marketing, a kind of word-of-mouth marketing in which customers make recommendations to those close to them — this can include their friends, family, colleagues and other contacts (think social media followers) — about patronizing a company.
The purpose of gaining these referrals is so that those who your customers refer become new customers. As such, it is a method of customer acquisition. Although customer acquisition methods tend to be costly, customer referrals are usually done on a free basis, that is, if you've built up enough consumer loyalty and brand trust.
This is because when customers are happy with a company, they tend to share their positive experiences. In fact, 72% of customers will share a positive experience with 6 or more people. These can manifest as reviews, word-of-mouth recommendations, along with online referrals. 
Online referrals are just as crucial as word-of-mouth referrals, given the high percentage of people in the digital space, whether it is on desktop or mobile devices. Several examples of digital referrals include the following:
Positive reviews

Positive mentions on forums

Recommendations over text messages and chats

Customer testimonials 

This is especially important to show on your website and for B2B brands.

Positive comments on social media
Loyal and satisfied customers will be inclined to make free referrals. However, not all customer referrals are free of charge. Other kinds of customers may need convincing — that of the incentivized variety. 
In these cases, brands use a customer referral program, a kind of system that incentivizes customers to either recommend their products and services, or to actually bring on a new customer. The latter refers to customers having their friend or close one officially become a customer, either by making a purchase or opening up an account with a business. 
In either case, it is important to use this marketing tactic, as it grows your customer base.
The Value of Customer Referrals 
These referrals bring undeniable value to a business and not just for a fledgling business that lacks brand equity and a pool of customers.
First off, customer referrals lead to an increased sense of trust in a brand. This is because instead of relying on a celebrity who is  endorsed to speak positively of a business, the referral comes directly from the people closest to the customers. As such, they'll have a higher trust of a brand upon their awareness of it.  
This means that referred customers won't be as skeptical about patronizing a company as they would with a company completely unknown to them, or even with the ones they've heard about, but have no positive input on from the people close to them. 
Next, customer referrals prove to be extremely profitable for companies in the long term. If the statistical figures from the introduction of this article aren't proof enough, consider the following: referred customers' lifetime value is 16% more than non-referred customers. This is important, as it points to referred customers contributing to larger profits during their relationship with a business, also known as a customer lifetime value.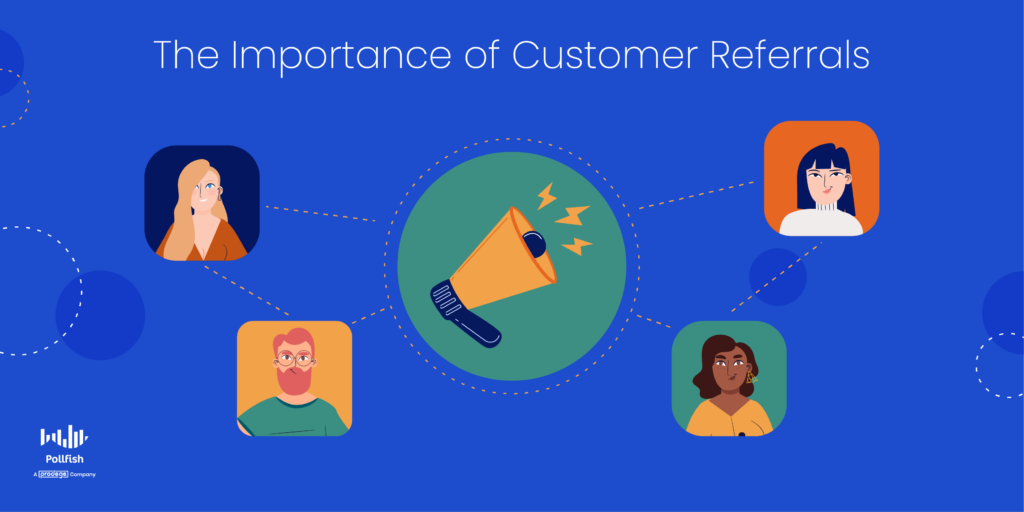 In addition, customer referrals relieve brands of the constant hurdle of customer churn, as they help lower your customer churn rate. This is because referred customers have an 18% lower churn than customers acquired by other means. This makes sense, given that their longer customer lifetime value is a marker of greater customer loyalty. Referred customers are between 16-24% more loyal than other kinds of customers, according to a study by the Wharton School of Business. 
Customer referrals are also important, as they are the action of brand advocates, which are crucial to sustain for the sake of your business. Brand advocates are not casual shoppers, rather they have high levels of customer loyalty, the kind that makes them advocate on a company's behalf for free. 
Brand advocates spread positive word-of-mouth messages and take part in other essentially free marketing services for a company, such as social media mentions and user-generated content. They also help spread brand awareness and allow your brand to uphold a good reputation. 
Most importantly, brand advocates promote a brand organically, which holds far more sway than a paid actor would have. As such, these kinds of customers are highly sought after for all kinds of businesses. 
Finally, given the fact that referred customers are more loyal at the outset of their relationship with a business, they are more likely to remain loyal. As such, they are less likely to leave a company. 
In this way, customer referrals help brands increase their customer retention, which is even more important than customer acquisition. That's because, among many other reasons, selling to a customer you already have is 60-70% more profitable.
When to Seek Out Customer Referrals 
You should aim to get customer referrals whenever possible, as they signify customer happiness, satisfaction and loyalty to your brand.  As such, you should present the referral opportunity wherever customers interact with your brand.
There are several times that are most favorable for obtaining referrals. The following lists some of the best times to seek them:
During an in-store purchase interaction.

If you ask your customers how they feel about the service or products and they've responded positively, consider asking them for a referral.

During a promotion, whether it is in-store or online.

This can pair with an existing promotion, meaning customers would be further incentivized if they refer a friend or family member. 

Leading up to a purchase

Use an incentive to lure customers into referring a friend or family member at key places leading up to a purchase, such as in the checkout.

Social media posts (but not frequently)

To keep this request novel and interesting, consider asking for referrals in your social posts a few times a year.

As part of a

survey campaign

. 

This is especially useful for customers you have targeted (rather than random respondents you deployed surveys to).

Those who provide positive responses are especially useful to request a referral to.
How to Get Customer Referrals With Surveys
You can increase or jump-start customer referrals for your business thanks to the prowess of online surveys. This is because in order for customers to be loyal enough to refer to your business, you need to satisfy them.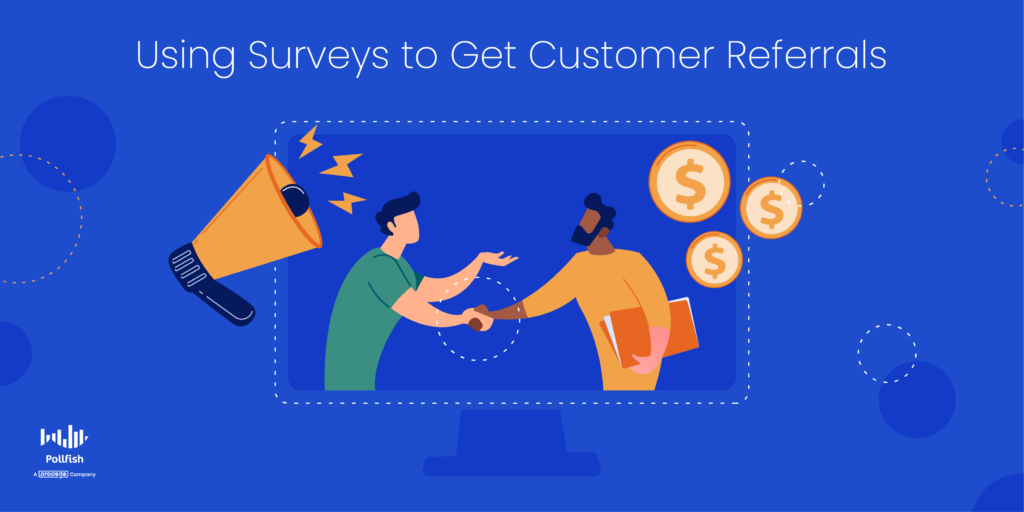 Customer happiness and satisfaction originate beyond merely a good product. Instead, you need to build trust by offering outstanding customer service, support, UX and general customer experience (CX). 
In order to keep up with ever-changing customer demands, you'll need to constantly keep watch of your customers. To do so, you'll need to run primary market research campaigns regularly. That's where online surveys come to the rescue. 
Surveys offer a quick and convenient way to gain all kinds of customer insights from your target market, along with specific individuals. The latter depends on the kind of online survey platform you use, as not all platforms offer the same capabilities. 
By using surveys, you'll know what to change in your customer experience, along with what is performing well. This helps you optimize a wide range of campaigns and other business undertakings. As such, surveys allow you to make constant improvements. But their utility goes beyond this.
You can also use surveys to gauge the likelihood of your customers to refer you to others. After all, you wouldn't want to ask unhappy customers to refer your company, as this may prompt them to instead speak ill of your brand. 
Use the following surveys to measure how likely your customers would refer you:
Even if you score low on these kinds of surveys, conducting further survey research can help you gain customer referrals. In addition, simply asking a follow-up question in which customers explain their score can help you improve your CX, thereby increasing customer satisfaction. This helps you build customer loyalty, the key ingredient behind customer referrals, especially voluntary ones.
When you consistently deliver a good product, service and experience, you are then on the correct trajectory to obtaining customer referrals. 
Targeting Your Most Valuable Consumers
Referrals provide some of the most valuable leads you'll ever attract. As such, you should work towards upping your referrals by studying your customers with market research. This way, you'll have a clear understanding of the consumer preferences, along with all that they find to be adverse. 
To do so, you'll need a strong online survey platform to carry out your market research campaigns. Use an online survey platform that makes it easy to create and deploy consumer surveys. It should offer random device engagement (RDE) sampling to reach customers in their natural digital environments, as opposed to pre-recruiting them. 
You should also use a mobile-first platform since mobile dominates the digital space and no one wants to take surveys in a poor mobile environment.  
The survey platform should offer advanced skip logic to route respondents to relevant follow-up questions based on their previous answers. It should also make it easy to form a customer journey survey to survey your respondents across their customer journeys.
Additionally, it should also allow you to survey anyone. As such, you'll need a platform with a reach to millions of consumers, along with one that offers the Distribution Link feature. This feature will allow you to send your survey to specific customers, instead of only deploying them across a vast network. 
When you use a survey platform that offers all of these capabilities, you'll efficiently increase your customer referrals. 
---
Do you want to distribute your survey? Pollfish offers you access to millions of targeted consumers to get survey responses from $0.95 per complete. Launch your survey today.
Get started