Accomplishing all Your Research Goals with Self-Service Market Research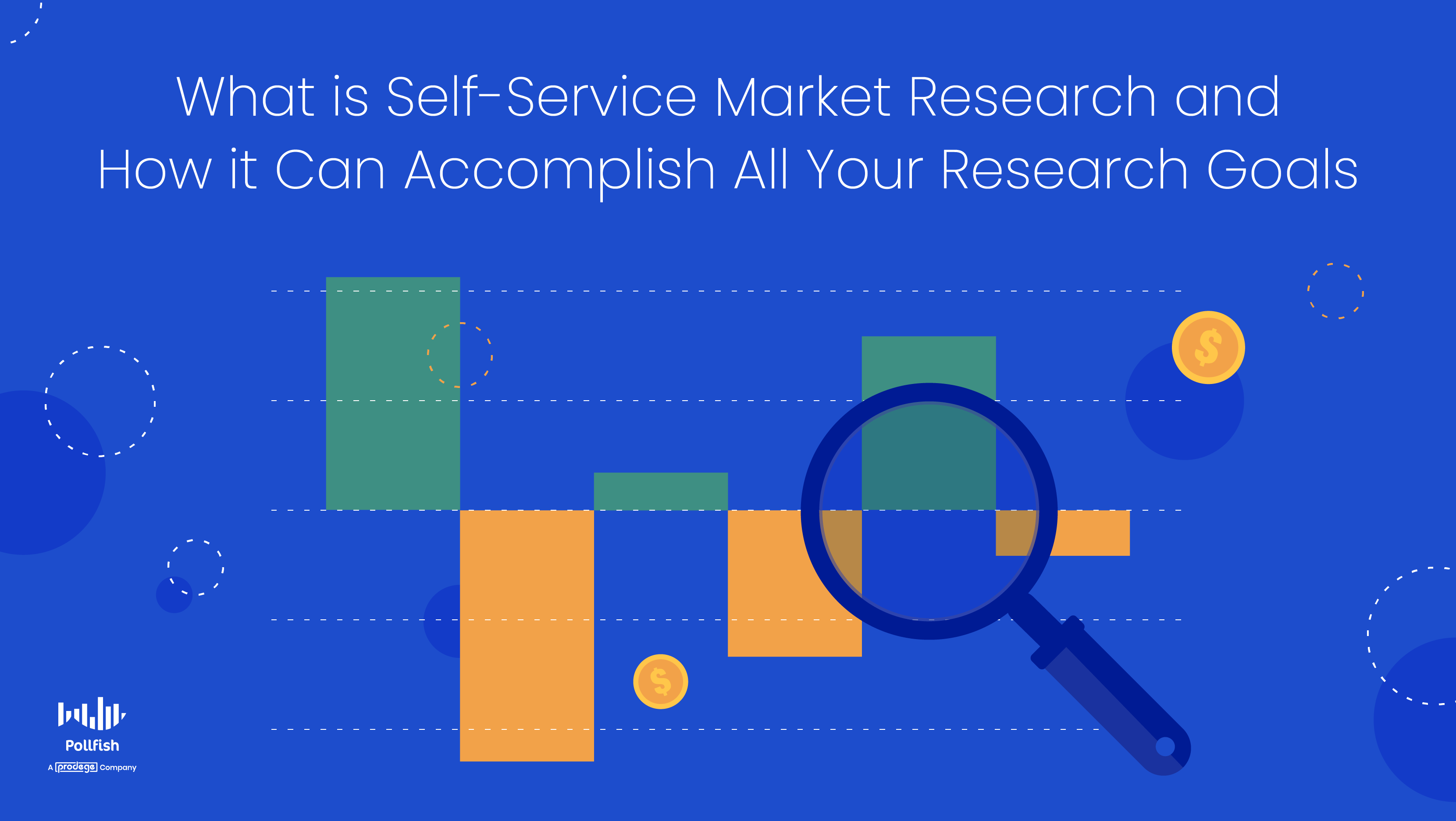 Self-service market research has been gaining ground in the research industry, putting traditional market research methods on the verge of becoming obsolete. 
The self-service technology market is undergoing exponential growth, across various subsectors. In fact, the self-service technology market is projected to reach $72.51 billion by 2030, with a compound annual growth rate of 11.27%.
Naturally, it traversed to the market research industry as well, as self-service technology is dominating this industry. As a matter of fact, there are 39,815 market research companies in the United States as of 2022, a 0.5% increase from 2021.
As self-serve market research businesses are rising in growth and popularity, researchers across industries and businesses are abandoning traditional market research methods wholesale. 
But what exactly does this form of research entail and what is it capable of?
This article explores self-service market research, its importance and all that you can achieve with it. 
Understanding Self-Service Market Research
This is a modern form of market research, in which researchers conduct all research activities themselves, whether or not they are professionals.  
Self-Service Vs Syndicated Market Research
In this kind of research, it is the researchers themselves who have ultimate control over their entire research campaign, not their market research platform provider. In this way, it is the opposite of syndicated research, which involves using a research firm that conducts the entirety of your research campaigns.
Aside from conducting the research campaigns, the research firm has full ownership over the direction of the research and all the resulting data, which they can then sell to those who are interested.
Thus, in syndicated research, not only do researchers have no say over the direction of the market research campaign, but the data they purchase is not proprietary to them. 
Self-Service Market Research in Full Depth
Because of this, self-service is not just a technological method of conducting research; it is a means of dealing with and owning all of the research you conduct. 
This is made possible through certain market research companies — the kinds that provide market research software, specifically polling software. Polling software allows researchers across businesses to create and distribute surveys.
A strong platform is optimized to carry out the entire survey process. This includes facilitating the following aspects:
Audience targeting

Questionnaire building

A survey distribution service

Different options for survey deployment 

A dashboard for analyzing your

survey data collection

 
These are the main aspects of a self-service research platform, but there are many others that an ideal platform would provide (more on this in the following sections).
Essentially, a self-service platform allows you to conduct DIY market research, a method that permits you to take the do-it-yourself approach to market research campaigns. This means, you have all the say on the ins and outs of the research study.
As such, a DIY survey is a tool that grants researchers ultimate control over their survey. 
A DIY survey platform offers various capabilities that facilitate the survey creation and distribution processes. With this survey approach, the end-user (the researcher) is at the helm of the study.
That means, you get to dictate its overall theme, objectives, target market, design, quotas and everything else in the survey study. 
However, not all self-service market research platforms offer the same functionalities. Therefore, some will have more limitations than others, others will have completely different survey sampling methods and these platforms will also offer different levels of audience reach.
The Importance of Self-Service Market Research
This form of research carries a plethora of value in today's digital age.
First off, this kind of research allows you to gain relatively inexpensive and timely results, the kinds you wouldn't get elsewhere and through other methods. 
You can use the self-service approach to market research to quickly get your questions answered and your problems solved. At the very least, you'll get insights from your intended audience, the kind which you can use to take critical actions in your business.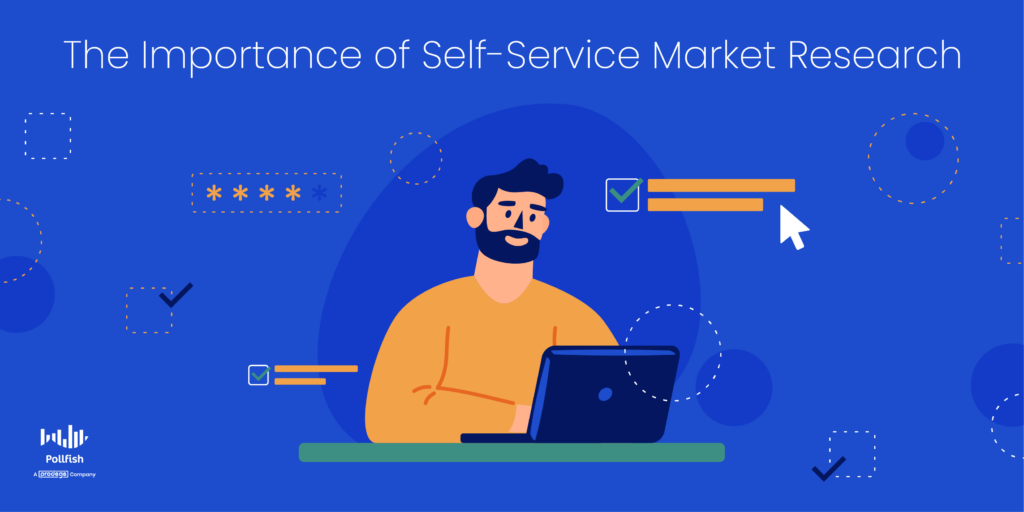 Secondly, being able to access data on consumer preferences and needs is more important than ever, as the customers of the present expect fast response times. One of the quickest ways to address your customers' concerns and needs is via survey research. 
Given that a self-service platform gives you timely survey results, you'll have the speedy insights you need to take action quickly or answer questions that suit customers. Thus, you'll be able to delight customers at speed. 
You wouldn't want to upset your customers, as not only will they abandon your business, but are likely to share their discontent about your business with others. 
In addition, self-service research is critical, given the higher demand for insights. 40% of businesses aim to increase data-driven marketing budgets. When it comes to being data-driven, market research is a must, as it provides invaluable data about your customers.
Moreover, self-service platforms are the most ideal in market research, as they grant you full autonomy over your survey campaign. You there get to target respondents as you see fit, come up with your own set of questions and pause/edit the survey when it's running.
This wouldn't be possible in syndicated forms of market research.
Thus, the self-serve model is critical, as it allows businesses to gain the crucial insights they need, all under one platform, which they can use to their advantage. 
The key is to find the proper self-service market research platform which you can trust to conduct all your research with all the capabilities you seek. That's where finding the right platform comes into play.
What You Can Do with Self-Service Market Research
Part of the large appeal of self-service market research is its many capabilities. These enable you to conduct any research campaign on virtually any survey target audience in the world. In addition, the functionalities of this kind of research are far-spanning. 
These allow you to conduct various market research activities, not just survey campaigns. These activities will, again, depend on the market research platform you use. 
You can use these activities to aid larger campaigns, such as advertising projects, testing of marketing messaging, product pricing campaigns, etc. 
The following enumerates some of the capabilities you can count on with a self-service research platform:
Thorough audience targeting:



Target respondents beyond age and gender, with extensive qualifications you can filter.

A screening section that you use to qualify respondents based on their answers to specific questions.


Survey deployment

:

Various survey deployment methods:

Random Device Engagement (RDE)

: A method that randomly distributes surveys across the internet, prompting random online users to partake. 

Pollfish operates via a digital polling mechanism that uses advertising networks and other digital portals on different devices, (mobile phones), to engage random netizens where they are, voluntarily.

With RDE, there is no need to be wary of the survey bias that arises from professional survey takers and panelists.

Specific Online Channels and Respondents:

A method in which you send surveys your way. 

You can send surveys to the specific digital spaces you choose, such as your own website, partner sites and social media with the

Distribution Link

feature. 

You can also send surveys to specific people via email through this link.

Questionnaire setup

:

Choose from a wide range of survey question types, from single selection multiple choice questions, to Matrix questions,

Drill down questions

and many more.

Use survey templates to use in different business campaigns, such as logo testing, brand awareness, brand perceptions and more.

Using the

Advanced skip logic feature

, which routes respondents to specific follow-up questions based on how they answered a prior question. 

Thus, you can use it to create question paths for relevant questions to direct respondents in a more customized way.

Mobile-first surveys

:

Mobile-first surveys

ensure that surveys conducted on mobile devices are optimized for smaller screens and other mobile limitations so respondents can comfortably use them.

Many companies claim to be mobile-first, but most survey software is not ideal for mobile usage, as some question formats not designed for the mobile experience (such as Matrix tables, for example). 

AI and machine learning

:

This provides

automated surveys

and all of their technical features.

This includes deploying quality checks on survey data, so no post-survey manual labor is required.

Quality checks remove

survey fraud

, such as gibberish answers, bots, VPN users, those who aren't paying attention and other low-quality data indicators.

This way, your resultant data is of the highest quality. 

A global support network

:

Some self-service survey software providers have global tech support employees working 24 hours, so that researchers are never left without a helping hand.

This means, you can conduct surveys at any time of the day (or night) and reach out to the support team if you need assistance.

Conducive to global market research

: 

On Pollfish specifically, your surveys will reach 160 countries and is available to conduct in 46 languages. 

We also offer a

survey translation feature

, which allows you to translate surveys in all the languages supported by Google Translate. 

Various Market Research Functionalities

:

A strong platform will offer various market research functionalities, those that go beyond simple survey creation.

This includes the following features

:

Monadic A/B testing

and

sequential A/B testing.



A/B tests are used to compare product concepts, communication ideas, or ads using equally structured groups of participants. 

With

Monadic A/B testing

, respondents claim their preferences for one concept that they get randomly. This one of the many that the researcher wants to test and compare, instead of being exposed to two or more concepts at once.

In

sequential A/B testing

, researchers can test multiple concepts at once, as opposed to just one with the monadic version. All possible combinations are used from the selected concepts shown to the participants.

Maxdiff Analysis

:

Also called the Best-Worst Scale; this feature allows researchers to prioritize new product ideas and tailor them to consumer preferences, needs and desires.

Respondents choose what they consider the best and the worst option from a given set of options that relate to a product and its features.

This mechanism allows you to identify what your target market values and what it detests. 

The Van Westendorp Pricing Model

:

This is a pricing model providing data on product pricing based on consumer price preferences. 

It is used to unearth customers' willingness to pay a scope of prices.

It helps determines the prices that your target market holds to be acceptable, too high, too low and optimal.

Conjoint Analysis

:

This allows researchers to assess the value that customers place on different parts of a product or service. 

It also reveals the distinct advantages and imperfections of your product features.

Post-Survey Collection Analysis

:

This is available through a dashboard, which hosts all your survey data per campaign and per survey.

It includes a variety of data visualizations such as tables, graphs and charts.

You can import the data via PDFs, Excel, CSV and Crosstabs. 

You can also view data granularly, by filtering the resulting data, which allows you to view how each demographic answered questions.

Integrations

:

This will enrich any market research campaign, as it involves using other platforms in conjunction with your main self-service provider. 

SaaS integrations

are especially important, as they maximize the capabilities of your software, so you can create an exhaustive research campaign. 
Making the Most of Your Research Projects
Self-service market research is possible with many companies on offer in the research sphere. However, they are not all the same; they have different capabilities and different reaches. 
As such, you ought to select your platform carefully. 
We suggest using a survey platform that offers all of the capabilities and functionalities discussed in this article. This will ensure a valuable campaign that is rich in insights, as well as ease of deployment and analysis. 
A strong market research company will allow you to easily carry out and fulfill all of your market research activities. 
Pollfish survey software allows you to create a thorough survey data collection, one you can customize to your liking, view however you choose and organize to the max.
In addition, with our vast array of question types, you can create virtually any type of online market research survey to support your research campaigns.
Researchers can leverage a wide range of information on their respondents by accessing a wide pool of data in their survey results dashboard.
With our advanced self-serve market research platform, you can form and excel at any market research campaign, no matter how difficult it may first appear.
---
Do you want to distribute your survey? Pollfish offers you access to millions of targeted consumers to get survey responses from $0.95 per complete. Launch your survey today.
Get started