Diving Into the Event Evaluation Survey to Excel in Event Marketing

Various businesses can benefit from an event evaluation survey, as many businesses implement event marketing. 
Even if your business does not have an event marketing department or sub-department, you may still put together an event — whether it is for a cultural event with your team, a store's grand opening, or a first foray into a marketing event.
This article delves into the event evaluation survey, its importance, how to create one, among other key aspects you ought to consider.
Defining the Event Evaluation Survey
Before delving into the definition of an event evaluation survey, it is critical to understand its premise: event evaluation. This simply refers to the actions performed to assess an event. 
While there are many components of an event that require using tools other than a survey — such as attendee count, RSVPs, invitations sent, total expenditures, revenue or expected revenue from the event — the success of an event largely depends on its reception. 
A survey can gauge this, which is specifically what an event evaluation survey does. As such, an event evaluation survey is a kind of survey designed to examine the opinions and attitudes of an event, usually deployed post-event to allow businesses and market researchers to measure its success.
Aside from discovering its success, this survey can unearth how attendees truly felt about it, which includes its shortfalls and inconveniences. In turn, this allows brands to create better events, including the kind that foster prospects into leads and nourish leads further down the sales funnel. 
Why Your Business Needs an Event Evaluation Survey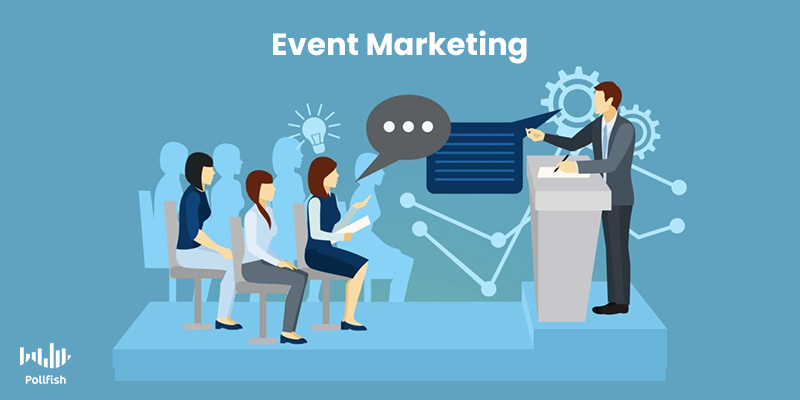 The event evaluation survey is not merely a tool used to extract the feelings of attendees after an event. Rather, it is a key aid to event strategy, the comprehensive practice of planning and executing an event. 
Event strategy covers everything from concept development to planning the event, to working out the logistics and all else that involves setting it into motion. A well-produced event evaluation survey can derive insights into all of these event-centered nuances. 
These insights will edify you on how to build productive future events, whether they are big or small and whether you're the host or a guest. Additionally, an event evaluation survey can inquire attendees on matters not directly tied to an event itself — rather you can use it to ask about other key issues concerning your business that were in some way involved in the event.
For example, if you've attended a tradeshow, you can ask questions related to new business offerings that were highlighted somewhere in the event, such as at a booth, or brought up by a sales representative via word of mouth.
Or, you can ask questions about your customer service in relation to the event to leads and customers who have had some experience with your company.
Combining both of these facets — questions about the event itself and questions secondary to it regarding your business, form a valuable survey. 
How to Create an Event Evaluation Survey
In order to create a fruitful event survey campaign, you'll need to first evaluate the event yourself. Before coming up with the questionnaire, consider the kinds of high-level inquiries you have or will have after it concludes.  
To understand these, consider the following:
Who is expected to arrive at the event?

Leads only or other segments of your target market? Or, perhaps customers in other niches similar to yours.

Will people want to take your survey?

This may depend on how long the event was and how involved were the participants.

Do you need answers to better build future events or to push people further down the sales funnel?

(Do you need attendees to be further nurtured, and if so, by how much?)

Are you looking to see how much your attendees learned about your product or offering after the event?

This can help inform your content marketing strategy and other marketing efforts.

Do you need general information or more information for future events?

This involves considering how events are run, especially if you are a visitor at an event and are considering creating your own company event.
Once you've narrowed down your needs to one of the above considerations (or more), you can start creating a theme around the survey on which your questions will be based. 
Before composing the questions themselves, consider the types of survey questions you'll need to use to power this kind of survey. After mulling over the kinds of available questions there are for creating this survey, you can start thinking up your questions in relation to the above topics.
Remember to keep your survey short, with a maximum of 7 questions, although 4-5 can suffice.
While there are numerous kinds of questions you can apply in your surveys, only a few are best suited towards an event evaluation survey. 
Types of Questions to Use in an Event Evaluation Survey
The following presents the kinds of questions to implement into your event survey.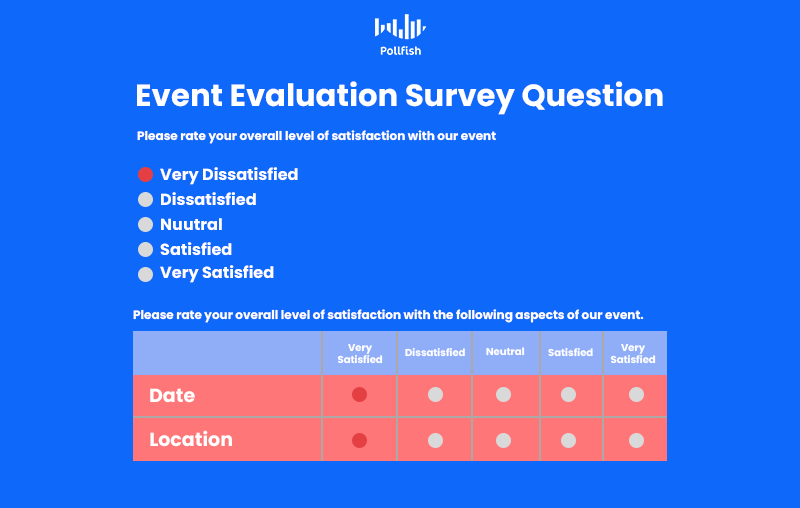 Some questions warrant a simple yes or no answer.

These questions can follow up with an open-ended question so that your respondents expand on their answer.

This is especially important if they answered "no."
These questions offer scaled answers to show the intensity behind a feeling, thought or agreement with a statement. These include questions that constitute the concept of entire surveys, such as:

CSAT (Customer Satisfaction Score) surveys

CET (Customer Effort Score) surveys

Likert Scale questions

Visual ratings (ones that use hearts, stars, emojis or other visual ratings as scaled questions).

Multiple Choice:

 

Can be scaled or nominal (answers with different names and categories and no scaled or numeric relationship)

Can involve rated questions, aka, semantic differential questions


Open-Ended Questions:

These involve an open field for respondents to explain their multiple-choice or single-choice questions in greater detail and in their own words.

Provide qualitative data.
Event Evaluation Questions Examples
Now that you understand how the questions in these surveys are classified, you can move on to composing the questions themselves. Make sure you use a variety of the above question types. This kind of diversity helps keep respondents more engaged with your survey.
Additionally, it gives you more varied means of uncovering key information on how your event has been received, how it can improve and how it's excelling.  
Here are some key question examples:
On a scale of 1-7, how satisfied are you with this event?
Type:

Likert scale question

Use

: A general question such as this one grants you an understanding of the overall feel that attendees have of your event. 

This question gives you an idea of whether your event visitors were satisfied or not with your event. It also guides your survey into more specific questions.
Was there anything in this event that you did not like?
Type:

Multiple choice question, can be followed by an open-ended question

Use

: This question is key to revealing how your event fell short and where it can stand to gain improvement. 

Use a multiple choice question if you expect certain categories to not perform their best, if you don't have any in mind, present this as an open-ended question.
How satisfied were you at this [specific point or interaction] in the event?
Type:

CSAT (Customer Satisfaction Score) question

Use

: This question brings a key moment in the event to light. Perhaps there was one particular speech, or moment in a speech you need specific feedback on. Or perhaps, there was an activity planned (which included a high expenditure) you need feedback on the most.
What did you like the most about the event?
Type:

Multiple choice question, multiple selection question

Use

: This kind of question should include more than one answer, as such allow respondents to tick off several boxes. This will help you understand what you're doing well in your event, to possibly repeat in the future.

Add a follow-up open-ended question, or an "other" option with an open field.
Do you have any suggestions for future events, including the time and date, the venue, speakers, sponsors, etc.?
Type:

Open-ended question

Use

: A very specific question, it also asks for suggestions, meaning things that previous questions shouldn't have covered. As such, keep this as one of the final questions, if not

the

final one.

This gets you to the bottom of exactly what the respondents are looking for in future events. Following their wishes will prompt greater attendance.
The Pros and Cons of an Event Evaluation Survey
Using this kind of survey has a wide swath of benefits, some of which you may have already grasped. However, there are even more advantages to using this survey. But with the good comes some undesirable qualities. The following lists both the benefits and setbacks of using an event survey.
The Pros
Gaining valuable, specific insights about an event both in whole and in specific parts of it.

Uses questions that give you insight into customer satisfaction and customer desires, allowing you to understand how to better cater to your target market in general.

Provides insight on what can be improved and what is desired.

Grants you insight into what to spend on in future events, helping you budget correctly.

Show you how you compare with other business guests at an event (such as an expo or trade show) depending on the questions you use.

Shows you what to avoid and thus what not to spend funds on in future events.

Allows you to compare customer/attendee behavior with feedback, i.e., their true thoughts.

Educates you on how to organize a future event and understand how to calculate its scale more fittingly. 
The Cons
Many event-goers may not want to take a survey.

If a survey is administered during an event, attendees may rush through it, thus tainting the quality of data.

Some responses may further explanation or questions, which not every survey provides.

May not get useful answers from neutral respondents i.e., those who do not feel any particular way about your event, which won't show you how to improve or what to continue doing in the future.
Excelling in Event Marketing and Beyond
An event evaluation survey is a crucial tool for making sense of your events and understanding how they are received. Usually, it is associated with event marketing, the discipline of marketing that promotes a company via live events (or virtual events, as is the current case).
However, this kind of survey can help you excel on so many other fronts in your business. As such, you can use it to better understand your own company-wide events, such as kick-offs, monthly, weekly or annual meetings or post-work cultural events.
This is particularly valuable for HR-related manners, such as company culture and employee satisfaction at large. After all, when keeping a pulse on your company, you need to assure your employees are happy as well (and fully aware of the company's direction and their own responsibilities).In this way, the utility of the event evaluation survey highly extends beyond measuring the success of events alone. The key to reaping the most out of such a survey is with the correct survey tool. A strong online survey platform can help avoid some of the cons that were aforementioned.
---
Do you want to distribute your survey? Pollfish offers you access to millions of targeted consumers to get survey responses from $0.95 per complete. Launch your survey today.
Get started