Diving Into PR Surveys to Boost All PR Campaigns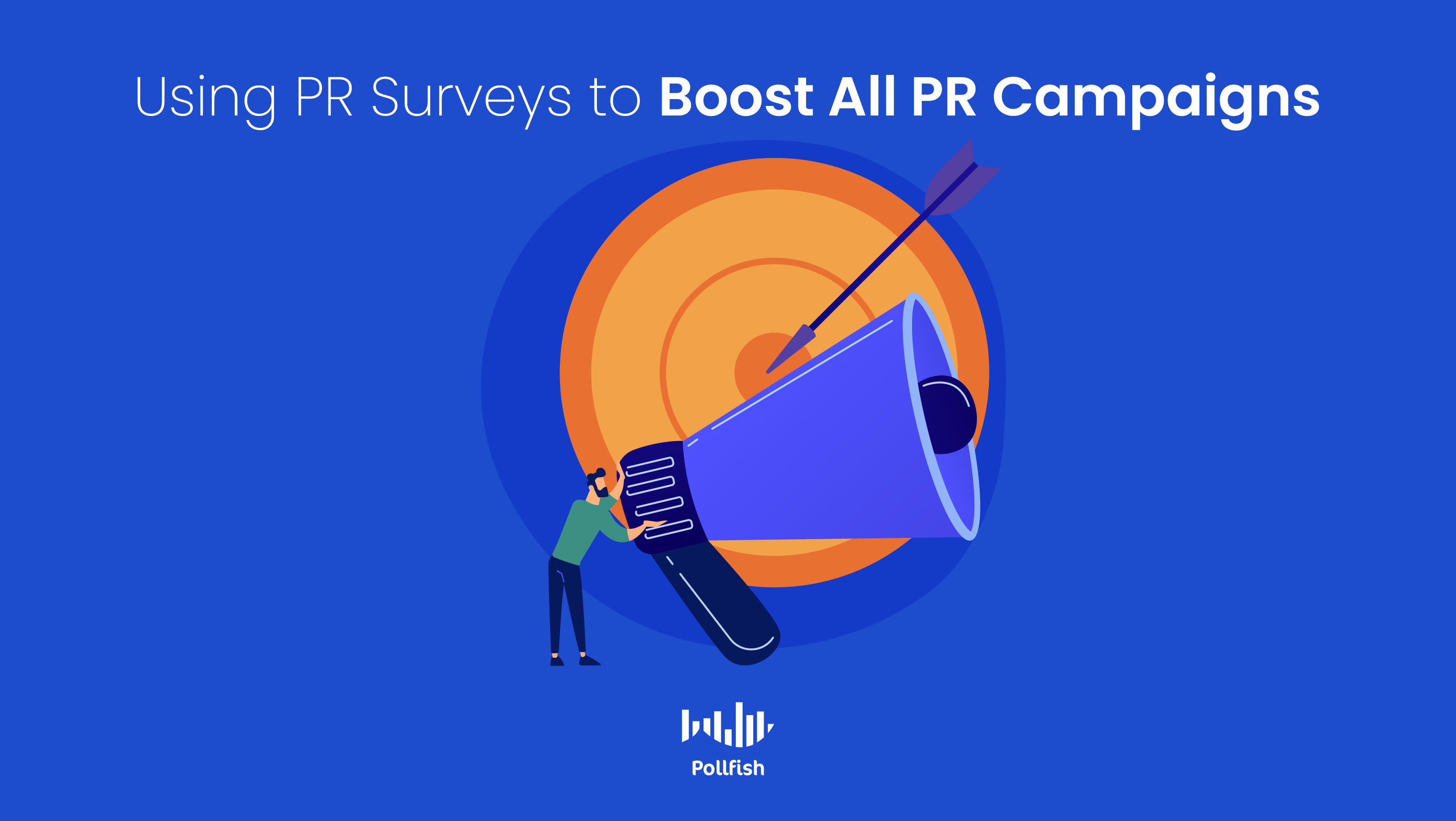 PR surveys provide companies with a lucrative way to bolster all of their PR efforts. 
That's because survey research provides businesses with exclusive findings, the kinds that allow them to differentiate themselves from other competitors in the field. Your business can use all the insights you've gathered from PR surveys to drive various PR campaigns. 
As the public relations field continues evolving in the digital age, brands must evolve with it and use its innovations to their full advantage. 80% of PR professionals say that the future of PR lies in digital storytelling. Surveys provide the fuel for all storytelling content for a variety of media output, from press releases to journalism sources.
You can use these surveys to enhance brand visibility and positively shape the perception of your brand.
This article focuses on PR surveys, their importance and how to create and promote this kind of survey study to power your PR campaigns. 
Understanding PR Surveys
PR surveys serve as the leading technique of PR polling, a method that blends PR with market research techniques, in which surveys are administered to a business's target audience or a general population, for the purpose of sharing the results via branded content, press releases, company outreach, news, blogs and media outlets. 
The questions in these surveys are created strategically, so that they do not merely obtain primary market research, but can be adequately used for broader communications purposes, such as attention-grabbing headlines and news stories.   
With PR surveys, businesses can broadcast key messages of their organization while concurrently gathering public opinions of them, along with garnering original insights they can later use in PR campaigns. 
As such, these surveys can touch on a wide array of topics, from current events, to things that are relevant to a niche and occurrences within a company. Given that much of PR is centered on gaining media placement and coverage, it is ideal to use a topic that will draw media attention, along with that of your target market.
The Importance of PR Surveys 
PR surveys offer a wealth of benefits when it comes to PR polling and various other PR and marketing initiatives. In fact, these surveys can be the main factor behind success in today's congested media landscape. 
PR surveys allow you to craft narratives that get the attention of reporters, bloggers and their audiences. This is because these surveys are vessels to original insights on a swath of your topics of choice.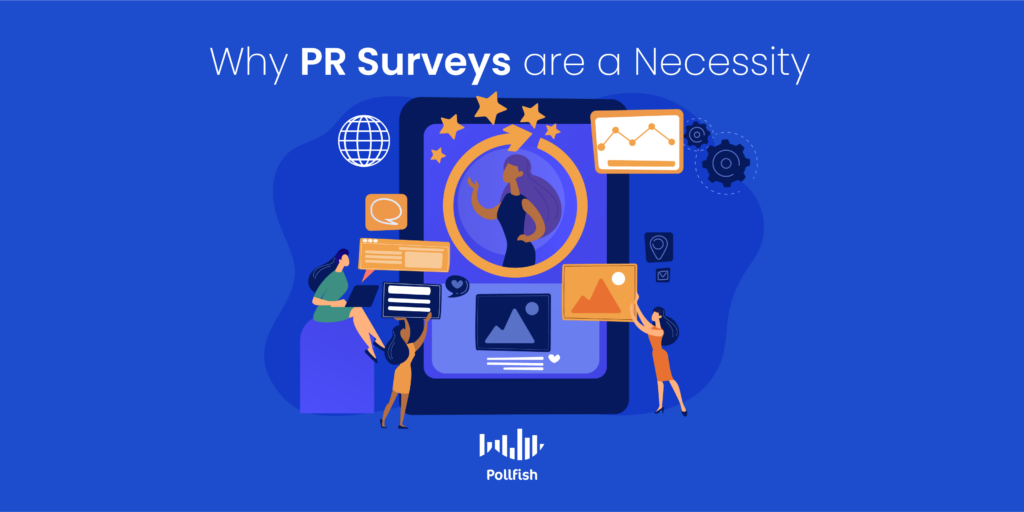 They provide businesses with exclusive insights, exceptionally important, given that 39% of publishers desire content with exclusive research. This means, you're better off getting media placement by conducting PR surveys than you would be otherwise, including through less efficient means of conducting primary market research.
Further supporting media placement and wide dissemination, PR surveys put companies in charge of their narratives, at least at a high level. This is because you are completely at liberty to ask whichever questions are necessary and to apply any question formats, so long as the online survey platform allows it. 
You should be able to freely choose from the 6 main types of survey questions and use them in your survey. You can structure your questions in a way that incites intriguing and unexpected insights. This way, your findings and their subsequent content release catch the attention and interest of news websites, readers and consumers. 
As far as content is concerned, 9 out of 10 in-house communications team leaders struggle with content creation. Given that content is a major component of PR, your PR efforts are largely dependent on releasing content that draws in various key players, such as those aforementioned. PR surveys are content machines; aside from aiding your efforts with original insights, they provide narratives you can convert into stories for a wide variety of assets.  
These surveys also give you a major edge in general marketing, especially when it concerns thought leadership. Rather than aggregating content or performing secondary market research, the insights you glean from PR surveys are entirely original and proprietary to your company — unless you use the syndicated research approach — in which you source a market research firm to own and conduct the study. 
As such, you can power a wealth of campaigns with the original insights you extract with these surveys. This allows you to be considered a thought leader, as you can focus your studies on a particular topic of study that your competitors haven't, or at least not with original insights. 
These campaigns can include lead generation, allowing you to gain more leads by producing downloadable and gated assets such as reports, whitepapers, infographics and more. The press releases you send can link to the landing pages of these lead generation assets.
In this way, PR surveys can also boost SEO and site traffic. Since the main goal of a public relations study is to attain media attention by way of online news stories, you can lead more people to your website organically by link building. 
An intriguing study will garner backlinks from other earned media placements, including bloggers in your niche and major new publications. Aside from generating attention, backlinks allow websites to rank higher in search engines.
The Content Benefits of PR Surveys
To piggyback off of the previous section, PR surveys provide a range of PR and marketing benefits, along with being strong market research tools. When it comes to content specifically, which PR is highly reliant on, there is a wide scope of content assets that your PR survey can yield.
These assets maximize the return on investment from your polling campaigns. 
The following lists some of the various content assets you can churn out from your survey findings:
Blog posts

Press releases

Industry, consumer or current events reports

Whitepapers 

Infographics

Webinars

E-books

Resource pages on your website 

Social media content

Guest posts on other media websites 

Video content 

Downloadable assets
How to Create a PR Survey & Properly Promote It
When you've decided to use a PR survey, you should be strategic in how you carry it out. After all, the success of your PR survey study depends on the way you form the survey, along with post-survey factors.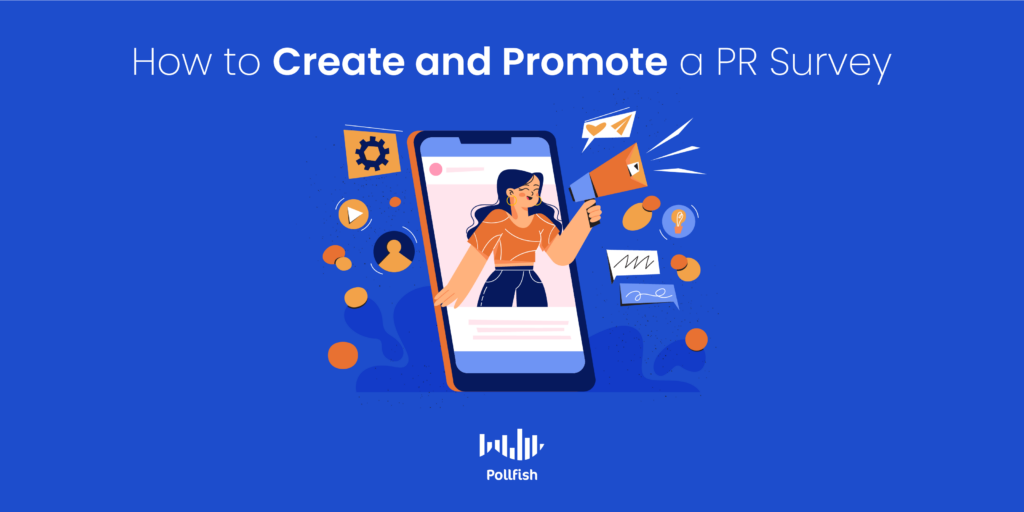 The following is an in-depth, step-by-step explanation on how to effectively create and promote PR surveys:
Find a topic or issue that lacks information and would be interesting to provide insights on. 

This study can be centered on any of the 6

main types of research

.

Use topics that are timely and relevant to the public or to an industry to attract widespread media coverage. 

Avoid subjects already covered by other survey studies.

Media outlets will ignore survey data that repeats what has already been made known in past campaigns.  

Journalists and other media workers seek out research that uncovers contrarian answers or something people don't already know.

Ask the right questions; when it comes to PR, ask questions that have a chance of extracting shocking answers, or those that are shocking in nature themselves. This is because c

ontroversial survey results often garner even greater media coverage

.

Avoid being overly self-promotion in your survey, especially if your survey studies past PR campaigns.

Surveys that heavily rely on self-promotion perform poorly. 

Check for statistical significance and consider the presence of possible

survey bias

.

Make sure your study uses the proper survey sampling size 

before you conduct the survey. This will ensure your study carries statistical significance.

Consider that biases are likely to occur in your survey. That's why you'll need to use a platform that can keep them at a minimum. 

Choose a potent online survey platform.

Choose wisely, as the capabilities of the platform will dictate the scope and results of your survey study. 

Some platforms offer limiting features, those that won't allow you to explore your subject as well as more well-equipped platforms can.

Your survey platform of choice should also allow you to make

your own survey

in only a few steps to save you the time and hassle often associated with market research projects. 

Promote your survey. 

Since this is a PR survey, you can maximize your PR efforts on the study at large by advertising it via PR methods, such as press releases or media placements.

Additionally, you can promote it via social media, direct mail or online ads. This should boost the online responses you'll receive from the surveys being deployed across publisher networks. 

Consider using

survey incentives

. 

These will drive interest to your survey, allowing it to be completed sooner.

You can also use incentives as a marketing tool, framing your brand in a positive light if you mention it in the survey.

Incentives generally provide positive experiences and will allow your company to stand out from others. 
Making Headway in PR and Beyond
The results from PR surveys can be powerful, convincing, and influential enough to go beyond securing media placements, but to live in the minds of your target market for a considerable subsequent period. 
In order to execute useful PR surveys, you need to opt for a well-equipped online survey platform to carry out the campaign to its full potential. 
This kind of online survey platform should field surveys locally or globally, use random device engagement (RDE) sampling to reach respondents in their natural digital environments, deploy surveys to a wide network of highly-trafficked websites and apps, offer artificial intelligence and machine learning to spot survey biases and disqualify poor-quality data,  provide a mobile-first approach and much more.
With such a survey platform in tow, you are in good hands for conducting PR surveys and raping all of their benefits. 
---
Do you want to distribute your survey? Pollfish offers you access to millions of targeted consumers to get survey responses from $0.95 per complete. Launch your survey today.
Get started