The Complete Guide to Market Research Techniques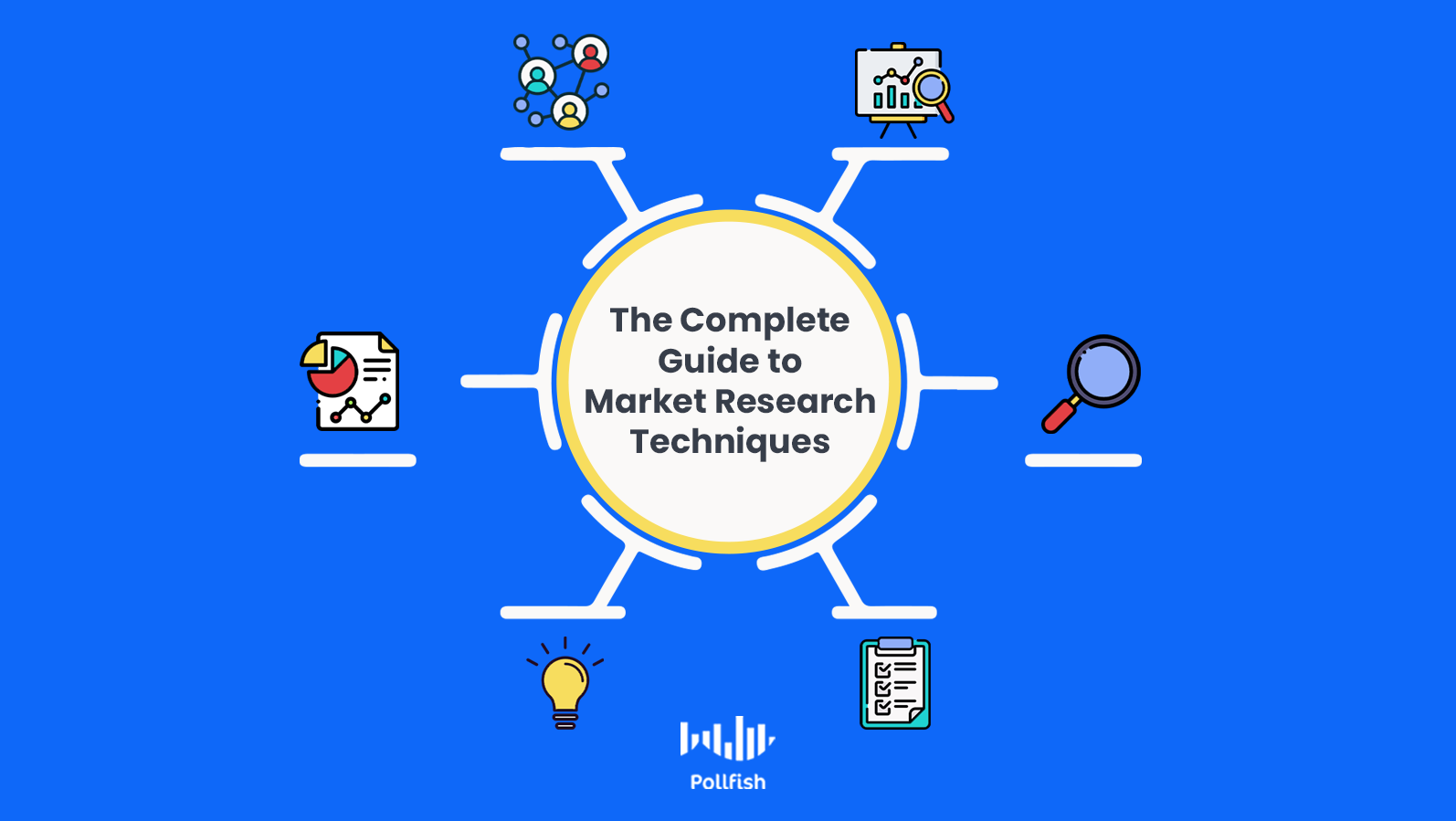 If you intend to conduct market research, you'll need to be well versed in market research techniques. These methods will help you carry out a sufficient market research campaign, allowing you to better serve your customers and steer your business toward.
But when you are facing a concept as broad as market research, it is rather challenging to know where to begin and how to conduct the various forms of research. 
This complete guide to market research techniques will help lessen this challenge so that you can stride confidently into all your research needs.
Defining Market Research
Like several aspects of business, market research is not bound by one concept; rather it is an umbrella term that encompasses a wide array of practices. 
Market research is the process of gathering information about your target market (the people most willing and likely to buy from a business), segmenting your buyer personas (market segmentation) and amassing knowledge on your competitors.
This category of research allows businesses to gain insights into the quantifiable aspects of their industry, along with the opinions and attitudes of past, current, potential and churned customers. 
The ultimate end goal of market research is to learn how successful your product or service is and/or will be within your industry, niche and most importantly, within your target market.
Primary Vs Secondary Research Research
The chief divider of market research involves the method of researcher participation, aka, the way the research is conducted. 
Primary research denotes an active form of research, in that researchers conduct the research themselves. This signifies that the information they are seeking has not yet been collected, or, that the research they need has been gathered, but they seek to gain their own, firsthand data.
As such, primary research involves using primary data, that is, the data that a researcher would extract themselves.
On the contrary, secondary research entails research that has already been conducted and (usually) has been made available. With this research category, the researchers aren't required to amass their own intelligence; rather it involves aggregating knowledge that has already been collected and passed on by others.
As such, this kind of research largely involves summarizing, synthesizing and scrutinizing data and other forms of intelligence. Secondary research often involves studying the primary research that others have already conducted and packaged in their chosen form.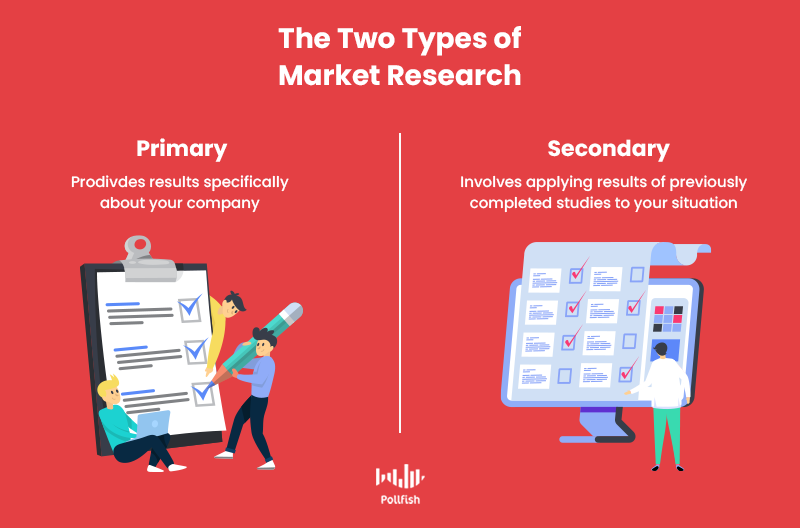 It is important to incorporate both styles of research for a comprehensive market research campaign. This is because there are going to be subjects that you cannot study simply through one form of research. For example, your competitors aren't going to publish the primary studies that depict them in a negative light, no matter how accurate they are. 
Another example is your own set of customers; secondary research alone is not going to provide an adequate amount of data on them. There may not even be any data on your particular customer segment.
Primary Market Research Techniques
Here are a few techniques for completing primary market research. Researchers need not attempt all of these techniques, as some will be more useful and easier to execute than others. It all depends on your preferences and goals.
Interviews:

One of the more intimate methods, interviews can be managed over the phone or in person.

Focus Groups:

A more interactive form of interviews, this technique gathers data from a group of about 6-10 participants. Focus groups study subject matter experts. Using a moderator, these groups aim to incite discussion among the participants. This is a good method to perform to learn about a specific segment of your target market. Focus groups rely on open-ended, broad and

qualitative research questions.
Field Research:

This is an observational method on subjects in their natural environment. To use this method, researchers do not interfere with the outcome or behavior of a situation. This technique grants direct observation of people and their interactions. Ex: An electronics brand seeks to observe how customers interact with a new line of products. They may do field research on in-store customers to study this. 

Surveys:

Online surveys are the best distribution method and allow you to study any topic. A strong online survey tool will enable you to set granular demographics requirements, ask a wide style of questions (multiple-selection, single selection, ratings, etc), add

advanced skip logic

, add media files and use

multiple audiences

per survey. Surveys can take many forms;

business

and

consumer surveys

alone form macro surveys that include their own survey types. 

Test Marketing:

This technique involves testing the usage and opinions of a new product by selling it to a small segment of one's target market. For example, software brands test-market by using the "beta" versions of new features/products on a small group of likely customers. This method helps predict how a new product will fare in a larger market. 
Secondary Market Research Techniques
Secondary market research techniques require using sources specific to your industry and niche. While some sources may be general, you'll need to gather intelligence most pertinent to your target market — or at least your industry. Here are a few citations to use for secondary research.
Government Resources:

The government collates massive data on citizens; this data is free and can be found on a number of government websites.

The Census Bureau

:

Provides a portrait of the American economy, market sizes, populations, demographics and more. It includes the

American FactFinder

tool, which finds demographic, economic, social, household, and other data on geographic regions.

The U.S. Small Business Administration

: Captures statistics on economic matters such as employment, salary, income, sales and more. The SizeUp tool allows businesses to compare themselves against competitors. 

The U.S Department of Commerce

: With offices scattered across the US, the U.S. Department of Commerce generates data on industries and their products and services.

The Bureau of Economic Analysis

, which is a part of this department, creates economic reports on income, expenditures, and even savings data on a quarterly basis. This site shows the trends in product/service demand based on spending.

Enterprise Sources:

These resources are not free, but offer invaluable insight into particular trades and subsectors. 

Trade Associations: Perfect for studying your industry, they're made up of groups of businesses that cater to specific subsectors. Use the following to find your industry association.  

Research Associations:

Composed of research analysts, these associations to be independent, although some are affiliated with trade associations. These organizations provide businesses with granular reports on specific subsectors of an industry. They include:

Industry Blogs and Content-Oriented Websites

: Each industry has online publications dedicated to reporting on them. These are useful for the latest updates, trends and breaking news, the kind that a major report or downloadable asset may not provide. Here are a few examples across different industries.

Educational Institutions

: Colleges and universities have research departments that study a wide range of business data. These insights are not free but involve heavy-duty market research from faculty and students. They include:

Graduate student projects

Faculty-based projects

SEO and SEM Reporting:

SEO is critical to growing your business online, as your target market won't purchase from your business if they don't find it. SEO/SEM sites help you gather keyword research to learn the most relevant to your niche.
Quantitative Research vs Qualitative Research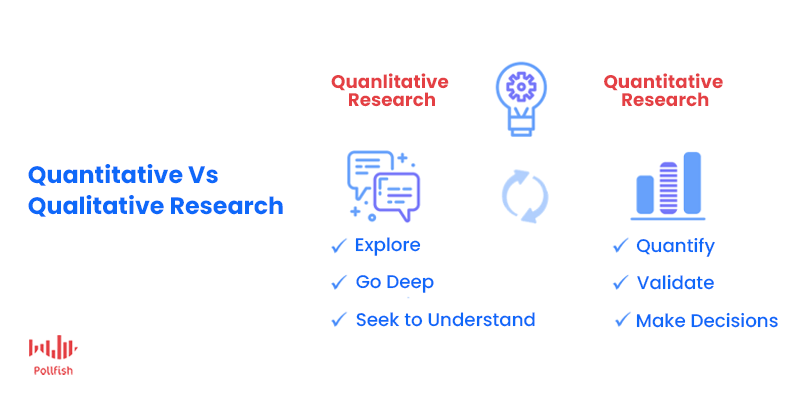 Another crucial market research division is that of quantitative and qualitative research. Unlike primary and secondary research, which can exist without one another, quantitative and qualitative research are used in complementation.
This means you would often use both in your research campaigns.
Quantitative research is marked by measurable data that quantifies the opinions, attitudes and experiences that respondents report. It collects numerical data for producing statistics, finding prevalence and identifying patterns. 
The goal of quantitative research is to test a theory or hypothesis. Another common objective is to measure opinions in regards to a particular research topic. Quantitative research is also used to find causal relationships between variables, predict outcomes and create generalizations on broad populations.
Computing an instance or phenomenon takes precedence in this form of research, rather than gathering the reasons and motivations behind it. This kind of research works out the "who" and "what," of a research subject.
Qualitative research stands in contrast with quantitative research, as a descriptive form of research. This form of research inquires into the depths of an attitude, opinion or phenomenon. Instead of delving into the statistical aspects around a research subject, which is known as the "what," it works to find the reasoning behind it. 
As such, this research doesn't seek to describe a situation, opinion or occurrence; rather it focuses on establishing the "why" behind it. 
Qualitative research was designed to take place in natural environments, i.e., places in which research participants can provide thorough answers. This environment can take place on or offline.
This form of research relies on using psychological, ethnographic and sociological approaches to study a target market. The design of a qualitative study evolves (along with the participants it studies).
In this form of research, there is no such thing as a single reality; rather it is changeable and subjective. It is highly interpretive, as it doesn't involve simply adding or crunching numbers.
Quantitative Market Research Techniques
Quantitative research involves using methods that collate measurable data that can be encapsulated in graphs, charts, tables and other visualizations. Here are a few techniques for gathering this kind of data:
Experiments

: Researchers can conduct experiments on products, such as producing beta versions, as tech companies do. They can also do A/B testing on digital experiences such as digital ads, emails and even on-site experiences. Additionally, researchers can run experiments in-store to test customer satisfaction with employee service and product layouts.

Observations

: Part of field research (as mentioned under primary research), researchers can observe customer behavior and occurrences in natural environments such as in-store behaviors. Observations can also exist online, for example, by using session replay tools found in analytics software.

Statistics and other Published Resources

: Researchers can garner quantitative data by studying secondary research. The technique involves looking at statistics websites, along with other data sources such as infographics and reports. This is a good starting point when dealing with quantitative data; it can also be used to compare findings between past and present data.

Surveys

: Perfect for discovering the "what" with multiple choice and multiple selection questions. Matrix questions help find the intensity of a phenomenon. There are swaths of different survey types you can implement, including macro ones like

business surveys

and

consumer surveys

, along with specific surveys such as the

Net Promoter Score (NPS) survey

or the

Employee Satisfaction Survey

. 
Qualitative Market Research Techniques
Quantitative research techniques necessitate being able to understand opinions in more depth to uncover motivations, reasonings and consumers' general psyche. These methods do not require quantifying any findings. Instead, they require using exploratory and open-ended questions; the kind that fully reveal the bedrock of consumers' attitudes. 
Here are a few techniques:
Focus groups

: These spur natural discussions by incorporating a small group of people with a moderator who prompts various conversations. Focus groups consist of people who share demographic attributes to study a target market or a segment of it. Unlike interviews, which are one-on-one, focus groups allow multiple people to speak, mimicking natural discourse and therefore having the participants influence each other.

Unstructured interviews

: Unstructured interviews are in-depth interviews in which there are no premeditated questions. Instead, the interviewer asks open-ended questions that relate to the research topic. This way, the conversation runs like a natural exchange. The interviewer would keep questions relevant to both the research topic and the participant's experiences.

Textual and visual analyses

: A form of secondary research, researchers can draw analyses from qualitative research documents already available. This including looking at trade publications or research publications that focus on various consumers and other demographics.

Case Studies:

This technique uses thorough investigations on a participant, a group, an event or a community. It merges various sources such as interviews, observations and surveys. Researchers analyze the data from these sources and put together the case study document. This is used in clinical medicine, but can be applied to numerous other industries, including the general business vertical. This method uses both information from the past (retrospective) along with present and everyday manners.

Surveys:

Surveys can be every bit as qualitative as they are quantitative. In a qualitative survey, you would use open-ended questions. These often dovetail to quantitative questions by going more in-depth on them. Thus, you would need to use skip logic, so that if a respondent replies in one way, they would get rerouted to the appropriate follow-up question. Like with quantitative surveys, qualitative surveys can be applied to macro concepts like in cross-sectional surveys or for more specific ones, such as with

community feedback surveys

.
Other Forms of Market Research Techniques
Aside from the above two major types of market research classifications, there are several other major kinds of research techniques. Here are a few vital examples:
Retrospective Research
This research studies past events to see if or how they contributed to a current topic of interest. Also called historical research, this study inspects historical data. It falls under cohort studies, which follow a group of participants bound by a similar trait. This research uses observational studies that determine how often a phenomenon occurs within a targeted population. Techniques include:
Survey panels

Longitudinal surveys

Interviews
Cross-Sectional Research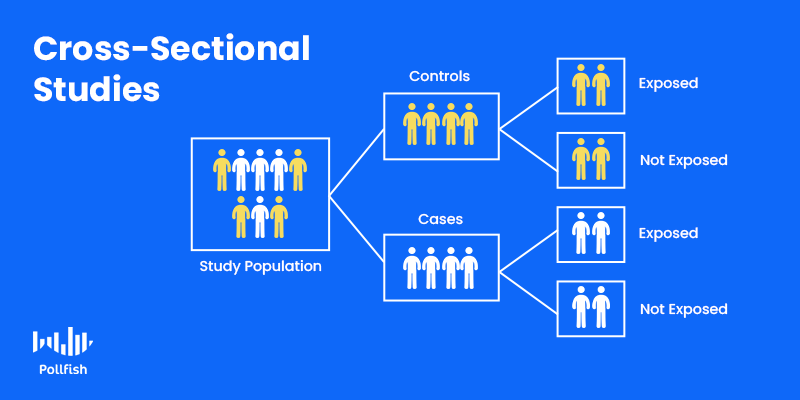 A cross-sectional study collects research on a particular population at one fixed point in time, essentially serving as a snapshot (aka cross-section) of a studied population. This type of survey does not require using a survey panel as this method follows a panel over several points in time. It is contrary to longitudinal studies, since they study participants at ongoing frequencies. Instead, it seeks to gain an overall portrait of a phenomenon during its time of study. Techniques include:
Field research (especially recent studies)

Interviews

Surveys (Ex: community feedback surveys)
Prospective Research
Prospective research aims to predict the likelihood of a future event or issue. It is focused on outcomes and can also determine relationships between variables. A prospective study usually involves investigating a cohort of subjects over a long period. This research tends to be experimental in nature, as it seeks to uncover relationships between variables. Techniques include:
Experiments 

Trials

Longitudinal Surveys

Focus groups

Survey panels
Wading the Waters of Market Research
While this guide covers the most pertinent and useful forms of market research technique, there are still more to explore. That is because certain techniques, such as survey research methods have many forms and subsets of methods that brands can apply to their campaigns. A strong research campaign will guide you deeper into the many techniques available, some are tried and true, while others are newer.
When you fortify your secondary research with a strong primary research tool, your campaign will be on the right track towards unique insights for all your business and market research needs.
---
Do you want to distribute your survey? Pollfish offers you access to millions of targeted consumers to get survey responses from $0.95 per complete. Launch your survey today.
Get started