Survey Research Methods: A Deep Dive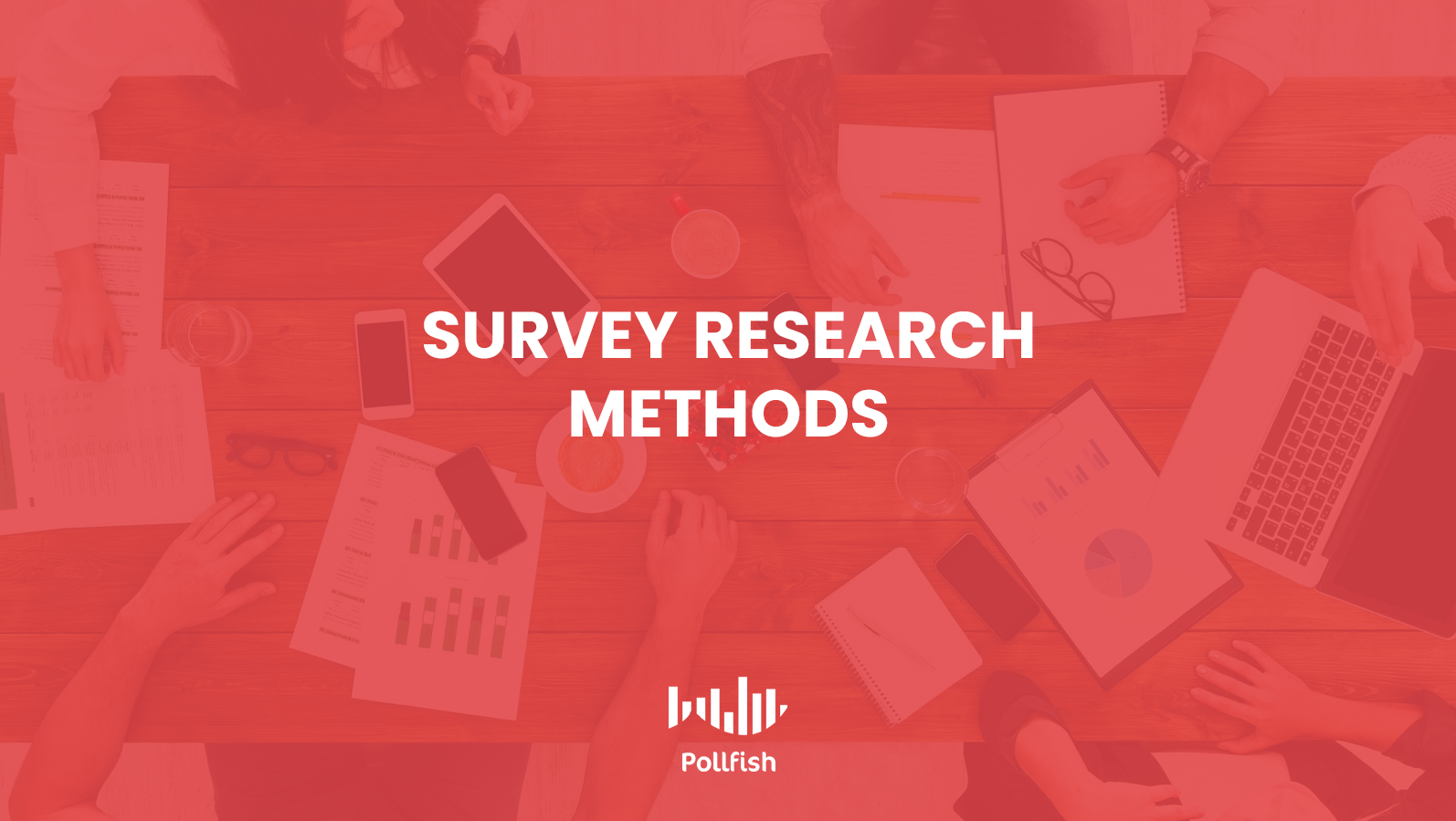 Although survey research methods are just one tactic under the enveloping market research field of study, they too are administered in a number of ways. 
That is because much like market research, there is no single or universal technique when it comes to survey research. Instead, there are various survey research methods, those that only pertain to the survey aspect of market research.
Survey research methods include different sets of classifications, from types of surveys, to data organization and more. It is key to become familiar with all of them to determine which is most suitable for your market research needs. 
This article will navigate all the nuances that pertain to survey research methods.
Surveys for Quantitative vs. Qualitative Research
Market research relies on both primary and secondary research; surveys fall under the former and have several classifications. The first major one conveys the duality within survey research methods: that of quantitative and qualitative research.
Quantitative research surveys: 
Quantitative research involves gathering quantitative, or numerical data. Surveys amass this data by asking questions that quantify attitudes, opinions, feelings and behaviors. The point of this kind of survey research method is to form generalizations. 
Quantitative research surveys therefore use a larger sample size in order to crunch numbers on different issues and variables. This survey research method is highly dependent on using and creating mathematical and statistical data. 
These surveys use this data to identify patterns in a target market, find averages, make predictions and test relationships.

Essentially, this survey research method uses respondents to understand the "what" and "how much" of a studied subject.
Qualitative research surveys:
Qualitative research zeroes in on experiences, ideas and opinions, instead of focusing on statistical or quantitative results. Instead, this survey research method seeks to holistically interpret an issue, occurrence or phenomenon.
As such, qualitative research seeks to perceive an issue in more depth, find the cause of an occurrence, create inferences, find solutions to problems and uncover trends.
This research method is centered around the "what" and even more so, the "why" of a research subject. 
Unlike quantitative research, qualitative research uses a smaller sample size for a deeper understanding of causes, motivations and sentiment. 
This kind of survey research method uses open-ended and exploratory questions in natural environments, in which respondents freely discuss their opinions to help researchers identify the "why" behind an issue.
Understanding the "why" is then used to make decisions on how to resolve the issue or how to improve on an existing productive situation.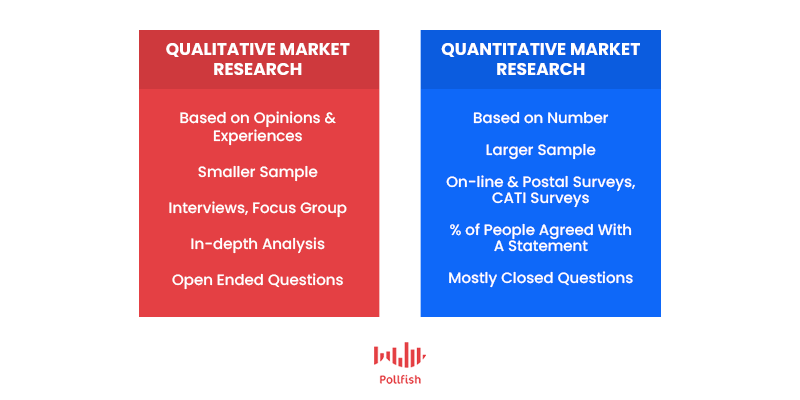 Survey Panels Vs Random Sampling
The second main classification of survey research methods is categorized via the sampling pool. There are two main types of sampling pools, i.e., the type of respondents that take part in a survey. 
Market Research Panel: 
A market research panel is a pre-recruited group of survey respondents who have agreed to take part in online surveys. This method is most commonly employed by market research panel companies, which require the panelists to share personal information about themselves. 
This includes the information you'd find at the screener section of a survey tool such as demographics, but can also include behavioral data. The panel can be used for more than one survey; this way is convenient for market researchers who require long-term survey campaigns such as longitudinal surveys. 
Random Sampling Pool:
A random sampling pool is a group of survey respondents who have not been recruited to take part in a survey. Instead, this method involves, as the name suggests, a random group of participants. They take a survey once they reach a publisher's website or app, which is triggered by an online survey tool. As such, they take a survey due to their being real-time users on a site or app in which the survey has been launched.
Any business can take this automated approach, which does not require seeking out participants manually, as a market research panel would. Although the pool of respondents has been gathered randomly, the qualifying participants are not random.
This is because the survey software used to launch this survey includes screening questions and demographic requirements that respondents must meet to take the survey. As such, researchers still get the exact kind of participants they seek to survey. This survey research method includes probability and non-probability sampling.
Survey Research Methods Based on Campaign Type & Macro Applications
Survey research methods can be further divided based on the type of macro application (or discipline) you need the data for. They can also be categorized into different campaign types, which can fall under the macro applications, or exist as their own application.  
You should understand these purposes before you choose the proper survey type for your research needs. Here are the major campaigns and applications to base your survey method on: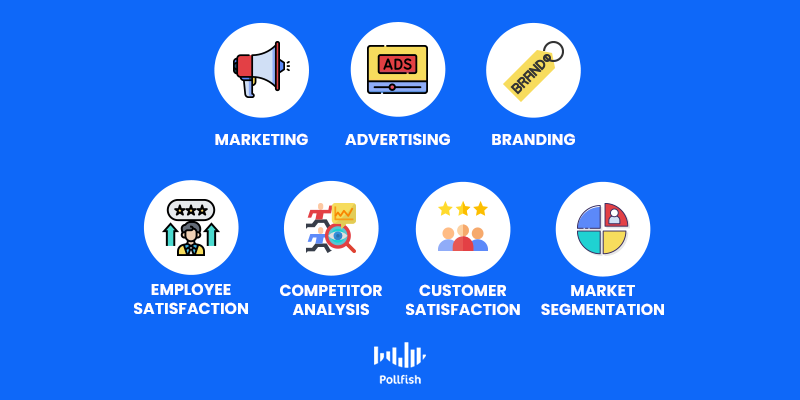 Marketing:

A broad term that includes a wide variety of processes to raise awareness and demand in your company, promote it and understand your target market.

Advertising

: One of the key practices in marketing, advertising refers to communication using overtly sponsored messages to promote or sell a product or service. 
Branding:

The development of a brand's reputation and image, along with increasing the recognition of your company. 
Market Segmentation:

Facilitates targeting those most likely to be satisfied customers of your company or content. It involves

splitting your target market

up into smaller groups of people with similar characteristics. 
Competitor Analysis:

It is the process of identifying and assessing your competitors based on their strategies to unearth their strengths and weaknesses relative to your brand.
Employee Satisfaction:

The degree to which employees are content and fulfilled with their jobs, including their schedule, work environment and banter with fellow employees.
Customer Satisfaction:

The measurement of how happy customers are with a company's products, services, experiences and interactions.
Types of Surveys
Finally, we arrive at the types of surveys, the most granular aspect of survey market research methods, that is, unless you delve further by looking into survey questions. 
These surveys are classified as belonging to either quantitative or qualitative methods, along with their best application type. As for the latter classification, you ought to know that these surveys are not necessarily limited to these applications. 
Rather, they are most apt for the named applications and campaigns, but due to the versatile nature of surveys, the following can be used in other applications, including those not mentioned in this article.
Cross-sectional surveys:

Gather data to make inferences about a population at some point in time. 
Used to provide snapshots of the populations they survey.

Drawn from a few specific variables to narrow down a unique and smaller population.

Method: Quantitative surveys

Best used for: advertising, market segmentation, employee satisfaction, customer satisfaction, branding

Longitudinal Surveys:

Study variables over longer periods of time. (Weeks to decades)

Require more dedication from respondents and researchers, including time and money. In this regard, a larger pool of participants is used and studied for much longer.

Like cross-sectional surveys, these are also observational and study the exact sample pool for the length of the study.

Best used for: marketing, competitor analysis, market segmentation

Retrospective Surveys:

Merge aspects of both cross-sectional and longitudinal survey methods. 

Observe changes that occur over a longer period of time, but are facilitated just once. 

Thus, responders discuss occurrences, attitudes and feelings from the past. 

Method: Qualitative and quantitative surveys

Best used for: Marketing, branding, competitor analysis
Going Beyond Survey Research Methods
Understanding the various survey research methods are crucial to forming the most fitting market research campaign for your brand. However, it doesn't end here. With innovations in the market research field, other survey methods and sub-methods are going to emerge.
Moreover, after you've found the best survey research method(s) for your company, you'll need to conduct the proper survey data analysis. 
As such, you'll need to analyze your surveys, and this can be done in a number of formats. Some are going to be more visual than others. 
After all, conducting surveys is one thing, but understanding the surveys is the centerpiece of any research campaign.
Frequently asked questions
What is a quantitative research survey?
A quantitative research survey is one in which all responses can be assigned a numerical value so that results can be easily analyzed. They are used to quantify thoughts, feelings, and behaviors in order to make generalizations about the target market.
What is a qualitative research survey?
A qualitative research survey is used to gain a deeper understanding of the ideas, opinions, or experiences of a group of people. This type of survey uses open-ended questions that allow respondents to discuss their opinions freely.
What is a market research panel?
A market research panel is a group of individuals who have been selected to participate in a series of surveys over a specific period of time.
What is a random sampling pool?
A random sampling pool is a group of individuals who have been selected at random to participate in a survey. In an online survey tool, a sample pool is derived via automation.
What is a longitudinal survey?
A longitudinal survey is one that studies a group of individuals over a period of time, which can range from weeks to decades.
---
Do you want to distribute your survey? Pollfish offers you access to millions of targeted consumers to get survey responses from $0.95 per complete. Launch your survey today.
Get started