How To Conduct Financial Market Research Like A Pro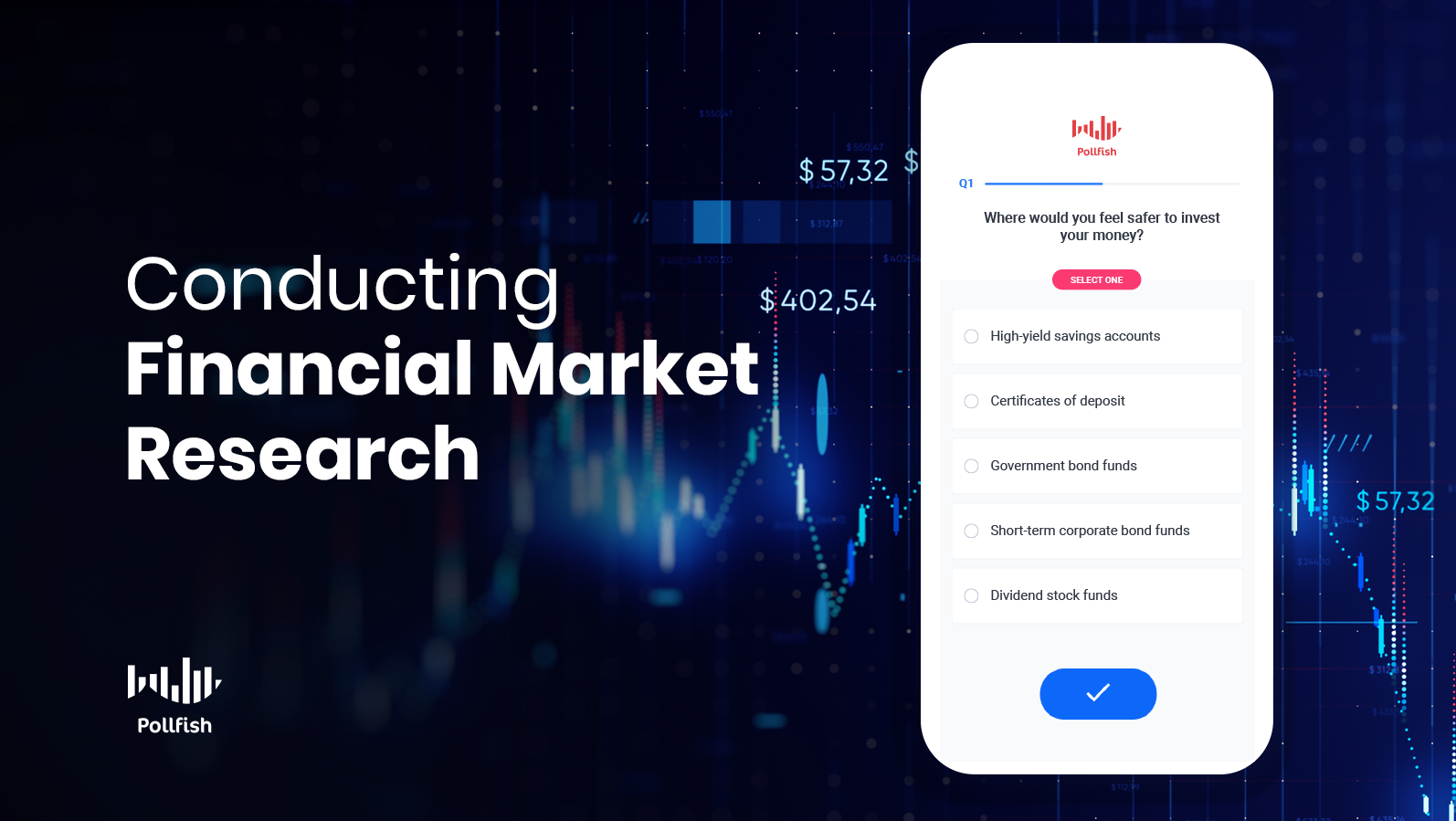 Financial services providers need to integrate financial market research into their business strategy. This research supplies providers in this vertical with meaningful insights on their target market, market products, and services.
Moreover, this data grants and gives financial services providers a framework for decision-making. As these institutions have to deal with money, there's a lot at stake for banks and money lending companies. 
In 2019 alone, the global financial services industry spent an estimated $50 billion extracting raw data to support their trading activities and transactions. 
This is because financial market research data enables them to forecast and analyze any trends or aspects of the organization that needs changes. Not only this, market research offers opportunities for investments that increase the profits for an organization.
Even in 2020, when the pandemic brought the entire world to a standstill and disrupted the global economy, financial market research helped finance leaders and the financial services industry to support the economy's financial recovery. 
The Rising Importance Of Financial Services Industry
As aforementioned, the financial services industry is the main driver of a country's economy, mainly dominated by large organizations. With a strong financial services sector, the nation's economy grows, and the consumers earn more, thereby increasing their purchasing power.
The uncertainty brought about by the global pandemic means that potentially every company and organization is likely to make smart and bold financial decisions. Unlike the financial crisis of 2008, the 2020 pandemic has disrupted all aspects of the economy. This means that finance leaders and the financial services industry are strategically positioned to support the economy's financial recovery. 
With the recent changes in technologies, the rise of new investment trends, and the significant shift in consumer behavior, financial services companies are forced to tap into valuable information to approach these changes. 
Moreover, companies need to leverage relevant data and insights to make the most of these opportunities to keep up with the recent digitization and innovation in the financial services industry. 
This means that market research is as crucial for the finance sector as any other industry. 
The Importance of Conducting Financial Market Research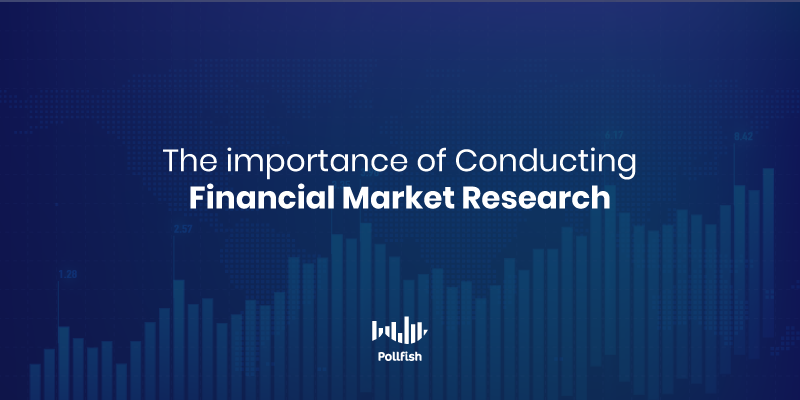 Financial markets play a crucial role in driving a country's economy and offering countless opportunities for investors to tap into specific markets and services. But with changing regulatory demands and consumer requirements, financial services companies and organizations need unique insights to keep up with this changing industry.
Financial market research is essential because it can help break down market data and trends into a broader context that offers finance companies a clear perspective of the risks and benefits of a particular service.
Therefore, several financial services providers invest in data analytics and market research to gain valuable information about their customers. 
However, conducting accurate research is not easy. Lenders, bankers, real estate brokers, and all other kinds of financial services providers need to know precisely what kind of information will help them in decision making. 
For commercial banks and investment companies, market research is essential as it determines which business proposition can benefit them in the long run. Moreover, it helps brokerage firms assess which products are in demand by their customer base so that they can suggest them based on the individual requirements of their customers.
The following expounds on  why a financial market analysis is important for banks and other businesses for their decision-making process:
When it comes to investing money, businesses need to know the right time to invest. With financial market research, they can predict the value of their investment to reduce business risks. Developing a financial plan that outlines all the risks and benefits that a firm may incur can give financial services providers an idea of which opportunities to invest in. 
Understanding these trends is also important so firms know exactly how to respond to market changes. Some frequent research areas for financial services providers include: 
Insurance

Business Banking 

Personal Loans  

Mortgages

Property Management
Effective Forecasting And Analysis
Accurate financial forecasting is crucial for financial service providers to strategize in the face of any uncertainties that may affect their business. Thus, financial market research equips businesses and institutions in their strategic planning process. 
This kind of research also provides deep insights into customer behavior and market shifts due to external factors and variations in market trends. With thorough finance market research, supported with effective survey campaigns, businesses can tap into what their customers are doing to offer something unique that sets them apart in the industry.
 It enables financial service institutions to set realistic and feasible goals and helps them predict their annual budgets. 
Accurate Demographic Targeting
To know their ideal demographic, businesses need effective financial market research to assess their target market and what they require from their business. This kind of research is also useful for understanding the distribution of consumer spending over a particular period and how customers feel about their financial situations. 
Financial service providers should inquire of their target market as such: are its members willing to make financial deals with your business at this time of crisis? How have their spending and saving plans changed?
Adequate financial research will delve into all these behaviors and trends at length to help institutions make better decisions. It also provides insights into demographic spending trends, where customers look for financial guidance and receptivity to media. 
Internal Audit Assistance
Businesses can evaluate the trading activities, existing credits, and regulatory reports for a successful internal audit by assessing financial market conduct.
The interconnectedness within the financial system has made it necessary for institutions to analyze their vulnerability to systemic risks by assessing and analyzing macro-economic factors, industry trends, changes in regulations, risks materializing at other entities, and innovation by peers.
Carrying out an internal audit for a company offers a detailed report on the market's existing and predicted financial risks. The interconnectedness of different industries and systematic risks in the economy brought about by the pandemic have made it imperative for financial services providers to put forward a dynamic audit plan. And the only way an audit plan will be successful in pointing out a company's vulnerabilities is with adequate financial market research. 
How To Conduct  Financial Market Research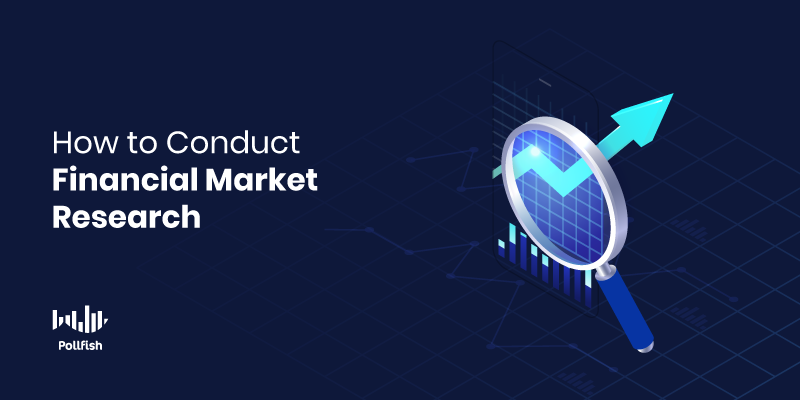 The following are two foremost methods for conducting financial market research:
Primary market research methods for the finance industry
Primary market research for the finance industry involves the direct participation of financial services providers in the research. It offers valuable data on different market areas that providers may require, as obtaining firsthand data provides them with unique insights, particularly their study. This is of utmost importance as secondary research providers do not provide data into the particular inquiries and topics of study that a financial services provider seeks. 
Some of the methods to conduct primary market research for the finance industry include:
Interviews –

Financial services providers can hold interviews with industry participants to ask questions that require deep understanding. This is important to assess the changing preferences of clients for different financial services
Observations –

This is a qualitative, no-interaction technique used by financial advisors that can help them gain useful insights regarding the practices followed by finance companies, their competitors, and customer trends
Email surveys –

Financial advisors can contact industry participants and get feedback through a survey that includes short questions. These responses can then be analyzed and compiled as a report to understand market trends
Online Surveys –

They prove to be an essential tool within

market research techniques

as they collect data and insights on the exact amount of respondents to use in a survey pool. Online surveys can also support a company's decision-making processes and offer them a competitive advantage through fast quality data. By accessing the right platform for generating online surveys, the

financial services providers

access qualitative and quantitative surveys.
Secondary market research methods for the finance industry
Secondary market research for the finance industry relies on data and information that researchers extract, meaning that the data has already been conducted by a third party and made available. 
Some of the methods to conduct secondary market research include:
Industry Reports –

Industry reports identify any opportunities or risks that the industry might face and present scenarios from the past that can help financial advisors deal with threats in a better way 

Case Studies –

Case studies illustrate how industries dealt with financial crises in the past and can provide a detailed, in-depth investigation into a complex situation. They are perfect for providing you with real-life examples of industries and actionable insights

Statistics sites –

Statistical research can help you decide which data collection methods would garner maximum results, what decisions to make, and how to predict behavioral response based on past statistical reports

Research papers –

Research papers provide in-depth knowledge on a particular topic that helps financial services providers understand and make better decisions

Research agencies –

Research agencies know all the proper tactics for conducting market research. They can help financial advisors with information such as client preferences, the right target market, predicting future financial conditions, etc
However, the type of research method financial advisors choose depends highly on time and available data. Qualitative market research like interviews and participant observation offers detailed, rich information and takes some time to collect. On the other hand, surveys and online feedback are easy to collect and lack necessary details. 
Secondary Market Research For The Finance Industry
The following is the list of the best secondary market resources on important data and insights on the finance industry.
It offers a general overview of the financial services industry, from money management to digital banking technologies. Also, it outlines all the major trends, topics, and behaviors needed for companies to climb up the ladder in the financial sector. 
Includes reports on the latest financial market research and provides analytical data on different financial subjects such as insurance management and consumer spending/saving patterns.
Compiled by IBIS World, this website is a massive database of thousands of industries. It presents useful information on economic changes, demographic data and helps organizations make better financial decisions. 
This website provides press releases, publications, and reports on banking and financial services. Given the devastating impact of the pandemic on the financial sector, the reports on MarketsAndMarkets also offer strategic, tactical advice on using financial services to help companies recover from their losses. 
The Business Research Company is the most authentic report on the internet that provides detailed reports on different industries in the market. It presents past trends and how markets have changed in the past decade and predicts statistical information on financial services providers. 
Financial market research enables the finance industry to gain meaningful insights into different products and services. This increases sales opportunities and offers businesses all the information they need to design effective financial strategies. 
Carrying Out Effective Research in the Financial Sector 
Financial market research enables the finance industry to gain meaningful insights into different products and services. This increases sales opportunities and offers businesses all the information they need to design effective financial strategies. 
Online surveys are the most convenient method for collecting data owing to their accessibility and accuracy. This is why financial services providers need to leverage the power of an online survey platform or market research experts so that they can target a vast audience base and generate reliable survey responses.
To improve data quality, advanced online surveys leverage machine-learning to highlight and eliminate poor quality responses. AI in market research reduces the chances of error and eliminates duplicate entries of data that might result in outdated information and poor data quality. 
These online surveys are then used in random device engagement sampling (RDE)to engage a huge customer base on devices they are already using. Whether these surveys are posted on mobile apps or gaming interfaces, they are placed where the business's audience can easily respond to them. This way, they can tap into unique and high-quality market research data that drives their decision-making process. 
Frequently asked questions
What is financial market research?
Financial market research offers useful insights into financial trends and strategies and gives statistical information on the leading finance companies. It also provides actionable insights regarding various financial instruments like portfolio pricing, risk management, etc.
Why do businesses need to conduct financial market research?
Financial market research minimizes the risk for financial services providers and identifies new business opportunities for them. It also gives them insights into market trends, identifies problem areas in the market and untapped resources.
How can an online survey platform help businesses with financial market research?
Online surveys are a reliable way of getting insights directly from consumers. They are also affordable and require minimal to no investment.
What are some of the resources to find secondary research on the finance market?
Secondary market research sources include the web, media sources, industry reports, case studies, press releases, publications, and company compiled data.
Do businesses need a financial advisor?
Even though many business owners choose to conduct their research, financial advisors can offer a solid, strategic plan that takes all their previous, present, and future investments into account and provide them with the most feasible plan. Moreover, financial advisors are experienced in their job and know a lot more about financial market trends than business owners that can help in effective decision making.
---
Do you want to distribute your survey? Pollfish offers you access to millions of targeted consumers to get survey responses from $0.95 per complete. Launch your survey today.
Get started