How Relentless Quality in Market Research Perfects the Strategic Planning Process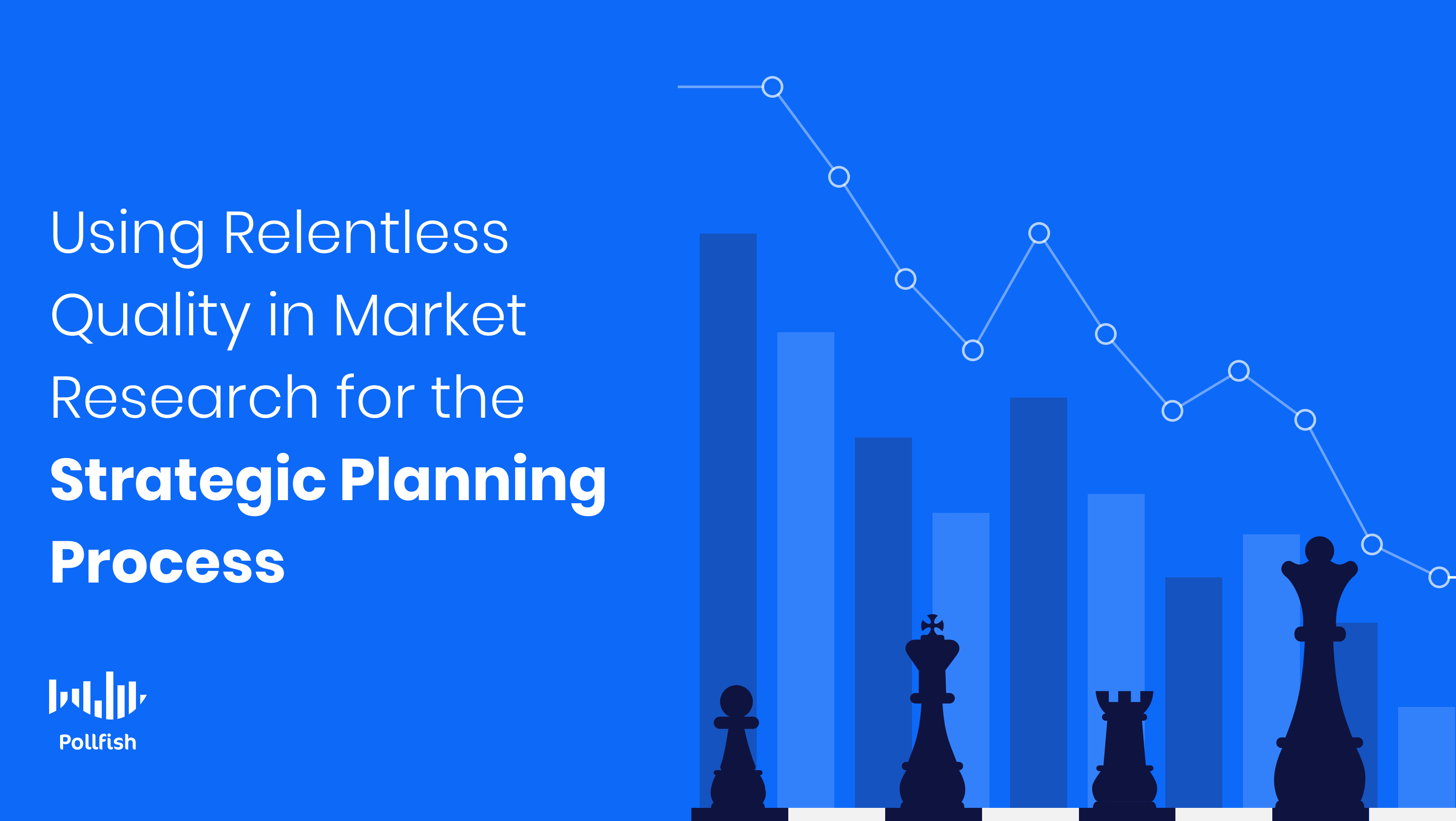 Surviving in business depends on a well-established strategic planning process — and not just for new businesses. This ensures that a business establishes its priorities and correctly focuses its efforts and resources in order to obtain them.
Despite the importance of this process, up to 67% of strategic planning fails.
You can build an effective strategic planning process with market research, but you'll need to use the proper market research tool.
That's because in the demanding world of business today, market research tools must provide relentless quality in order to sustain a strategic plan.
This article explains the strategic planning process and how a market research platform that provides relentless quality can support this effort.
Understanding the Strategic Planning Process
This process involves all the activities that your business performs as part of strategic planning, the organizational management activity used to identify priorities, set goals, map out a direction, produce strategies, allocate resources, and make decisions to accomplish the goals. 
This process plans the fundamental course that your business should take, along with its actions, while layings out what your business seeks to do, who it will serve, and why it will do so. It is built with a focus on the long-term.
In the strategic planning process, your business must cover as many bases surrounding itself as possible, including where it currently stands, where it is going, where it seeks to go, and what it's striving to achieve. Additionally, the strategic plan must include all the actions required to accomplish its goals based on this evaluation.
The strategic planning process also includes measuring the effect of its activities and whether your business has achieved the kind of results it sought., It is therefore an exhaustive process that involves strategy, exchanging ideas, testing and implementation.
Essentially, the strategic planning process centers on a catalog of steps that managers must follow to form and implement a strategy within a company. This process aligns the entire company around its main goals and how to execute them. As such, it is also meant to create transparency, so that no employees are left wondering about the objectives of a company and how to incorporate them into their daily work. 
The Importance of a Well-Executed Strategic Planning Process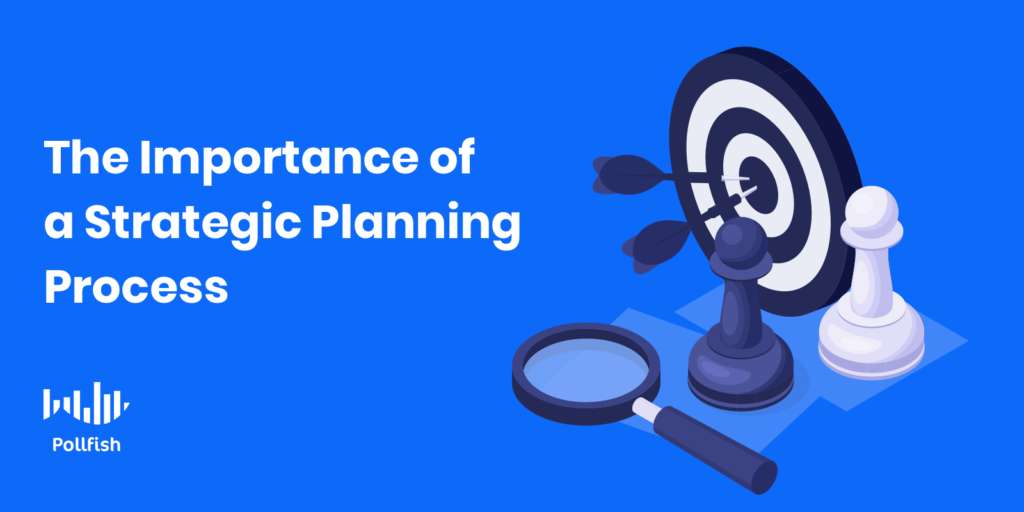 It is critical to establish a solid strategic planning process for a number of reasons. Without clearly established goals and plans, your business would be navigating in the completely uncharted and unaided territory. 
As for the process itself, your business must understand the steps it will need to take to tackle its goals, especially since many of them are mid-to-long-term goals. The following lists the various benefits of a well-executed strategic planning process:
It

sets a clear set of goals

and

an honest assessment of an organization's strengths and weaknesses.

It reveals

what is most important, relevant, and actionable

in business, removing the guesswork.

It offers

plans on how to achieve its goals

, with different ideas that businesses can smartly put to the test. 

It helps companies

understand how they can improve their performance

. 

It

shows businesses where their biggest challenges lie

, whether it is in your business itself or

external factors

(laws, changing trends, customer behaviors, etc).

It

prevents businesses from performing tasks that will yield little to no growth

or benefits.

It

enables businesses to respond to a change or an issue with preparation,

lowering stress and the difficulty of handling the unknown.

It fosters and

upgrades the technical abilities of your workforce or produc

t.

It

aligns employees and shareholders

with business objectives and visions.

It determines

KPIs

 

so that businesses can track progress based on data

. 
When to Use the Strategic Planning Process
Strategic planning is an ongoing activity, therefore its process should not be applied just once. Although mainly used by new companies and startups, strategic planning should be involved at various stages, especially those that are bent on making change. 
As for scheduling the process, this will vary based on the needs and experiences of your business and its external settings, such as its niche, target market, or competitors. 
The strategic planning process should be regularly carried out in a business that operates in a frequently changing industry, such as the SaaS industry, for example. In this case, this kind of process should take place 1-2 times a year.
If your business has existed for a long time and is in a slow-moving market, it can carry out a lesser frequency of one strategic planning process a year. This should involve updating in which only certain parts of the process.
Aside from new businesses, all businesses should perform strategic planning when taking on any new venture, whether it is an acquisition, a new department, product, or branding change.
Businesses that are in an unstable or semi-stable marketplace should conduct the strategic planning process at least once a year in preparation for the coming fiscal year. By doing so, they can identify the organizational goals to accomplish in the coming fiscal year, along with finding the resources to obtain the goals. 
In this way, this process is a must for budget planning. However, businesses will not need to complete every step of the process each year, as the full strategic planning process should be conducted at least once every three years. As mentioned previously, it should be conducted every year when businesses or their external environments undergo a massive change. 
Although longtime businesses in stable marketplaces don't need to conduct this process yearly, they must review it once a year to determine any new action items and to determine whether anything should be removed.
How Market Research Supports the Strategic Planning Process
Market research is invaluable to the strategic planning process, as it provides a stable foundation for virtually every step of the process. 
This form of research provides insights on your business's target market and industry at large, the kind of crucial data that supports a vast array of decision-making. 
That is because creating objectives and planning activities around them based on intuition is dangerous and costly. Unfortunately, many businesses do not pay enough attention to their market research data, or any sort of data, as over half of the data businesses obtain goes unused.
This is a major misstep as market research offers relevant information on the heart of your business: its consumer base. A strong market research tool can help your business reap the most updated data on its target market, along with specific market segments. 
In this way, using a primary source of research is superior to conducting secondary research alone, as secondary research may not be fully updated, relevant to your business's specific needs, or involve using questions that a particular business needs to address.
Market research provides the key insights that a strategic planning process needs, as it sets concrete objectives and lays out concrete processes, all of which require time and resources. By gathering and analyzing market research, your business can gain a competitive advantage, one that yields 10 percent in sales growth and higher margins.
A market research survey in particular is a potent way of extracting the kinds of insights that set a strategic planning process in motion. Surveys are versatile and can take various forms, from customer satisfaction surveys like the NPS to employee feedback surveys, to B2B surveys, and many more.
They are devised to help your business understand a number of issues, such as product satisfaction, product needs, opinions, aversions, user experience, and much more. You can create them with any sort of questions, depending on the market research platform they use. 
In order to create a strong strategic planning process, businesses should turn to a market research tool that offers relentless quality. 
How a Platform Offering Relentless Quality Perfects the Strategic Planning Process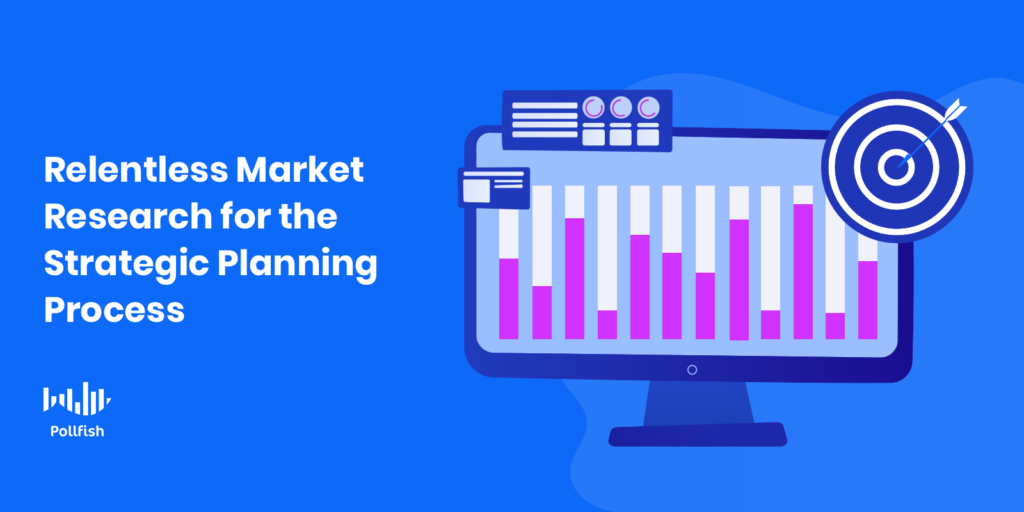 Obtaining a market research platform that is built on relentless quality is difficult to come by. While this may be a tall order, given that there are so many tools marketed in this way(but not verbatim), only a few deliver on this promise.
The Pollfish market research tool, on the other hand, delivers relentless quality, the kind designed to provide a 360-degree assessment of all the factors involved in a strategic planning process. 
Whether your business needs to determine its specific market segments through market segmentation or weed out survey fraud and faulty responses with artificial intelligence, Pollfish offers both and much more. 
It also uses a viable sampling method to gain timely responses in a randomized way to limit survey bias. This method is known as random device engagement (RDE) and it is extremely effective at gaining responses from a target market the natural way, by deploying surveys across a vast network of digital properties that users visit voluntarily, meaning that they are not forced to take a survey or are pre-recruited. 
It helps your business gain intelligence at virtually every aspect of the business relating to its customers and employees, which helps hammer out reasonable objectives and a market research budget for a strategic planning process. 
Additionally, businesses can use the Pollfish platform for the following aspects of their strategic planning process:
Finding funding priorities

Gauging customer-service satisfaction

Discovering new customer needs that can help set off new product launches

Identifying the backbone of strategic goals

Discovering whether a business needs to change its

branding

direction
The Pollfish platform allows businesses to gain access to all of these factors and more in a friction-free way, as the platform is user-friendly; there are only three main steps to make your own survey.
The platform uses quality checks to remove any below-par data, such as repetitive answers (flatlining), gibberish answers, VPN use, and more. It does so through a machine learning system that cancels out the need for manual quality checks.
It also offers 24-hour support from a dedicated team of market researcher experts. As such it is possible to perfect a strategic planning process, as long as it is done with the proper market research tool. Because the Pollfish online survey platform offers proven relentless quality, your business should look no further and use Pollfish for all their strategic planning needs.
---
Do you want to distribute your survey? Pollfish offers you access to millions of targeted consumers to get survey responses from $0.95 per complete. Launch your survey today.
Get started