Using B2B Surveys for Lead Generation & Scaling Your Business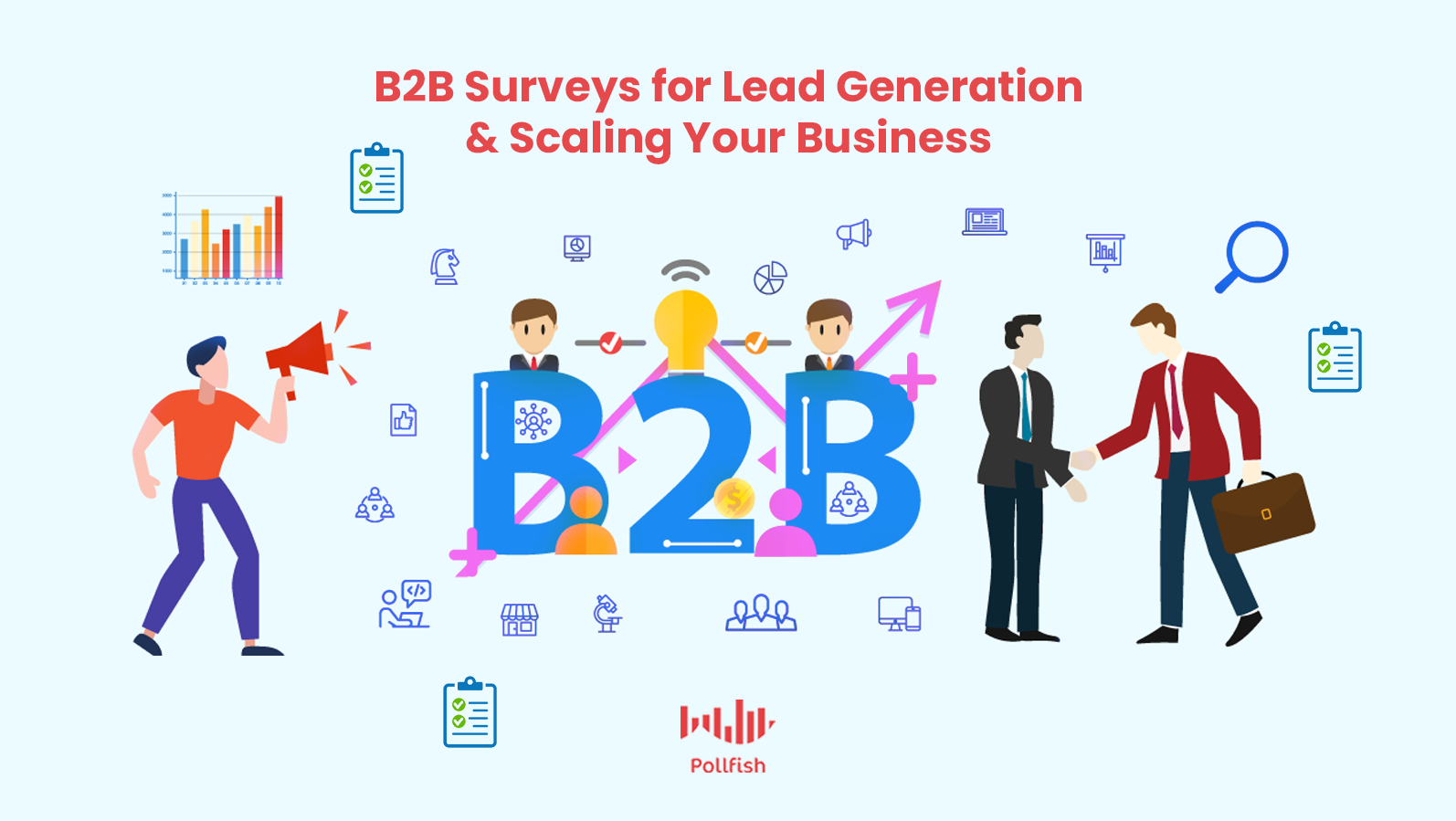 B2B surveys may appear to rarely be in use, but they are invaluable tools for B2B companies. 
Although survey research is commonly used for B2C companies to better understand their target market, specific market segments and to test their own customer experience, B2B companies have plenty to gain from launching a survey campaign.   
Even B2C companies benefit from B2B surveys, in that aside from catering to consumers, these companies must also bolster their relationships with their partners and business customers.
Surveys largely fuel B2B market research, but they are also the chief drivers of lead generation. This article explores B2B surveys and how B2B companies can use them for lead generation and scaling their business.
Defining B2B Surveys
A B2B survey is a survey designated for business professionals to complete so that a B2B business can better understand its target market and specifically, its partners, business clients and prospects. 
The former two targeted respondent types are crucial for retention, while the latter is used for incoming business, i.e, lead generation. All three spheres are critical in the upkeep of a B2B business and as aforesaid, in B2C businesses at times.
As far as lead generation is concerned, B2B surveys provide a means for nurturing leads, bringing them closer to conversion.
How B2B Surveys Present an Important Force in the Sales Funnel
By nurturing leads, B2B surveys are crucial components of the sales funnel. Typically, these surveys are administered in the mid to late stages of the sales funnel, when prospects have some familiarity with a business and show some degree of interest. 
Moreover, these surveys can also be sent to post-sales customers, i.e., partners, members and business customers. While surveys to those in the mid to late stages of the sales funnel help drive leads, post-sales B2B surveys encourage partner and customer retention.
This is because these surveys are used to probe business professionals on how to better serve them, which includes: 
Discovering pain points in your digital experience or content assets (reports, white papers, blogs, etc.)

Identifying successful assets, experiences and communications

Learning how to improve existing lead generation efforts (ex: questions on emails, assets, etc.)

Understanding partners' and prospects' reactions to your product, solution or experience

Finding the key information that prospects seek while using your product or navigating your content marketing assets.
How B2B Survey Differ from B2C Surveys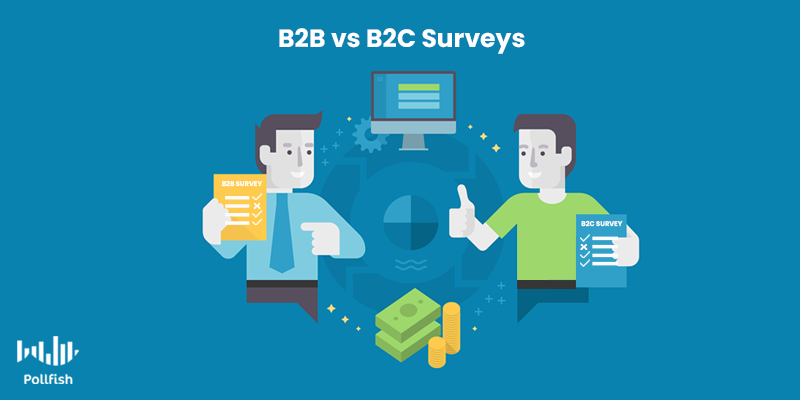 B2B surveys serve a different market and have different end goals than do B2C surveys. As such, although they are both surveys, they differ in several ways. As such, they each have their own set of challenges and benefits. 
As we laid out the benefits in the above section, the below explains the differences between these types of surveys, so that you can properly differentiate and conduct a B2B survey.
Sampling Pool Methods and Size
The survey sampling methods are disparate between these survey types. First off, B2C surveys rely on random, aka, probability sampling, as they attempt to reach all consumers that fit under certain criteria as opposed to those who are in the mid-late stages of the sales funnel. 
B2B sampling pools, on the other hand, are far more concentrated than their B2C counterparts. Thus, these pools use non-probability or non-random sampling. This relies on the researcher's judgment instead of random selections and thus, not all members of a target population have an equal chance of being in the sample. 
Since they only gather specific individuals to be part of the survey, B2B surveys are much smaller in the sampling pool size. 
Targeting 
B2B surveys are more targeted. As such, they may only seek professionals with particular job titles. This kind of hyper-targeting is not found in B2C surveys. With the targeting focused on specific individuals, these surveys tend to be qualitative in nature. 
An example of targeting respondents in the mid-stages of the sales funnel involves those who already happened upon a B2B site and engaged with some of its digital offerings. For further reference: a VP of Marketing for a telecom company downloads a report from a B2B company that focuses on scaling in their vertical.
The survey can be attached to the downloadable asset, or emailed to the VP.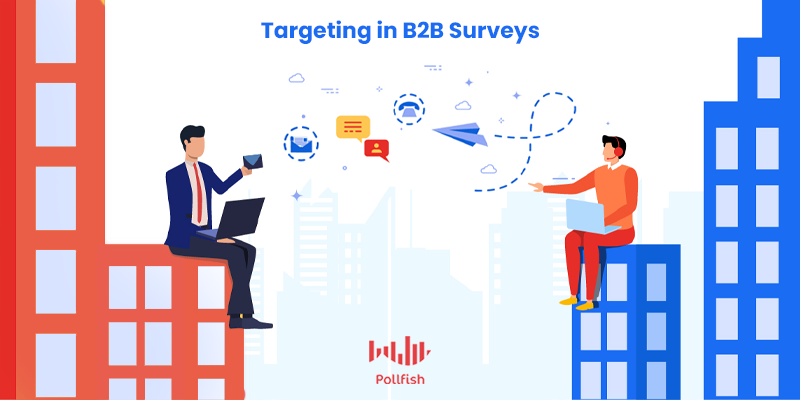 With B2B surveys, responses aren't always anonymous. This is because they often ask respondents to fill in fields about their job departments, job titles and many times, their names as well. This is especially true in a nurture campaign, in which a business lead may for example, receive an ABM package, then discover a blog post, which leads to a report. Within this B2B phygital journey, they may be targeted, as B2B surveys help you keep track of your campaigns. A name is evidently the best identifier of the professional behind this journey. 
Response Rates
Given that B2B surveys often rely on non-probability surveys, have smaller sample pools and are hyper-targeted, their response rates are commensurately smaller. This is not necessarily a negative aspect, as it allows market researchers to focus on the qualitative features of their research. Additionally, in a hyper-targeted campaign, researchers and B2B marketers take a more targeted approach to nurturing a particular professional, rather than a group marketing approach. 
Survey Methodologies
B2B surveys don't always generate responses from their first release. Sometimes they require sending multiple reminders to the respondents to complete their surveys. Other times, they may require different methodologies. If you've asked one of your partners or business clients to take part in a digital survey and they haven't done so, consider conducting it over the phone. This is especially useful if you have meetings with such individuals regardless.
How to Use B2B Surveys for Lead Generation
There are several ways to generate leads and push prospects further down the sales funnel, or, at the very least, keep your current business clients and partners satisfied with your relationship with them. The following enumerates key actions that B2B surveys help you take in order to scale your business, whether that's strengthening already existing business relationships, or creating new ones.
Identifying valuable MQLs:

B2B surveys provide key identifiers such as company names, positions, full names, emails and phone numbers. These identifiers alone can help you determine which respondents are MQLs, based on company size, funding stage and the respondent's role. This also allows you to find the best content marketing asset to lead them to.

Insights into Buying Readiness

: These surveys allow you to see exactly who is ready to buy and who is considering a long-term business relationship. For example, SaaS companies often gain new customers via contracts. A B2B survey allows you to ask directly for answers to an MQL's buying readiness, whether it's a 6-month contract or a one-time purchase.

Improving Your Content Strategy

: For leads that require more nurturing, B2B surveys grant you insight into your leads' content needs and preferences. Perhaps some leads prefer short-form content such as infographics and data bites. Or perhaps, they don't care what kind of content piece it is, as long as it shows your product (ex: software, etc.) in action. Perhaps you need to inject more relevant content into your nurture program. A B2B survey can discover that, and even reel in trends within your industry by asking questions about them.

Eliminating Pain Points:

B2B surveys point you to your leads' pain points. These can exist in your products/services themselves, in which case these surveys give insight into their user experience (UX). If so, these are insights you can use to improve your retention, so that current customers stay customers. Or, you can also reel in more leads, by finding the pain points within the sales funnel. Perhaps there is a webinar that your leads thought missed key information. Either way, knowing about these pain points is a critical step towards eliminating them, so that your leads feel that you take their considerations seriously and offer solutions.

Providing Incentives

: Your B2B survey strategy can benefit from providing incentives. Unlike consumer survey incentives, B2B incentives should be business-oriented. Therefore, a 20-dollar gift card or points on a mobile game won't do. Rather, consider offering a small business promotion. For example, offer an enhanced trial of your offering. Ex: A SaaS company grants respondents a week of freemium access to their software.
Putting B2B Surveys into Action to Scale Your Business
There are many marketing efforts that have measurable scaling effects on businesses. With the current mobile-first digital age, content is king. However, content marketing alone is insufficient when it comes to catering to your B2B clients, partners and leads. 
You need to understand their preferences, aversions and desires similarly to how you would with a consumer audience. This is how surveys make their way into the picture. B2B surveys help scale your business on a number of fronts. 
From understanding your business customers for retention, to obtaining new leads and nurturing them down the funnel, these surveys are key for your business to scale — and in today's competitive landscape, survive. 
Frequently asked questions
What are B2B surveys?
B2B surveys are surveys designed for B2B purposes and therefore business professionals to complete. They provide firsthand feedback from the target market of the business. They can also be used by B2C businesses for gathering feedback from partners and vendors.
Why are B2B surveys an important part of the sales funnel?
B2B surveys are an important part of the sales funnel because they help nurture leads by helping B2B businesses understand the needs and wants of their audience. They're often used in the middle/toward the end of the sales funnel when prospects are already interested in the business. Surveys sent in this stage help drive leads, while surveys sent post-sales to promote partner and customer retention.
How can B2B surveys be used to better serve business professionals?
B2B surveys can be used to identify various aspects of the digital experience, such as pain points, successful content assets, communication preferences, site elements, along with everything that the B2B respondents seek. . They can also bolster lead generation, by way of extracting key information that prospects crave while using your product or content marketing assets.
How are B2B surveys different from B2C surveys?
B2B surveys serve a different market than B2C surveys, and they have a different end goal, too. Instead of gathering information on how a business can help their audience, B2B surveys gather information on how a business can help other businesses. To accomplish this, they also have different survey sampling methods. B2B surveys tend to be more targeted and have a lower survey response rate.
What are the benefits of B2B surveys?
B2B surveys provide information like company names, positions, emails and phone numbers. They help B2B businesses find out who is ready to buy, as well as what businesses want a long-term relationship. B2B surveys also inform content strategy by providing insight into prospects' needs and preferences. They can also help you eliminate pain points by revealing them to you.
---
Do you want to distribute your survey? Pollfish offers you access to millions of targeted consumers to get survey responses from $0.95 per complete. Launch your survey today.
Get started