Closed-Ended Vs Open-Ended questions: Everything You Need to Know (2022 Update)
In a survey, information is collected from respondents using closed-ended or open-ended question types, which can present themselves in a variety of different ways. Oftentimes questionnaires include a healthy mix of both.

What are closed-ended and open-ended survey questions?
Closed-ended questions are those that offer a limited selection of answers to choose from, such as a single or multiple-selection question, matrix, or scaling question type. 
Open-ended questions are questions that allow a freely-written response to be added. This can be anything from a single word to a short answer. Sometimes they exist within a closed-ended question as a way to provide supplemental text to an answer that doesn't fit the given options. 
Typically, closed-ended questions are used to answer "what" questions whereas open-ended survey questions are used to answer "why" questions. 
---
When should you use a closed-ended or open-ended survey question?
Closed-ended questions
Closed-ended questions are a popular method for gathering quantitative data by offering a set of answers that are easily segmented when the survey is complete. 
They're often used in primary research to establish a benchmark or prove a hypothesis, then later supplemented by qualitative research to dive deeper into the topics discovered.
Closed-ended questions are often presented in written questionnaires or mobile or online surveys using radio buttons, drop-down menus, or sliding scales. Due to their limited responses and formatting, these usually yield a high survey response rate in digital environments and collect large quantities of data rapidly.  
When should I use closed-ended questions?
Open-ended questions
Open-ended questions are a way to gather qualitative data such as feelings, attitudes, or other more abstract information. While not as easy to analyze as closed-ended questions, they offer additional context that quantitative data cannot provide. 
These survey questions are more common in secondary and tertiary research experiments to explore topics in greater depth. They can appear on survey questionnaires and are also used in interviews and focus groups as a more conversational data collection method. 
Most research includes both question types at various points throughout the project to develop a thorough understanding of the topic. 
When should I use open-ended questions?
Best for qualitative market research
Best for gaining context to answers
Best for interviews and focus groups
Slower, but more thorough
Can be used with a closed-ended question as a follow-up
Can yield lower response rates on written or mobile surveys
---
Examples of closed-ended survey questions
Closed-ended survey questions are used in quantitative research projects, often for primary or broad research. Because the answers are limited to a static data set, these are more easily segmented and analyzed than open-ended questions. 
Closed-ended questions can include things such as Likert scales, rating scales, matrix questions, NPS scores, and more. Nearly all questions you see on a digital questionnaire will be closed-ended due to the ease of their formatting. 
Businesses often use these types of questions in exploratory research such as broad market research, determining product-market fit, or price testing. Advertisers and brands may use this type of question in a survey about brand awareness, to measure brand lift in a specific demographic or geographic area, or to determine the effectiveness of a campaign.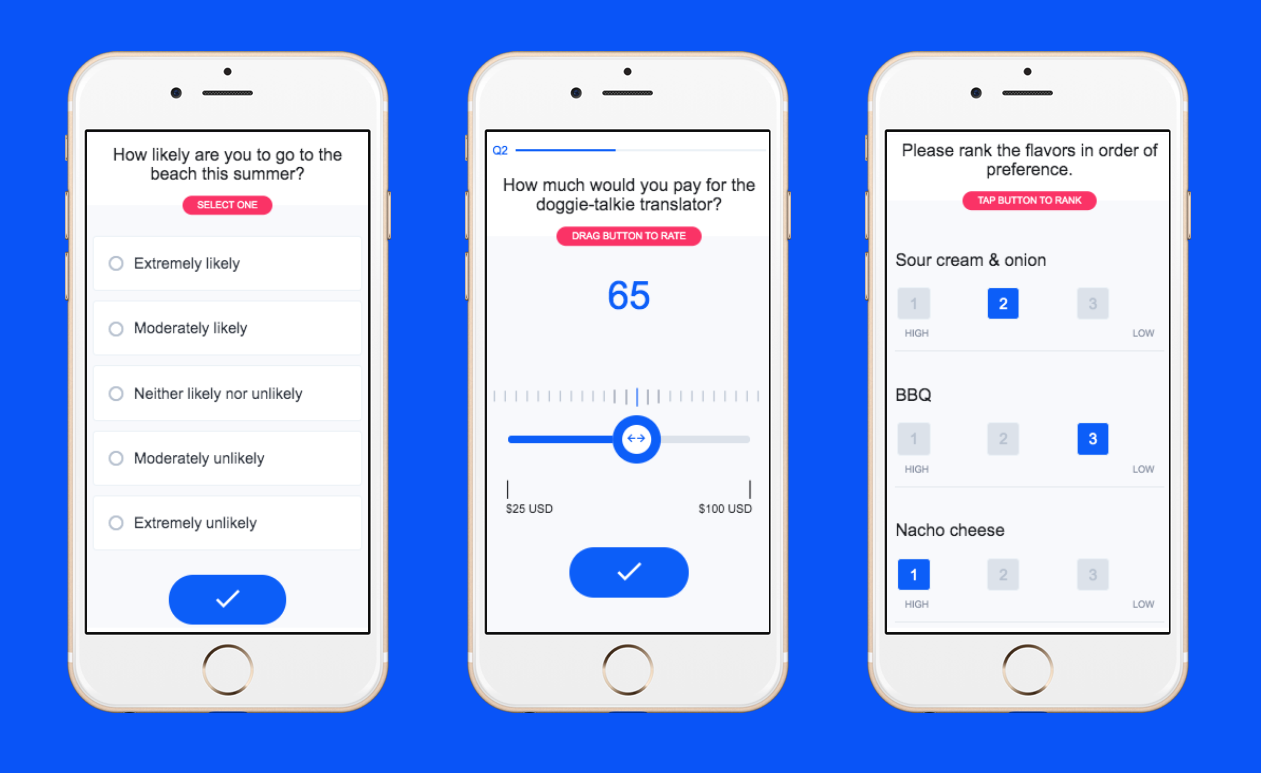 ---
Examples of open-ended survey questions
Open-ended survey questions are open text-based boxes where respondents can freely write their thoughts to an answer. Oftentimes insights are gathered through closed-ended questions first to ensure that researchers are on the right track, then open-ended questions are used to gather additional context.

Businesses often use open-ended questions in focus groups, among existing customers, or user experience feedback for a more conversational experience. They also may use these in conjunction with a closed-ended survey question on a questionnaire to provide additional context.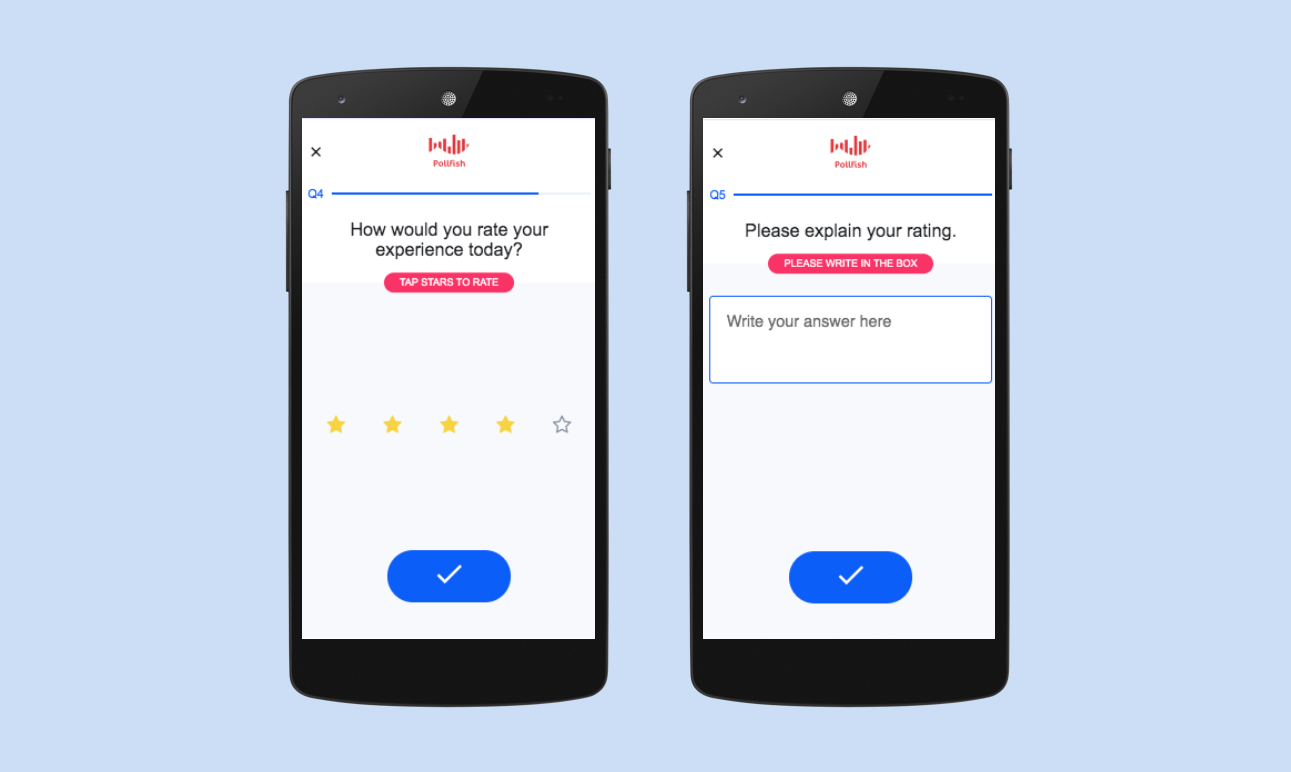 ---
Best practices for using closed-ended 
Closed-ended survey questions almost exclusively appear in written questionnaires. When writing closed-ended survey questions, make sure to follow best practices. 
1. Use clear, concise language

Closed-ended questions are typically quick to respond to and should not be overly complicated or long. 

2. Ensure that scales are presented in a logical order

Scaling question types, like likert scales, should be presented in the order that follows a logical sequence. 

3. Shuffle answers that are unordered

In survey question types that do not follow any sort of sequence, make sure to mix up answer choices to reduce bias. 

4. Consider outside factors

Make sure you are considering where respondents are when they are when taking the survey. In mobile, surveys should be kept short and easy to complete on-the-go for optimal respondent experience.

5. Offer a way out

Sometimes respondents may not be a fit for a certain question, such as if they don't care or are not familiar with the subject. In this case, provide them with the option to choose "other", "no opinion", or use skip logic to remove them from the flow.
---
Best practices for using open-ended 
Open-ended survey questions are less structured, which leaves a lot of room for bias in the data. It's important to consider this when creating the questions.
1. Take a neutral position

Be careful to avoid leading questions and let the respondent use their own words to provide the answer. 

2. Use sparingly in mobile

Open-ended questions are best in surveys where respondents can take their time and have few distractions. 

3. Always let the respondent offer more

The best open-ended question is often "why?" It allows respondents to explain their thinking behind a previous answer and provides additional context that you may not have considered.
---
Using closed-ended and open-ended survey questions in Pollfish
In Pollfish, you can choose from a wide range of question types, which include a mix of closed-ended and open-ended question types.
Closed-ended questions on Pollfish
Single-selection
Multiple-selection
Rating stars
Slider
Ranking
Matrix, Single selection
Matrix, Multiple selections
Net Promoter Score
Open-ended questions on Pollfish
Open-ended
Numeric open-ended
Description
2022 Update: Character Limits in Open-Ended Question Responses
Our latest update on open-ended questions entails the ability to set character limits on open-ended responses. Researchers can now do the following:
They can dictate the minimum amount of characters they need per each open-ended question response.
They can set the maximum amount of characters in the open-ended question responses.
They can include a range of minimum-maximum character limits.
They also have the choice to use the default limits, which is 2-500 characters.
Check out our latest update in open-ended responses below:
Forming the Best Survey Questions
Because Pollfish delivers surveys entirely in a mobile setting, best practices for writing good survey questions should be followed while keeping the respondent's experience in mind.
Although Pollfish does offer open-ended grouping to assist with putting like-answers together, we recommend using open-ended questions sparingly. Open-text responses require more effort from respondents (sometimes reducing completion rates) and the data can be challenging to analyze, especially for large surveys.
If you have any questions about how or when to use any of the question types in Pollfish, our 24/7 CX team is available to help.
Wanna share this info with your friends? Check out this infographic!
---
Do you want to distribute your survey? Pollfish offers you access to millions of targeted consumers to get survey responses from $0.95 per complete. Launch your survey today.
Get started