How Market Research Can Build Consumer Loyalty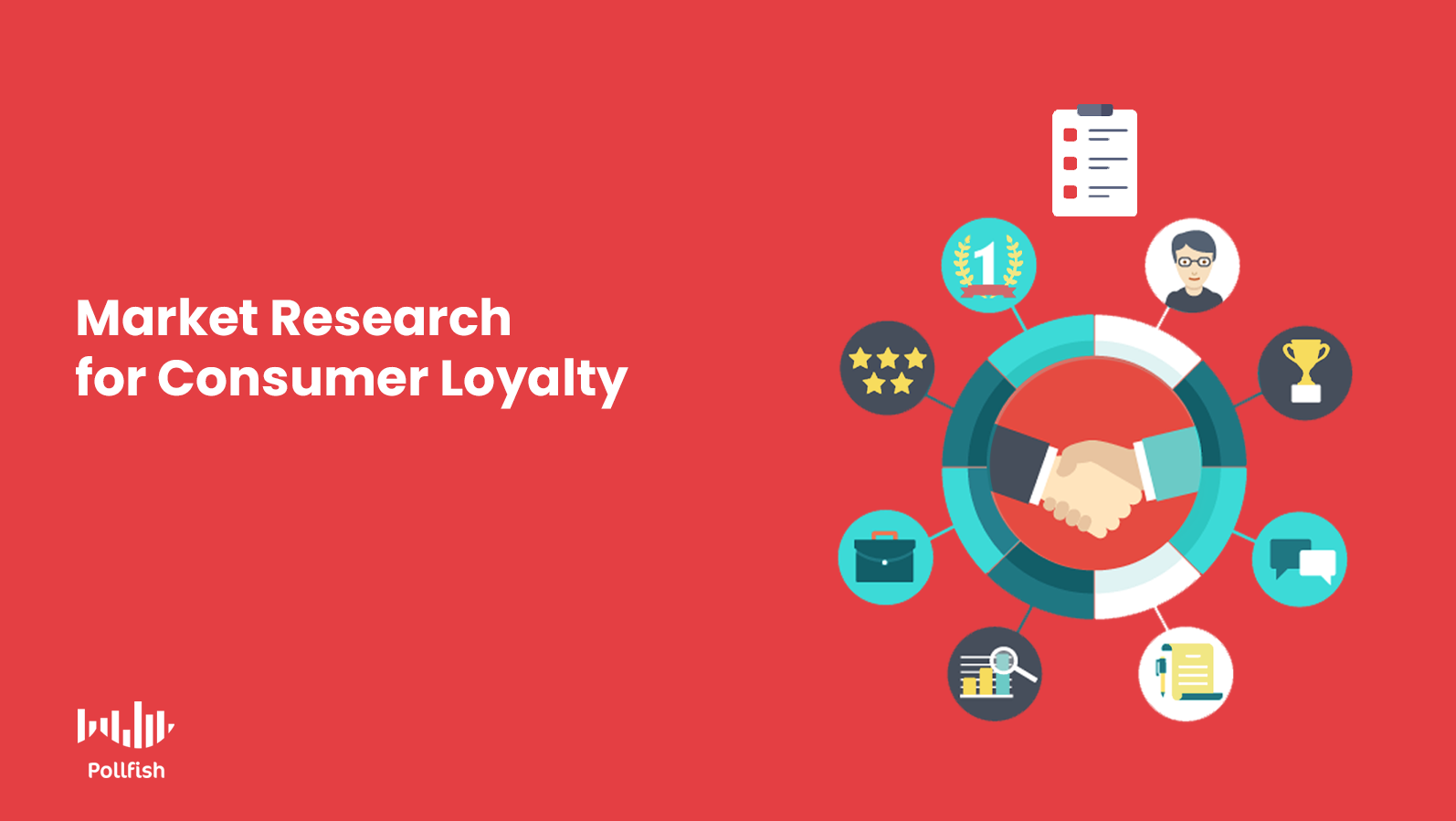 Consumer loyalty is the principal objective of any business, a purpose more that should be more sought after than sales alone. This is because consumer loyalty is the main driver behind repeat sales.
This end cannot be reached overnight and to the surprise of many brands, it cannot be reached simply with a quality product. Instead, it takes several factors to build consumer loyalty. 
This article explores consumer loyalty, why it is crucial, how it can benefit your business and mainly, how market research can help you achieve it. 
Defining Consumer Loyalty
Consumer loyalty can be defined in several ways, some are more specific than others. While it may sound self-explanatory, for the purposes of market research, this concept is specifically defined as: the measure of a customer's likelihood to patronize a business repeatedly. 
As the name suggests, this phenomenon stems from a feeling of loyalty to a brand, the kind that chiefly results from product satisfaction, customer satisfaction, and a good customer experience (CX). However, there are many other aspects that play a role in consumer loyalty.
These can be difficult to obtain as brands cannot fulfill all of their customers' wishes. They certainly cannot achieve this feat if they do not know all of their customers' pains, needs and concerns.
This is where market research comes into play. You can conduct market research in a number of ways. 
What Brands Gain from Consumer Loyalty
The goal of consumer loyalty is crucial to obtain and not just for the evident reasons. There are key facts on consumer loyalty that bear statistical importance. As such, brands need to approach this topic seriously.
Firstly, customer Loyalty is the main contribution to customer retention. A mere 5% increase in retention raises profits by 25-95%. This is not only because retained customers make repeat purchases, but also because repeat customers spend more money.
Consumer loyalty breeds brand ambassadors, and 83% of consumers will recommend a brand they are loyal to.
Aside from these statics of customer loyalty gains, you ought to know how customer acquisition — the act of gaining new customers measures up to customer loyalty. While acquiring new customers is key to business growth, customer loyalty still reigns supreme in comparison. This is because:
How to Build Customer Loyalty with Market Research
Market research is an umbrella term that covers various methodologies to determine the success of a new product or service through researching one's target market, competitors and the general state of an industry.
By examining your target market, i.e., customer base, you can learn about its preferences, needs and pain points. Tapping into the minds of your target market will allow you to serve them best, whether it is through new products, product upgrades, online experiences or general CX (customer experience). 
Market research involves using primary and secondary research, that is, self-conducted research and research that has already been conducted and made available, respectively. The following delineates the attributes that foster customer loyalty, along with how market research can build them up.
Usability: Customers need to be reassured of the usability of your products/services. Understanding the ease of use of your offerings is thus crucial to creating customer loyalty. Primary research such as focus groups and surveys reveal the degree of your business's usability, paving the way for understanding what works and what doesn't.

Trust:

If customers don't trust your brand for any reason, they will not return for future transactions. To test how you fare with your customers, conducting

customer satisfaction surveys

, Net Promoter Score (NPS) surveys and other customer loyalty surveys. To get a sense of how customers generally view brands in your niche, you can use secondary research like statistics sites, industry reports and blogs in your industry.

Customer Service:

A key part of UX, customer service involves any touchpoint in which customers interact with company representatives. This includes leads speaking with sales representatives over the phone, a customer relying on a cashier or sales associate for help in-store, chatting with a rep via a site's chat or getting phone support. You can use secondary research to get an overview of customer service in your industry via industry sites. You can also conduct secondary research on your competitors for ideas on how to boost your own customer service.

Personalization:

Greeting customers by their names on your digital properties is no longer a potent personalization method. Instead, customers are looking for more targeted efforts to show that their unique needs and desires are being met. As such, brands should avoid taking generic approaches in customer messaging and journeys. Instead, brands can use secondary research to see what segments in their target market desire. In order to conduct market segmentation, you are going to need to use surveys. Additionally, to understand your customers at a deeper level, you'll also need to implement surveys.

Social Media Presence:

Social media has allowed brands to create more intimate relationships with customers. Creating social content can pique the interest of existing customers, prompting them to return to your brand at least to browse your social content. This can relieve them of boredom or curiosity, while keeping your brand on their minds. Primary research such as surveys can help you test your social media strategy to see what type of messaging and topics yield the most positive reactions. 
Best Practices to Nurture Customer Loyalty
Developing customer loyalty requires market research and after you've gathered a substantial amount of it, it's time to implement some best practices. You can experiment with the following options to see which tactic works best for growing customer loyalty.
Loyalty rewards programs

: an oldie but a goody, this type of program helps both to attract customers and to keep the customers buying from you. This program, like its name implies, rewards your customers for being customers. For example, you can implement a point-based system based on the number of purchases customers make, which will reward customers with a discount, credit or some other benefit when a certain amount of points is reached.

Optimize your digital user experience (UX):

We live in the digital age, where many purchases are done online. But it doesn't end, as window shopping is also done in an online format. Many shoppers browse websites to get a sense of your offerings, so you should ensure your best offers are on display, along with seamless website experiences. Avoid long page load times, messy navigation or time-consuming check-outs.

Communicate with targeted solutions:

Show your customers that you've been paying attention by only massaging them with targeted solutions. For example, if they frequent your business for one type of need, focus on those such products. Give suggestions on past purchases and cater to their whims. You can achieve the latter by scrutinizing your customers directly, by way of questionnaires.

Innovate your products:

Product development can be laborious and pricey, but it is well worth it when it comes to customer loyalty. With competition left and right on the internet and in brick-and-mortar shops, consumers will look to brands that provide the best product experiences. As such, you should research your top competitors to see how they're improving their products. You should also inquire from customers directly, what they would like to see improve from your products/services.

Hire employees who care:

Since customer service is dependent on interactions with employees, you ought to hire carefully by vetting your job applicants. You should also place etiquette and politeness as top qualities for any consumer-facing role. But aside from hiring the best talent, you ought to keep your talent happy. Implementing employee satisfaction surveys will help measure how satisfied your employees are on the job. Employee happiness is sure to relay over to customer interactions.
Market Research: The Constant Giver 
Since market research is concerned with staying in the know constantly on your market, customers and competitors, it is thereby a perennial tool for various business needs. As such, it is more than just a tool, as it entails using various sources of data.
Continually performing market research through both secondary and primary means will ensure you're ahead of the curve, especially when it concerns consumer loyalty. Let's face it, no matter how well you improve your product, service and customer experience, you are not a mind reader.
Consumers change their minds and can be swayed by competition instantly, especially in our increasingly digital world of information (think advertisements) overload. Surveys are thereby a vigorous instrument to measure customer satisfaction, calculate glitches, reveal frustrations and much more. You can uncover virtually any aspect of the customer experience through survey research, therefore empowering your business and stimulating customer loyalty. 
Frequently asked questions
How is consumer loyalty defined?
Consumer loyalty is a measure of how likely it is that a customer will purchase from a business again. When individuals feel loyal to a brand, they are more likely to purchase from it repeatedly.
What are the benefits of consumer loyalty?
Companies that are able to increase consumer loyalty will see an increase in their profits. This is not just from repeated purchases, but also because customers are likely to spend more on subsequent purchases. In addition, the cost of marketing to and acquiring new customers is greater than the cost of retaining current customers.
How can market research help improve consumer loyalty?
Market research provides companies with a greater understanding of their target market and existing customers. By gaining a deeper view into their needs, preferences, and frustrations, the company can improve their products and overall experience, which in turn makes it more likely that they will purchase from the company again.
How does customer service contribute to consumer loyalty?
When customers get the support they need before, during, and after their purchase, they are more likely to consider their interaction with your brand in a positive light. They are more likely to purchase from the brand again, even if they were not happy with their initial purchase.
How does the digital user experience influence consumer loyalty?
With a great number of purchases made online, it is vital that the online experience is flawless. A well-designed website that loads quickly and offers in-site support is more likely to encourage return visits.
---
Do you want to distribute your survey? Pollfish offers you access to millions of targeted consumers to get survey responses from $0.95 per complete. Launch your survey today.
Get started