How to Conduct Fashion Market Research Like a Pro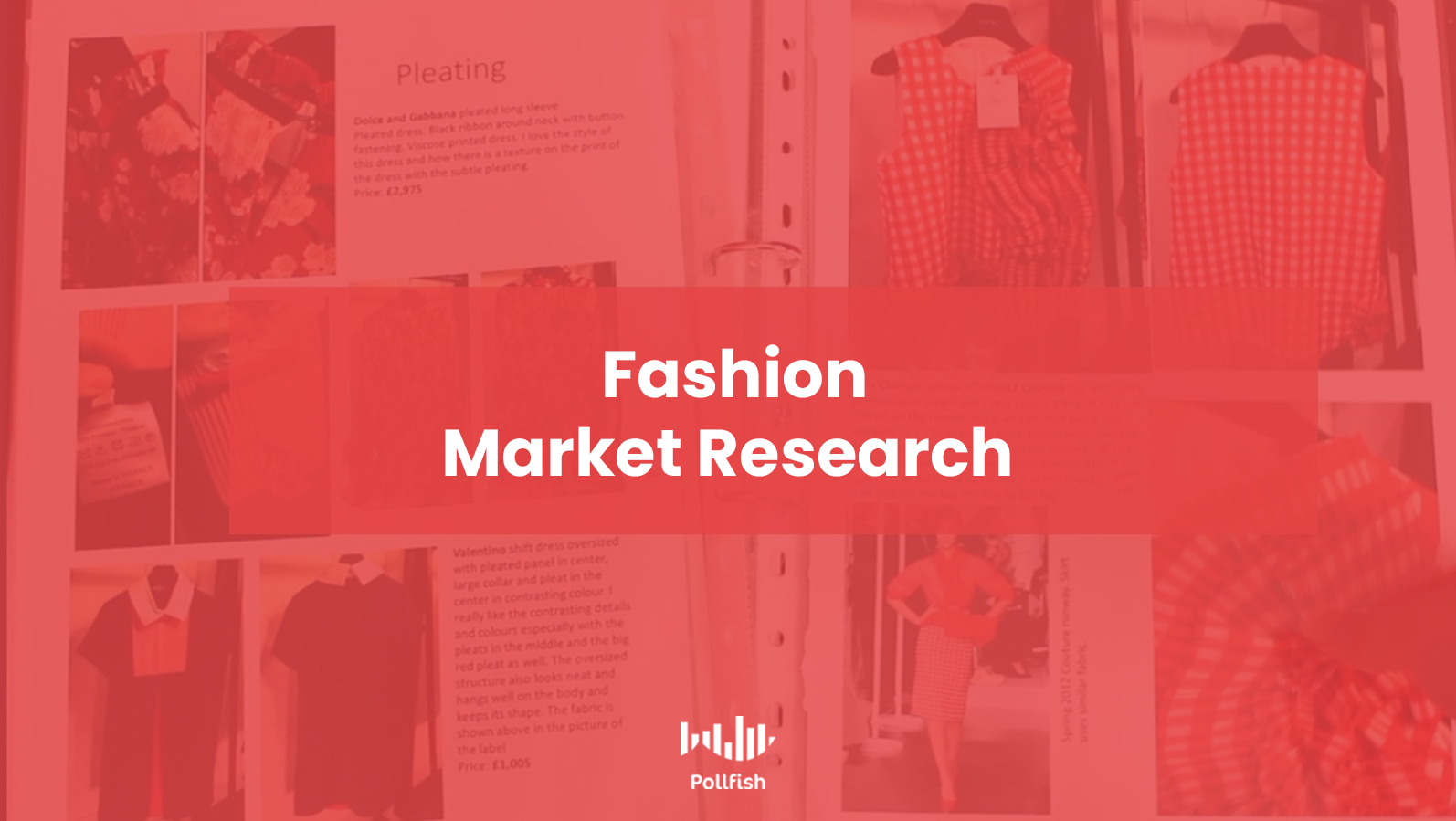 Fashion market research provides business owners and entrepreneurs with valuable insights so they can make confident, informed decisions to guide the development or evolution of their fashion business. 
Valued at an impressive 1.5 trillion U.S. dollars in 2020, the global fashion/apparel industry is a behemoth industry covering a wide variety of garments and accessories.
While this sector has traditionally experienced consistent growth, the past year has been turbulent and challenging. Whether you are considering a new fashion venture or are looking for innovative ways to recover from an unprecedented year, market research is an effective way to guide your efforts.
This article covers how to conduct a combination of primary and secondary research o to power your fashion market research campaign. 
Fashion Market Research Overview 
Fashion market research is the process of gathering and analyzing information to  gain insights into the fashion industry, which includes its top players, your competitors and mainly, your target market. Whether you own an existing apparel business or are considering an entry into the world of fashion, market research can ensure effective use of your marketing expenditure and increase the likelihood of business success.
Fashion market research is used to achieve the following:
Understand how customers relate to your brand or a competitor's brand.

Identify areas for growth, new markets, and customer segments.

Understand how existing customers would like to see your brand evolve.

Gain insight into consumer spending when it comes to fashion needs and wants.

Collect information about consumer opinions and interactions with various fashion segments (e.g. fast fashion vs. luxury brands).

Understand how

fashion marketing

campaigns influence consumers' opinions and behavior.
Undertaking a market research campaign project can provide you with the confidence you need to succeed in a highly competitive industry. The end-goal of fashion market research is to gain sufficient information to make informed decisions about your business so that it can thrive. 
The Makeup of Fashion Market Research
Fashion market research is made up of two sources of information, referred to as primary and secondary research. By using both primary and secondary sources of information, you can determine several key factors about your target market and its various segments. These include:
Annual spend on fashion in your niche

A comparison of shopping experience frequencies, in-store vs. online

Wardrobe share of certain brands and/or apparel categories

Where and how your target market discovers your brand

Shopping triggers

Spending forecasts

Marketing channels

Product diversity 

How in-demand your products or brand are
To reap the most insights, you should plan to incorporate both primary and secondary sources to drive your fashion market research towards success.
Primary Research for the Fashion Industry
Primary market research refers to the unique data that is gathered from first-hand sources. While it is more labor-intensive to gather primary information, you are rewarded with data that is particularly relevant to your particular business and customer base. It also puts you in control in terms of the data you collect and then leverage. 
The most valuable sources of primary information for fashion market research are:
Online survey tools

about existing or prospective customers, i.e., those in your target market that have not yet bought from you.

Phone, in-person, and

mall intercept interviews

Focus groups:

 In contrast to one-on-one interviews, a focus group allows for moderated discussion among participants. This provides the opportunity for the group to share ideas and discuss a topic or trend, which is particularly useful when conducting fashion market 

Field research:

This gives marketers an opportunity to observe and understand how customers behave in a natural setting. When it comes to fashion market research, field research provides valuable information about how customers browse and shop, both in-store (through natural observation) and online (via session replay tools). 

User testing:

 Often used to test out new design concepts, user testing gauges customer interest and reception. It is also used to test out in-store shopping experiences and changes to fashion websites. 
Secondary Research for the Fashion Industry 
Secondary research is performed by sourcing data from existing, published sources, i.e., data that you don't need to amass yourself, as it has already been conducted. You should then parse through and organize the secondary data to prepare it for analysis.  A strong analysis involves comparing the secondary resources against each other, along with their primary source counterparts.
Good sources of secondary information for the fashion industry include:
Market and industry research reports and white papers

Fashion industry websites 

SEO, keyword, and trends research

Governments statistics

Your competitors' websites and other digital properties such as apps, mobile sites, ads, etc.
Secondary Research Sources for Fashion Market Research
To give your fashion market research a jumpstart, we have gathered some of the most relevant sources of secondary information for the fashion industry.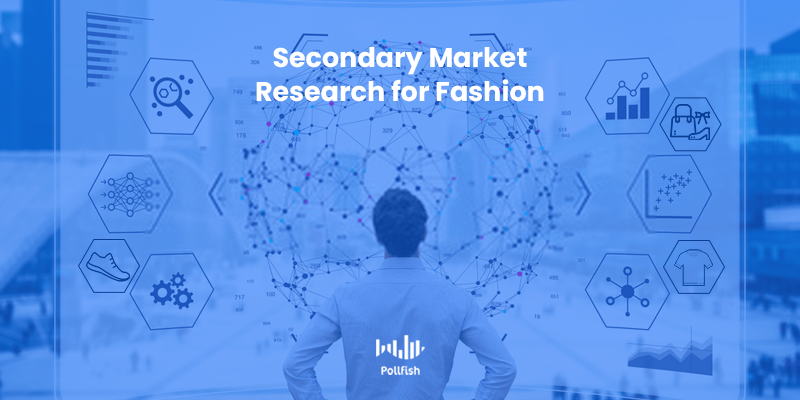 Confront New Challenges with Market Research 
Fashion businesses have more challenges to consider than ever before. If your business is struggling to recover from the global pandemic, market research can help you identify new areas of growth. With a tightened budget, market research is vital to ensure your marketing and advertising spend is used wisely.
Or perhaps you are looking to evolve your business in response to the concerns of "woke" consumers, who demand a higher level of environment and social responsibility from fashion brands. Market research can help you meet these demands and shape your targeted messaging. 
Even without new challenges, every fashion business fights the constant battle to remain relevant and stylish in an ever-changing landscape. Consumers on the hunt for something unique and new will continue to push fashion brands to evolve their style to satisfy their customers' demands. 
Fortunately, this demand comes with more direct access to your customers via social media. You can benefit from an engaged audience by regularly deploying online surveys to gather insights about their needs and desires, no matter how often they change.
Regardless of your motivations, fashion market research can provide you with valuable insights to help you make confident decisions in the months and years to come. 
Frequently asked questions
What is fashion market research?
Fashion market research involves collecting and analyzing data in order to gain a better understanding of how an apparel business is positioned in the competitive landscape.
Who can benefit from fashion market research?
Fashion market research is beneficial for a wide variety of businesses that operate within the fashion industry. This includes established brands, fashion startups, brick-and-mortar stores, apparel chains, and artisan fashion producers.
What are some of the reasons for conducting fashion market research?
Fashion market research can help a business identify new target markets, understand how existing customers feel about their brand, gain insights into fashion spending, and explore how marketing campaigns can affect buying behavior.
How is fashion market research conducted?
After identifying the goals of the fashion market research project, the team will conduct primary and secondary research to gather information from the appropriate sources. Then, this information will be compiled into a report that contains findings and recommendations.
What types of primary research are most appropriate for fashion market research?
The most useful types of primary research for the fashion industry include surveys, interviews, focus groups, field research, mall intercepts, and user testing.
---
Do you want to distribute your survey? Pollfish offers you access to millions of targeted consumers to get survey responses from $0.95 per complete. Launch your survey today.
Get started