How Pollfish Provided Global Support for an App Client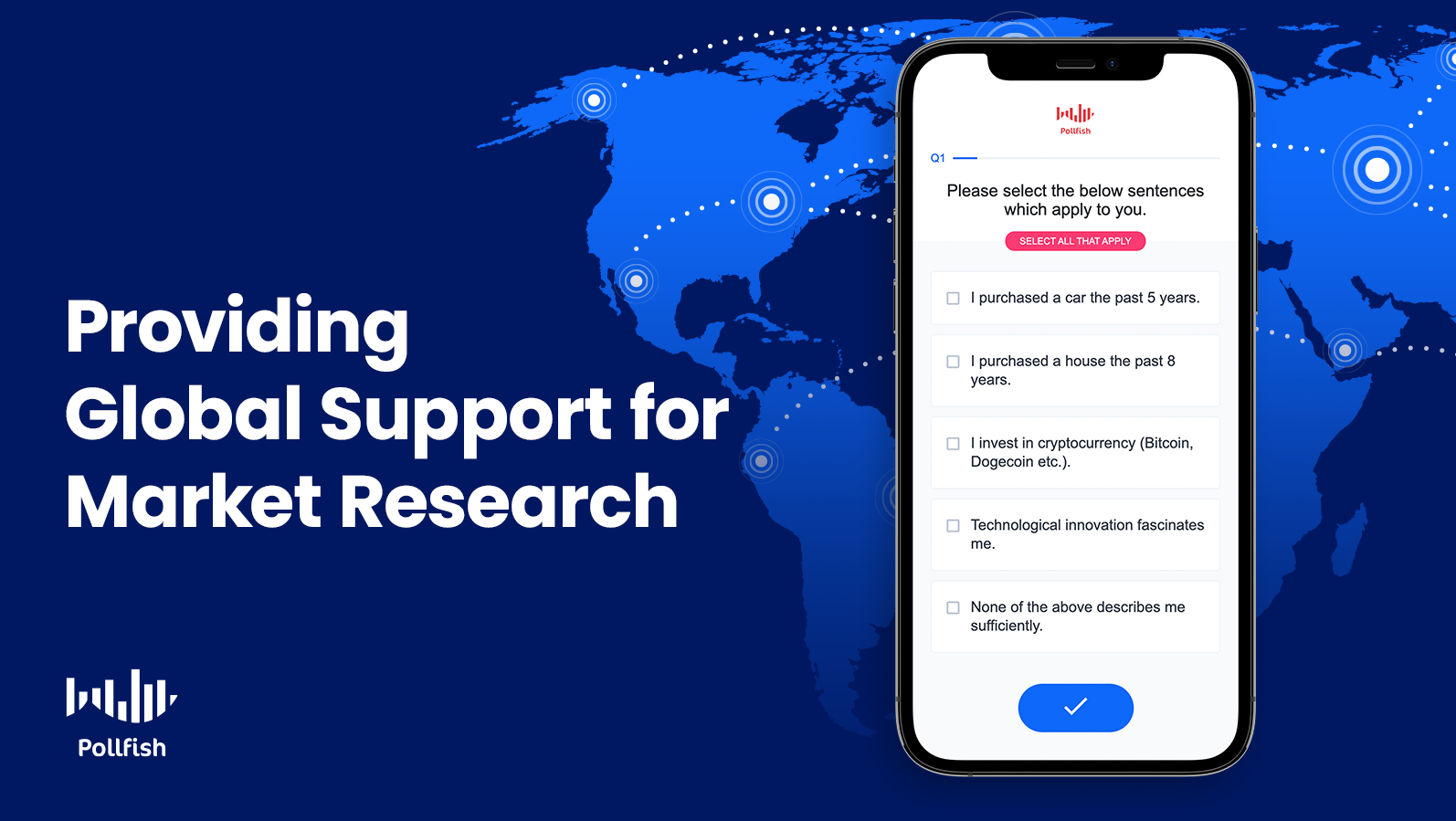 Market research is crucial for brands that have a global footprint, as well as those seeking to venture into the international stage. Pollfish empowers businesses with global support for all of their global market research needs. 
This kind of research is a must for tapping into the minds of a global target market, along with building customer loyalty across the world. 95% of global customers consider customer service as essential in their business choice and loyalty. 
It is virtually impossible to create a strong customer service and experience for global customers without understanding their habits, opinions and needs. Thus, conducting market research is essential.
While there are plenty of syndicated research firms and market research platforms available, they do not all deliver robust global support for international market research.
This article lays out how Pollfish is the ideal platform for conducting market research across nations, along with a use case from an app client that shows the prowess of Pollfish global support. 
Global Support Capabilities for Market Research 
A potent market research campaign should involve using a tool that makes it easy to access global markets and one that can operate at speed. Ideally, it should take the same amount of time to run a global market research campaign, as it would a domestic one.
Survey research is a practical form of conducting global market research, but not every survey platform is built the same. As such, not all platforms provide the same kind of quality for conducting surveys locally, let alone abroad. 
Pollfish provides a unique edge to businesses who seek to branch out into the global arena, as well as to companies that have an established global presence. There are several ways that the Pollfish online survey platform provides market researchers with top-notch global support, the kind that enables them to quickly gain customer insights from a multitude of countries. 
First off, Pollfish offers customer support on a 24-hour basis, so researchers in practically all parts of the globe can get support at any time of the day. Thus, they'll never have to change their busy schedules to accommodate their market research tool. Instead, the platform is accommodated to their liking and needs. Any misgiving, doubt or difficulty they may experience is no problem for our team of market research experts working round the clock to ensure an effective global survey study.
Next, the Pollfish platform does not charge businesses extra for running surveys outside of their home countries. As such, market researchers can freely conduct global market research, reaching any country they wish, without incurring additional charges. They have access to a wide net of global customers, all under one platform and without being monetarily constrained.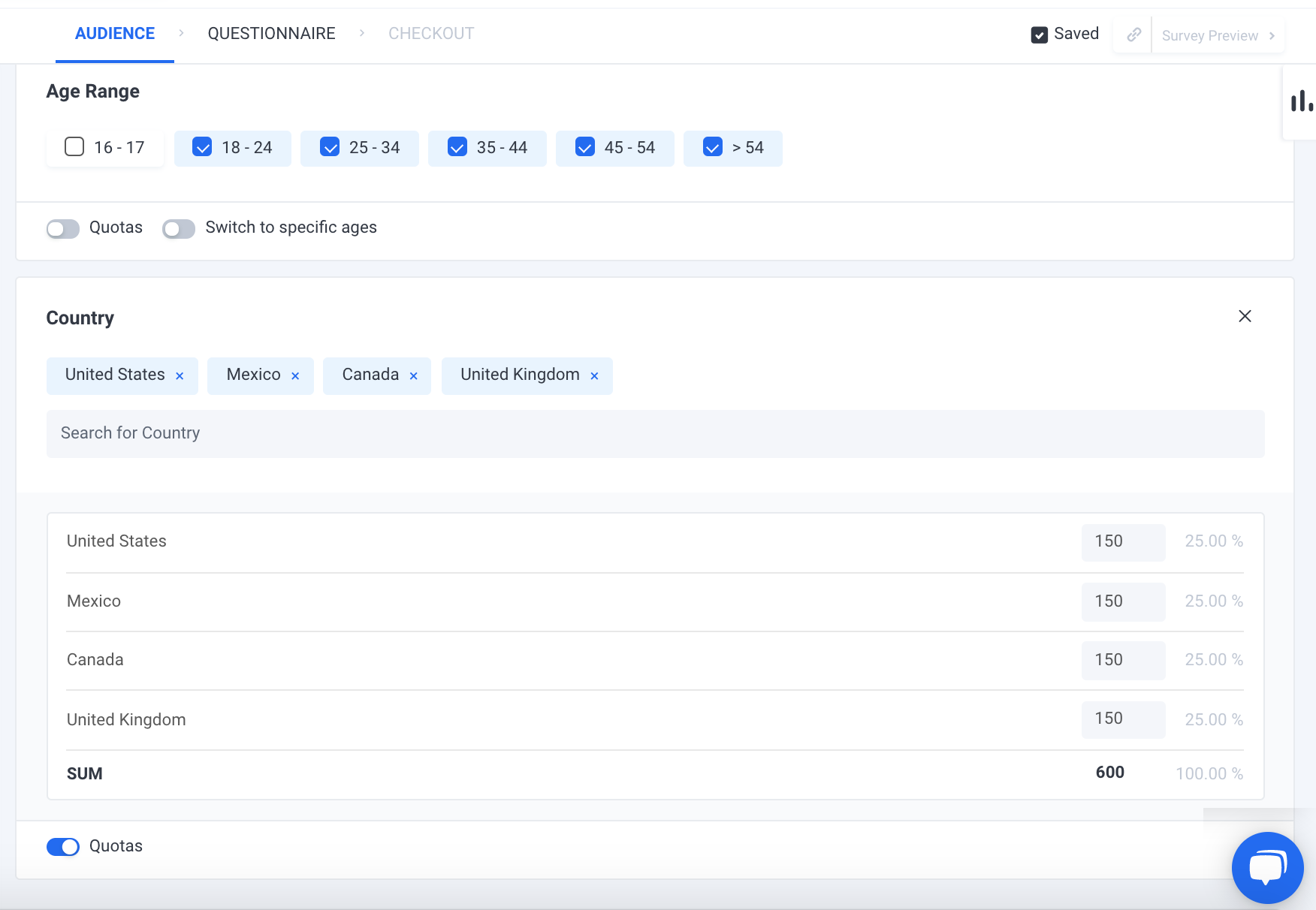 Finally, the Pollfish market research platform itself is equipped with various features that allow researchers to carry out their global research needs smoothly and quickly. This is largely because the platform is powered by some of the most advanced forms of technology, some of which eliminate the need to use other primary research tools and conduct secondary research.
The Prowess of the Pollfish Online Survey Platform for Global Research 
In reference to the previous section, aside from the 24-hour support and no additional charges for global surveys, the Pollfish online survey platform offers many high-quality features for conducting global market research. 
The following lists all the capabilities that Pollfish offers to ensure a strong and seamless global survey research campaign: 
Survey deployment to 160 countries 

Translations feature 

Multiple audiences feature

Allows researchers to filter audiences by country, in order to see results on a per-country basis for comparisons.

Survey deployment and iteration is executed at speed

Researchers can survey up to 10,000 respondents per survey 

Reaching customers internationally does not require a longer survey completion time.

It takes the same amount of time to deploy, illiterate and retrieve global responses.

Targeting virtually all demographic groups 
Use Case with Pollfish App Client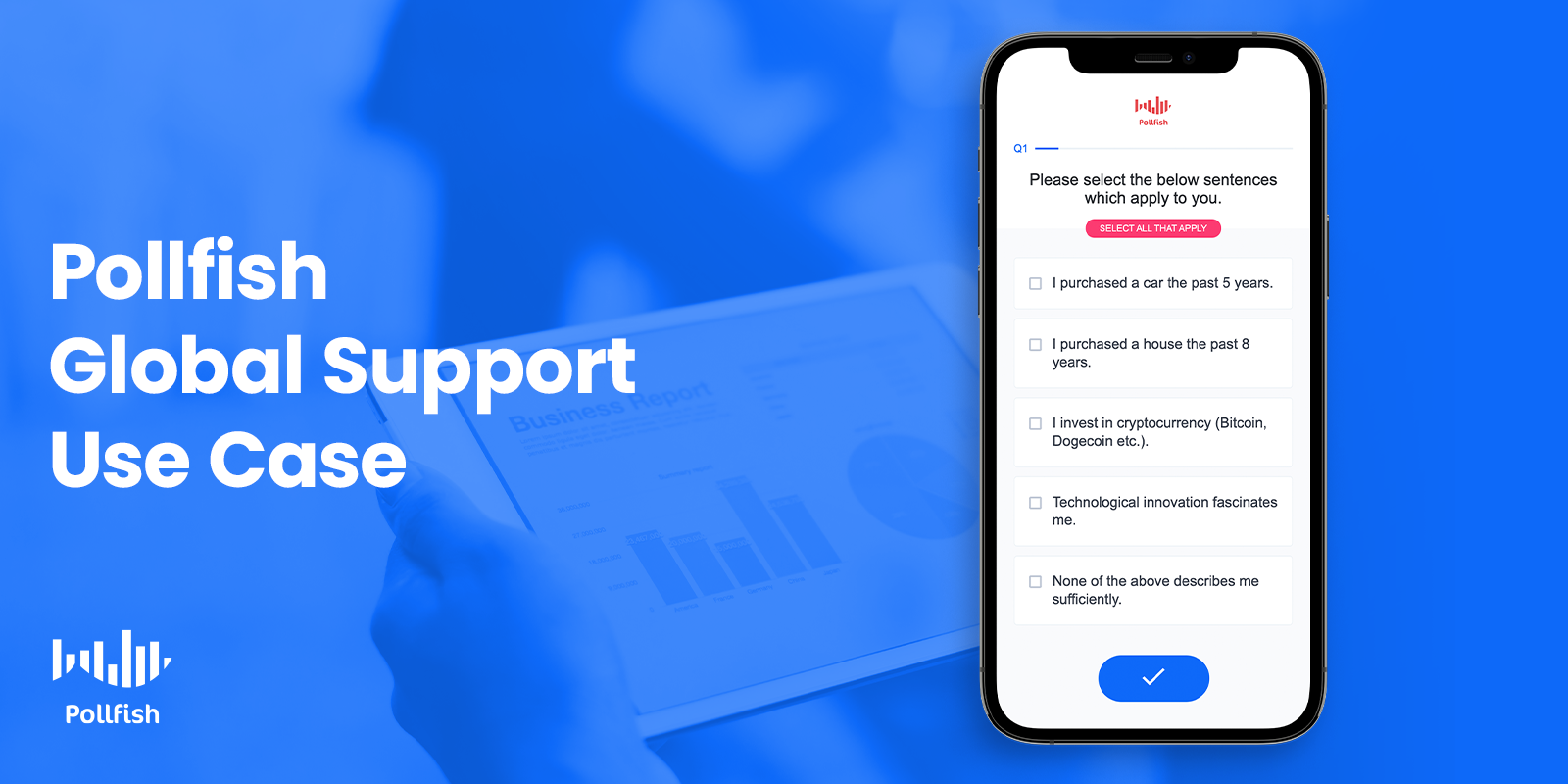 A Pollfish client used the Pollfish survey platform for a global expansion campaign. Lingokids, a learning app for young children, sought to expand the presence of its app in order to achieve international brand awareness.
Lingokids faced several challenges in its pursuit. First off, it still needed to crack the challenge of developing local brand awareness, making that of the global variety a much more difficult feat. 
The app client also set out to generate stories for press releases that speak to its target market.  
With traditional market research models, the client would have endured limitations and high costs. But with Pollfish, Lingokids received access to a reasonably-priced self-service platform market research that operates on RDE (random device engagement sampling). 
RDE is a kind of sampling that engages users in their natural digital habitats, without pre-recruiting them. Rather, their participation is completely voluntary and anonymous. Thus, the respondents are not pressured to answer questions in any particular way, which stamps out certain survey biases and fraud. 
The platform uses artificial intelligence and machine learning to perform ongoing quality checks as the surveys are running. This way, all of the resulting customer data that researchers receive is of the highest quality. These checks filter respondents through various kinds of quality criteria and disqualify participants who do not meet these standards. 
For example, surveys with gibberish answers and flatlining answers (same multiple-choice answers consecutively) are disqualified, along with respondents that mask their geographical location or use a VPN. This method discards poor data, removing biases, errors and useless information — without the researchers having to lift a finger. 
Based in Spain, Lingokids started launching Pollfish surveys in 2019 Sain to generate data and stories for press releases. But Lingokids' success is not limited to Spain. The app client surveyed customers in other geos, such as the US, Mexico, and other countries.
"I've seen amazing results. If I put together all the press releases based on Pollfish data, not only in Spain, but in the US, Mexico, and other countries, I would say we've gotten over a hundred stories in tier 1, 2, and 3 media. That's pretty good for a start-up,"  said Sara Mateos-Aparicio, Communications Manager at Lingokids.
As a Spanish company, understanding the US market has posed several challenges. But
survey data from Pollfish paid off, as Lingokids used their survey data for different media campaigns in California and New York. The survey data helped them measure impacts pre-and post-campaign.
Those surveys were completed in about three to four days, with Lingokids also having received 800 survey responses in 24 hours. 
Lingokids was able to not only measure and grow its brand awareness, but understand how to grow globally by analyzing the media types that work best to reach its target market in different countries.
Survey data also helped Lingokids learn about its competition along with gathering subtle insights into the culture of the US market. For example, Lingokids learned that children's safety with learning apps concerned US parents more than parents in many other countries. This granted Lingokids the insights it needed to better launch US campaigns, having centered them on safety.
In summary, by running international surveys on the Pollfish online survey platform, Lingokids obtained over 100 stories in tier 1, 2, and 3 media, measured brand awareness in pre-and post-media campaigns, netted 800 survey responses in 24 hours, unearthed data on the competition in other countries and gained actionable insights into other cultures.
"You can make assumptions about your market, but they're just assumptions," said Sara Mateos-Aparicio, Communications Manager at Lingokids. "With Pollfish, you can confirm those
assumptions and they become data."
Global Support with a Strong Online Survey Tool 
While plenty of online market research platforms offer a best-in-class solution, not all such platforms offer global support and capabilities as does the Pollfish platform. Businesses who are serious about studying their target market in other countries must use a robust online survey platform.
Businesses should therefore invest in a platform that allows them to study their global customers at scale and at speed, without worrying about incurring higher costs or running into technical issues. 
A self-service survey platform, Pollfish gives businesses quick access to various global markets and offers 24-hour support, should researchers encounter any difficulties or concerns. It helps hundreds of clients run global market research on a daily basis. 
If you would like to learn more about how Lingokids leveraged the Pollfish platform, read our use case.
---
Do you want to distribute your survey? Pollfish offers you access to millions of targeted consumers to get survey responses from $0.95 per complete. Launch your survey today.
Get started