Incorporating Custom Terms & Conditions in Surveys for Privacy, Disclaimers & Much More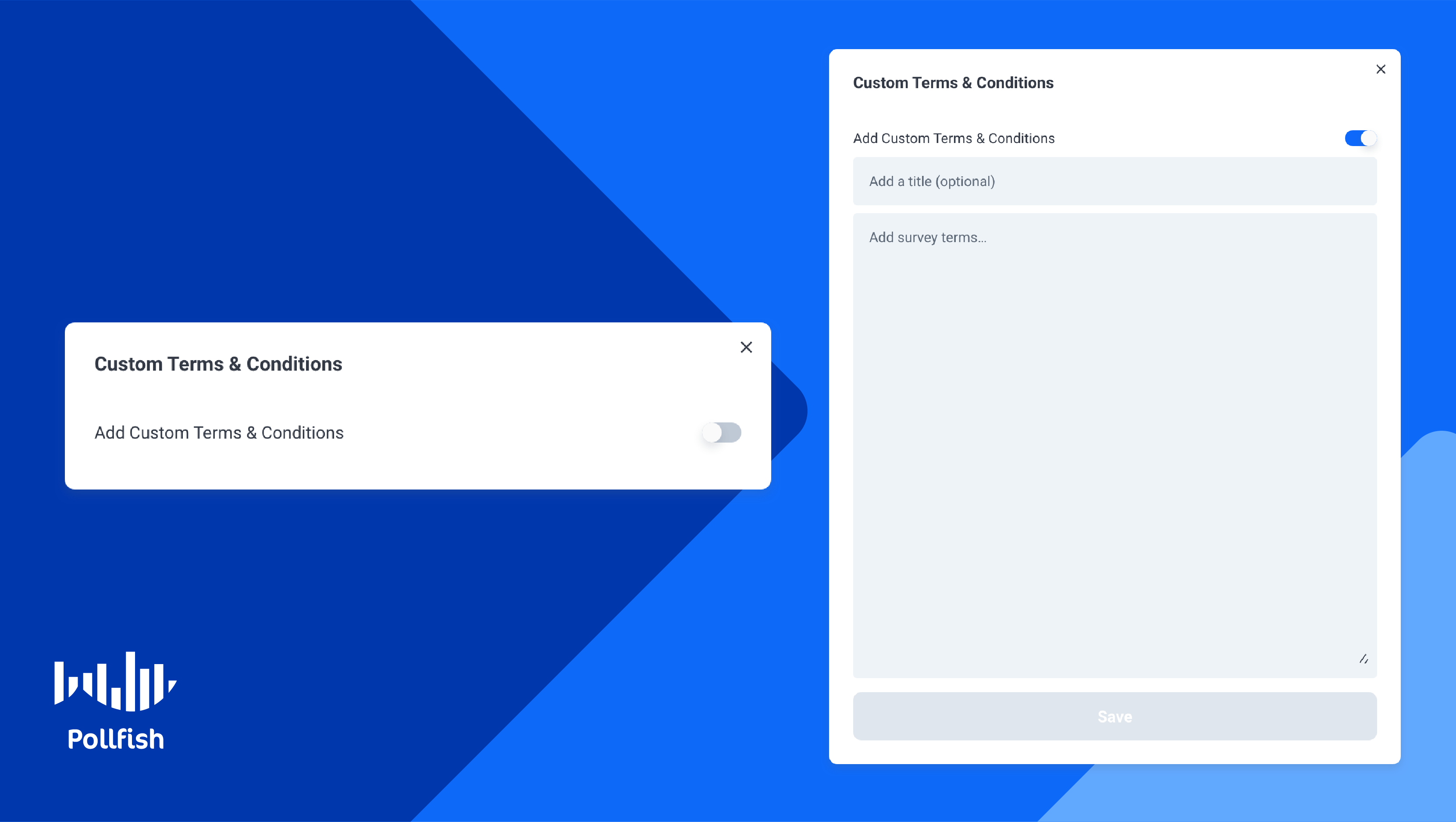 The new Pollfish feature allows researchers to customize their surveys to the max. Researchers can now include additional custom terms and conditions in their surveys. 
These serve as a preface to the survey, allowing respondents to understand the unique conditions and aspects of the survey itself and its broader study. As such, it is a kind of opener to the survey that allows respondents to understand what their participation entails.
Additionally, they are always used in surveys and are mandatory for respondents to accept in order to take a survey.
The Pollfish online survey platform makes it easy to create, edit, insert and access customer terms and conditions to all kinds of surveys. Researchers don't need to be tech-savvy to include these, making their creation and use a seamless process.
Thus, democratizing the survey pre and post-launch is an easy cycle for all those involved.
This article explains the necessity of using custom terms and conditions in surveys, along with how to include these elements on the Pollfish platform.  
The Need to Preface Surveys  
Adding custom terms and conditions in surveys is a necessity for many brands and researchers, as it prefaces key aspects of the survey and its study. More importantly, it relays key information about matters such as privacy, data use, consent and many others.
This is important, as it enables the survey and its larger study and campaign to be as transparent as possible. By including these terms and conditions, respondents won't be left guessing the implications of their participation, how their data will be used, whether they're answering anonymously and more.
In this way, adding terms and conditions can assuage respondents' fears, dispel their misconceptions and eliminate any misgivings they may have about taking the survey. Thus, it gives respondents peace of mind, increasing their likelihood of taking the survey, rather than opting out. 
Although indirectly, this contributes to shorter total survey completion time, as more online users will opt into the survey, accelerating competition times across surveys. 
In addition, some countries require compliance with data anonymity laws, such as the GDPR. Therefore, the data subjects residing in such countries will require surveys that have terms and conditions alluding to GDPR compliance.
Finally, given that these terms and conditions can soothe respondents' doubts about taking the survey, this feature can help raise the survey completion rate. This plays a major role in extracting speedy insights.
Additionally, if a brand decides to use its name and likeness in a survey, using terms and conditions will help it improve its standing and reputation. While this may seem to be a stretch, consider the importance of these terms/conditions. The fact that they remove respondents' doubts, fears and misgivings will paint the survey and its study in a positive light.
When a business is associated with such a survey, its brand will therefore be seen in a positive light. 
What Terms and Conditions Include and Can Be Used With 
As the above section explains, including terms and conditions in surveys is important for a number of reasons — from legality, to giving respondents peace of mind and everything in between. 
As such, survey terms and conditions can be used for a number of purposes and applications. The following lists what these terms and conditions can include and the applications they can be used with:
Disclaimers

Respondent responsibilities

Acknowledgment and acceptance

User privacy 

Terms of use

Modification of prior services or terms

Confidentiality

Registrations

Proprietary rights

Anti-spam reassurance

Advertisers 

General transparency
How to Include Custom Survey Terms and Conditions in a Survey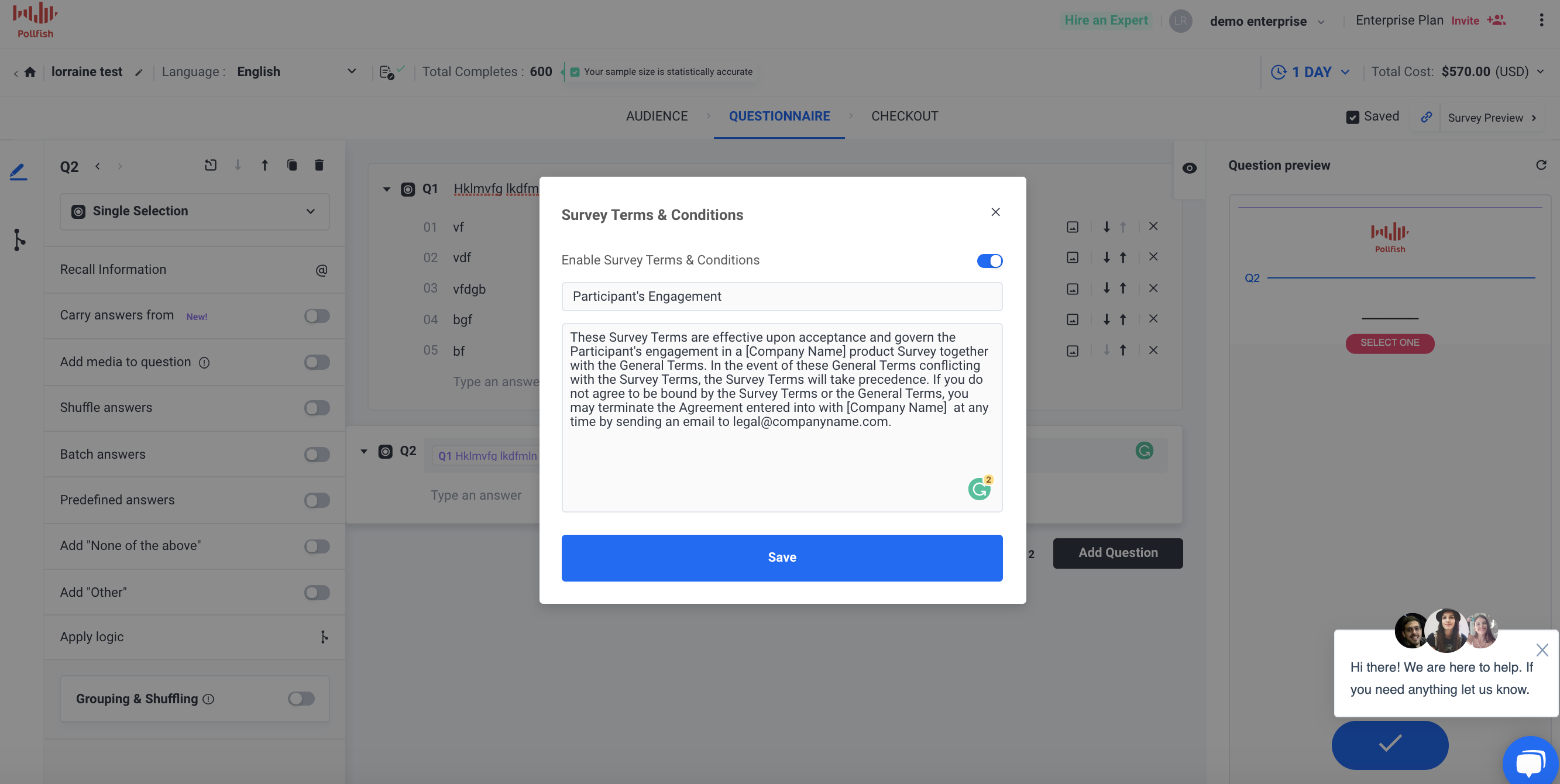 The Pollfish platform makes it practical and easy to include additional survey terms and conditions to any kind of survey and for any region of the globe. 
The following explains how to create custom terms and conditions for survey research and how to use them with any kind of survey. 
Follow this short step by step guide:
Open up a survey in the Pollfish dashboard. 

To access the Survey Terms & Conditions button in the navigation,

you must be in the targeting or questionnaire section

.

In the upper navigation bar,

click on the icon of the survey

with a small check on its bottom right.

This represents the button to click on for creating, editing and accessing survey terms and conditions.

A pop-up window will appear, titled Survey Terms & Conditions.

In the pop-up, click on the toggle to enable

the terms and conditions. 

In the field below, you can add and edit the text

of the terms and conditions.

Hit Save to save your changes.

You'll see the Survey Terms & Conditions

icon on the top navigation will have a green checkmark and blue dot

to mark that survey terms and conditions were added.

To view the terms and conditions in the survey

click on the Survey Preview button at the top right
Click on the text of the terms and conditions button on the bottom

; this will expand the text.

Right next to the Terms and conditions a link "View Survey Terms" will appear

This will take you to the additional terms and conditions specifically.
A Holistic Survey Experience
This new feature allows market researchers to provide a holistic survey experience to their target population, as terms and conditions are critical elements of a survey's introduction, as well as its entirety and its study at large.
Its ease of access and editing makes including these terms easy, practical and stress-free. Researchers will never have to worry about respondent misgivings, fears and other roadblocks when it comes to prefacing their surveys about privacy, agreements and many other issues. 
This new feature is therefore the perfect solution for creating and accessing survey terms and conditions — the kind that are unique to each company, campaign and customer.
---
Do you want to distribute your survey? Pollfish offers you access to millions of targeted consumers to get survey responses from $0.95 per complete. Launch your survey today.
Get started