Setting age ranges in the Pollfish survey platform
There are a number of reasons that age range can be an important, or even necessary, setting in a survey's demographic targeting.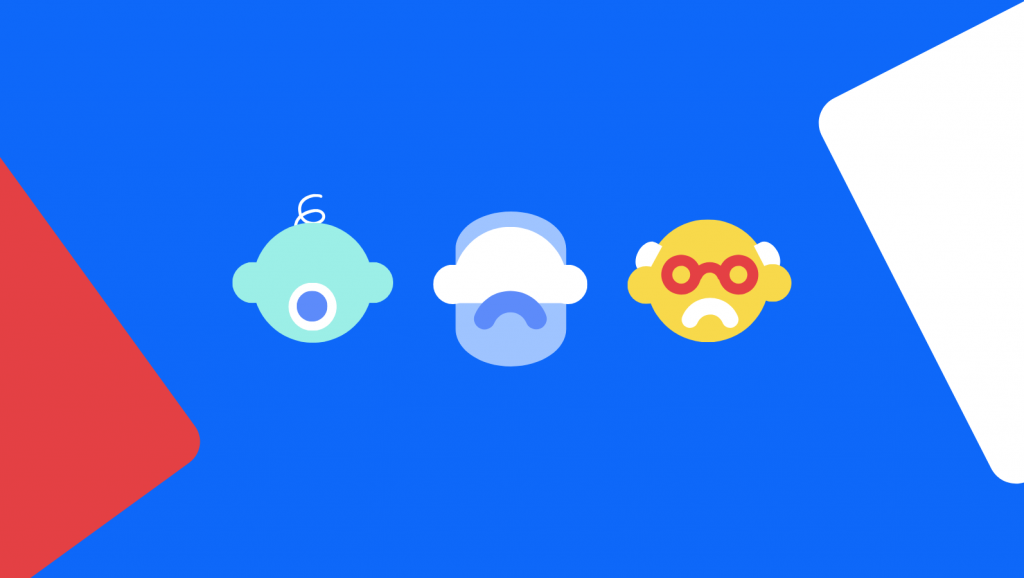 When should you set an age range in a survey?
If you are selling a product or service that is tailored to the needs or wants of a certain demographic, it is beneficial to be able to reach only those who fit your desired audience, rather than sending the survey broadly and having to throw away responses from people who aren't a fit for your research audience. 
This is true for any audience targeting criteria: if you are selling farming tools, it would make sense to avoid respondents living in urban areas. Similarly, responses from retirees will likely not give you valuable data if you are attempting to market a product to teens. 
Targeting age groups in a survey can be used to include or exclude certain audiences by age range or quota. A common use is to ensure that respondents are of legal age to vote, drink, or smoke before asking questions that are related to those products. 
Age range, and other demographics, are set at the beginning of the survey to hone in the right target audience. 
How to identify and reach target audience age groups
Most survey tools include some demographic settings and others require a series of questions to hone in on these specifics. The best way to ask a question to learn the target audience's age is to ask them to select an age range from a list of multiple-choice options.
A common sample question to define age group targeting for a survey is
What is the age group you belong to?
16-17

18-24

25-34

35-44

45-55

>54

Prefer not to say
In Pollfish, all demographic data is gathered from respondents when they join the Pollfish survey audience. Rolling profiling keeps this data up to date to ensure respondent details are accurate. 
Because we already have this information, you don't need to ask respondents about their age or birthday, you can simply set the targeting criteria you want and we will distribute the survey to people who meet the targeting requirements. 
You can ask additional screening questions to target specific attitudes or behaviors that will further narrow the target audience. 
How to set age range targeting in Pollfish
When you are creating a Pollfish survey, you begin with your audience targeting page. Here, you will find all age groups listed and selected already. If you want to only reach a segment of the population, for example, those age 18-34, you can deselect the other categories. Only those which you have chosen will receive the survey. 
You can also apply quotas to these groups in order to weight the percentage of respondents from each cohort who receive the survey.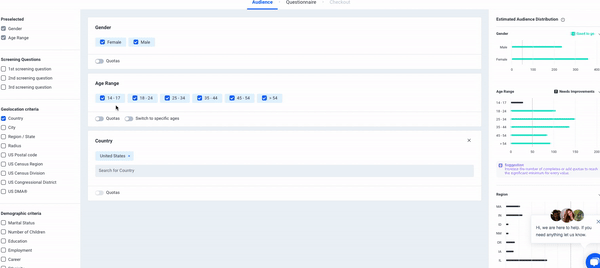 If you have a specific age group that you're looking for, such as Gen Z audiences, you may need to input exact ages to reach the range that best fits for you. This can be done by selecting "Specific age range" and inputting a minimum and maximum range for your audience. 
Because we are COPPA compliant, we don't survey children age 15 or younger. The youngest members of the Pollfish audience are 16. 
Mobile surveys help you reach target audience age groups
A unique benefit of Pollfish is the mobile distribution model. The world is becoming increasingly accessible by mobile device, with nearly everyone having a smartphone at their disposal. Additionally, mobile is the primary (or only) way that some people connect to the internet. 
App-based surveys offer a massive reach to survey audiences of all ages, including harder to reach segments such as Gen Z, international audiences, and specific markets.
Using mobile ad IDs rather than a survey link, we can map demographics back to individual users of a device (as mobile phones are rarely used by more than one person). 
This also means that we are able to maintain demographic profiling on respondents so you can target and tailor questions for them, rather than spending your time creating questions asking them their basic data.
This article updated April 2020 to reflect changes to COPPA regulations regarding minimum targeting age.
---
Do you want to distribute your survey? Pollfish offers you access to millions of targeted consumers to get survey responses from $1 per complete. Launch your survey today.
Get started