What is a MaxDiff Analysis? The New Best-Worst Scaling Feature
What is a MaxDiff Analysis? The New Best-Worst Scaling Feature
Performing a MaxDiff analysis helps brands analyze their products, specifically by way of their target market. It gives companies direct access into the minds of their consumers for the purpose of ranking and rating products, specifically by unearthing which is considered the best and worst of a collection. 
Also called the Best/Worst scaling analysis, this market research technique provides a mechanism for prioritizing new product ideas and tailoring them to consumer preferences.  
Did you know that MaxDiff is a type of Conjoint analysis? This is the case in the Pollfish survey platform, in which it exists as a kind of choice-based conjoint analysis. 
Essentially, product teams learn about their consumers' preferences after respondents choose the best and the worst option from a given set of options, which relate to a product and its feature(s).
This article explains the MaxDiff analysis feature, its importance, how it exists on the Pollfish online survey platform and more. 
Understanding the MaxDiff Analysis
The MaxDiff analysis is a kind of conjoint analysis, which helps brands determine the value that their customers place on different parts and features of a product. 
On the Pollfish platform, this technique exists as a choice-based feature, as is our main conjoint analysis product.
An abbreviated form of maximum difference scaling, this method goes beyond the standard rating question. 
Also known as Best/Worst scaling analysis, this is an analytic approach used to measure survey respondents' preference scores for different items — particularly identifying what they consider to be the best and worst. 
This technique helps to identify what your target market truly values and what it despises. 
Given that this analysis is designed for product research, the items relate to a product, whether it is to its entirety for comparison with other products, or to the different features of a single product. 
The respondents are asked to rate a list of items by selecting only two of them, which are the complete opposite of each other, labeling one as the best of the list and one as the worst. As such, this mechanism forgoes a scale, in which biases can arise, whether due to cultural differences or perceptions of ratings. 
Aside from attributing items as "best" or "worst," the MaxDiff analysis can take a more general course. 
Through the general best-worst scaling approach, respondents are asked which items in the list have the most and least of any given quality or attribute. This includes the following:
Importance

Attractiveness

Interest

Need

Utility

Beneficialness

Relevance to the respondent
In a MaxDiff analysis, respondents may complete many groups of items in a row, allowing researchers to understand how the items rate and rank against one another when studied in bulk. 
That is to say, this can be done when researchers collect all respondents' surveys and compare their answers on the MaxDiff analysis. 
The MaxDiff Best-Worst Scaling Analysis Feature on Pollfish
On Pollfish, users can access the MaxDiff analysis, aka, the Best-worst scaling analysis by setting up a MaxDiff Analysis survey. 
The MaxDiff analysis has several distinct facets that separate it from a regular choice-based conjoint analysis. 
This new feature can be completed with only one attribute compared to a conjoint experiment, and you can test many levels at once. 
Respondents are typically shown 2-5 items at a time. As aforesaid, these can be product alternatives or the levels of a single item. For example, the detergent perfumes of Ocean, Lavender, Green citrus, etc. The respondents are and asked to indicate which perfume is the best and which is the worst.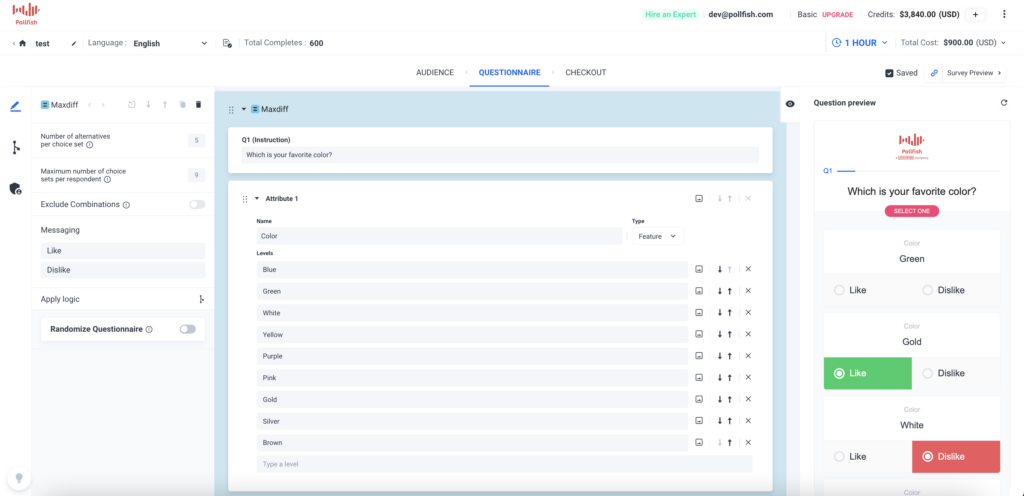 The analysis aspect of the MaxDiff feature is exactly the same as the Conjoint analysis, meaning, it can be interpreted the same way. In addition, it offers the same visualizations for analyzing, such as the Attribute Relative Importance Graph, which displays the influence of an attribute, along with other graphs for your analysis. 
The Importance of the MaxDiff Analysis
Performing a MaxDiff analysis helps brands in numerous ways.
First off, this kind of analysis always generates discriminating results, given that respondents are asked to choose the best and worst options, or the least or most of a characteristic.
Not only does this simulate real-world behavior, as customers make choices and trade-offs, but it also leaves out items that customers don't feel strongly towards, or care about at all. 
When studied all at once, the results reveal the order and strength of importance of all the items, should your research require understanding consumer perceptions towards all of them.
This kind of analysis also provides the advantage of avoiding a scale bias, given that only two answers are highlighted, as opposed to a range. In this way, the results are not subject to cultural differences. Some cultures have particular associations with different numbers and this technique forgoes a numerical scale. 
The MaxDiff analysis can manage a long list of items, as respondents are given a few items in each question. Given that respondents evaluate only a few items in each set, it allows for the accuracy of item preferences. 
The Best-worst scaling analysis is also useful for all kinds of product research applications; it can be used to find winning product ideas, scope out needed areas of improvement, determine which products or product features are obsolete, find a new name for a new product and more. 
By understanding which products or product features are deemed best and worst by your target market, you'll understand what's driving your customer buying behavior. As such, you'll get the necessary insights for taking action to your product ideas, existing products or product plans.
By forging products that your customers actually want and need, you'll be well on your way to maximizing your customer lifetime value, which measures your customers' worth during the span of their entire relationship with your company. 
This is key to consumer loyalty — a complete necessity to ensure your business stays afloat — which you can also foster and maintain by consistently conducting a MaxDiff analysis. 
When to Use the MaxDiff Analysis
As aforementioned, this kind of analysis can be used in a variety of different circumstances that relate to product research and product marketing. If you're conducting other forms of market research or are simply at a loss of when and where to apply the Best-worst scaling analysis, the following will help you.
This list presents relevant instances and circumstances in which to apply the MaxDiff Analysis Feature:
Finding preferences for a feature, add-on, product, etc

Discovering the relative importance of product or service attributes

Conducting product testing 

Testing how new ideas are received

Finding package/shipping preferences 

Identifying aspects that draw the strongest emotions

Determining which products/features are worth improving and which are worth discontinuing

Uncovering patterns across different customer segments and

customer personas
Delighting Customers with the Best Products 
Delighting your customers takes work across all departments, from sales to marketing. But to truly keep your customers happy, you'll need to work on the core of your business: your product or service. 
Bringing a new product into a market, especially a saturated one, is never easy. That's where market research comes in. Designated to help you understand your consumers, you can learn about their many particularities. While surveying is important, creating general surveys is insufficient for product research or any other kind of market research.
That's why you ought to study consumer preferences in specialized ways. The MaxDiff analysis is one such way to gain a view into well-differentiated product and service preferences. 
You should therefore assure you use an online survey platform that allows you to easily conduct and analyze a MaxDiff analysis. BUt there's much more to what makes great survey software. 
You should opt for a platform that runs on random device engagement (RDE) sampling, which lets you reach consumers in their natural digital environments, instead of needing to pre-recruit them. This removes social pressures and will cut back on biases.
You should also use a mobile-first platform, since mobile use dominates the digital space.  
The platform you select should also offer artificial intelligence and machine learning to remove low-quality data, offer a broad range of survey and question types and disqualify unattentive respondents. 
Finally, it should allow you to survey anyone.  As such, you'll need a platform with a reach to millions of consumers, along with one that offers the Distribution Link feature. 
This allows you to send your survey to specific customers, instead of just deploying them across a network. 
When you use an online survey platform offering all of these capabilities, you'll be able to gauge consumer preferences for any product research campaign and delight your customers with products they love in the long term. 
---
Do you want to distribute your survey? Pollfish offers you access to millions of targeted consumers to get survey responses from $0.95 per complete. Launch your survey today.
Get started