Sending and Targeting Surveys to Anyone With the New Distribution Link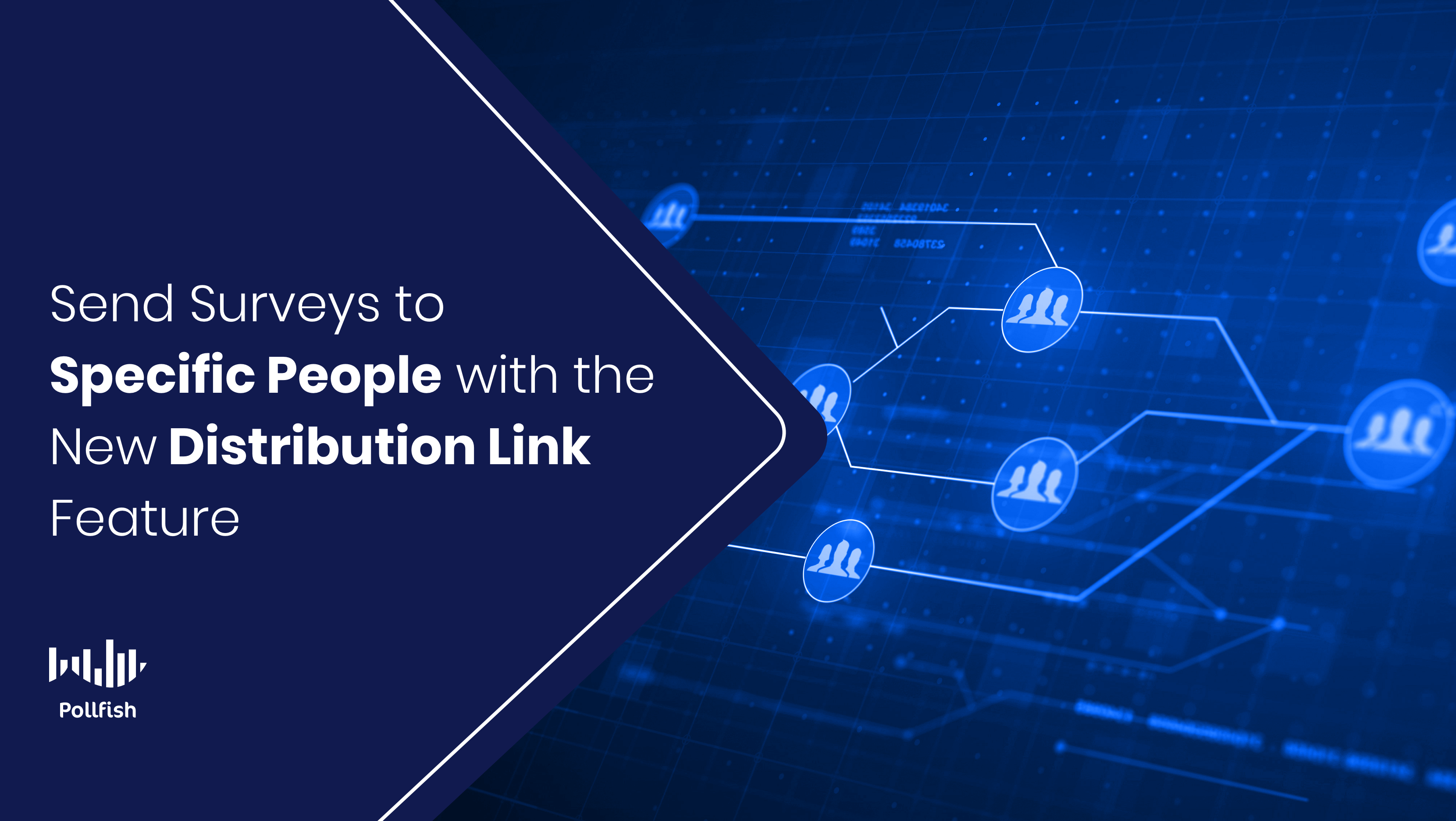 The Pollfish platform just got much more powerful. We now offer another major way to deploy surveys so that researchers can target the exact people they seek to study for all of their research needs.
We're thrilled to introduce the Distribution Link, a feature that completes the Pollfish survey distribution and deployment functionality. It is currently FREE to use this DIY market research tool. 
With this latest feature, you can target respondents in the most precise way: via their identities instead of their demographics, location and other screening filters you'll find on our platform.  
This feature fortifies your survey outreach process, arming you with the knowledge of specific respondents. As such, it provides a powerful addition to market research techniques and gives you the full Pollfish experience. 
This article explains the Pollfish  Distribution Link feature, so that you can apply it to all your unique respondent targeting needs.  
Understanding the Pollfish Distribution Link Product Feature
The Distribution Link is a new product feature for distributing your surveys to the exact targets you seek to complete them. It serves as an alternative to our current survey deployment method: that of random device engagement sampling or RDE sampling.
With RDE sampling, the Pollfish platform launches your survey to hundreds of thousands of highly-trafficked websites, mobile sites and apps, prompting random internet users to take your surveys. Of course, only those who qualify to take it based on your screening section are granted entry into the survey.
This way, only members of your targeted population will participate in your survey and they are targeted in a completely randomized way. While this strategy is useful and efficient, bringing you quality data and speed to insights, it was rather incomplete. 
This is not to say that you couldn't extract high-quality data from the Pollfish platform through its survey fraud protection and quality checks system or that you couldn't target people based on demographics, psychographics, location, etc via the RDE approach. In fact, that is exactly what the RDE method was built for: quick insights from a vast and random sampling pool.
While this is an innovative approach, it was incomplete in that it didn't allow you to send your survey(s) yourself to specific individuals. But now you can with the Distribution Link feature. 
The Distribution Link allows researchers to send their survey(s) themselves to their exact targets, actual individuals rather than a random pool. But it can do much more.
Since this feature is a link, you can send it through various means and reap various benefits. 
Distribution Link Facts, Cost and How to Add it to Your Survey Campaign
The researcher can create a draft and instead of distributing it via the Pollfish network, they can generate a link that potential respondents can click on to reach the survey. As such, there will be no checkout page, but a link that researchers can share across mediums. 
The first release is available for all accounts for free.
The following explains how to apply the Distribution Link feature to your survey:
Click on ''Create new survey'' on the Pollfish platform.

Then, select the option of "create a link" to share the survey.

You'll then be directed to the Audience page, where you can select your intended respondent demographics and other qualifications.

You can also add screening questions that will allow or bar entry to the survey to respondents who answer them in a particular way.

After filtering options in the Audience page, you'll be taken to the Questionnaire page, where you can design your questionnaire, choose to add from the 6

main types of questions

.
Capabilities and Benefits of the Distribution Link Feature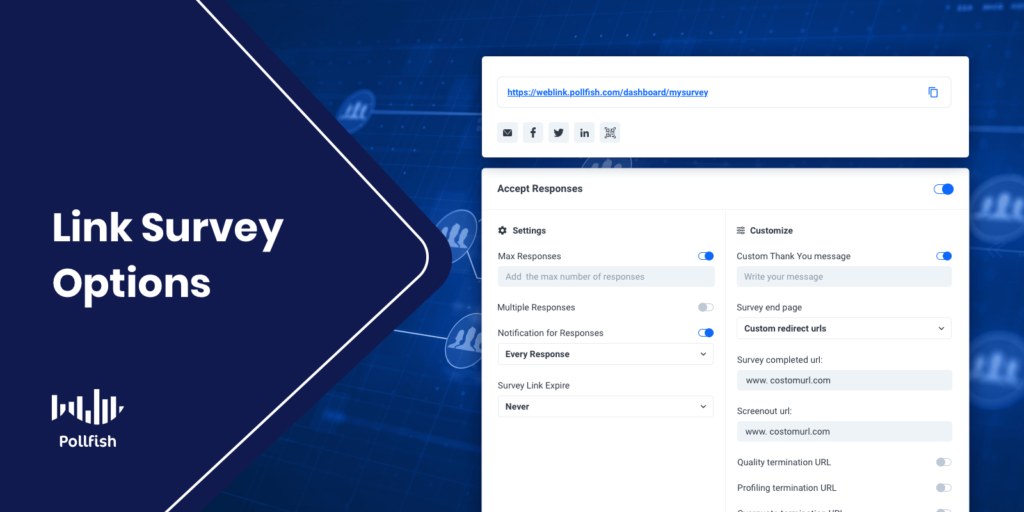 This feature presents a potent way to collect survey responses; as such, it is another means of survey sampling methods. It has a slew of various capabilities and benefits. The following lists all that researchers can do with the Distribution Link feature: 
Appears as an

easy-to-access, sharable link

.

Allows you to

hyper-target

your

target market sample

.

Permits you to

reach specific individuals.

Grants you the power to

survey consumers and leads at key moments in their customer journey. 

Enables you to

gain consumer opinions

about events in their customer experience (CX)

while they're fresh on their minds

.

Allows you to

understand what customers don't like or where you went wrong

as these events are still occurring.

Gives you

access into the minds of specific people, at specific times in their CX.

Makes it possible to

ask consumers about your company, specifically,

their experience with it,

as opposed to more general questions

about their thoughts about your niche and cultural climate. 

Brings you

insights from key stakeholders and players

in your industry and certain companies.

Provides an

alternative survey sampling approach you can use alongside RDE

sampling, allowing you to

conduct comparative analyses between the two sets of data

.
Methods and Campaigns to Use with the Distribution Link Feature
The Distribution Link feature opens doors to conducting several key market research campaigns. It also augments your survey deployment by providing more methods of sending your surveys. This means you are not limited to sending the surveys to specific people through a single channel.
Instead, this feature offers far more options to carry out your research campaigns and reap critical data for decision making. As such, it diversifies your options for distributing your surveys, along with enabling you to carry out and refine critical business campaigns.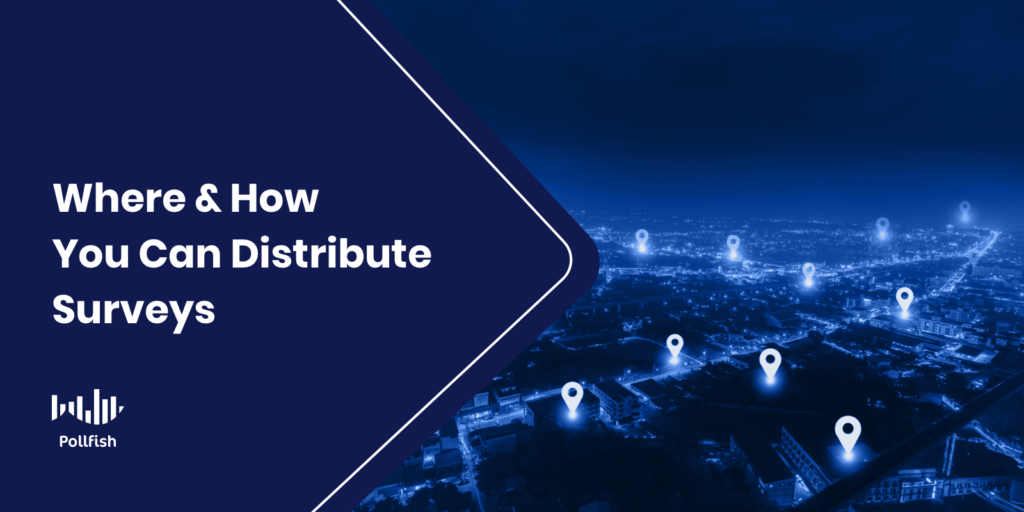 The following lists the different methods and campaigns you can use with the Distribution Link feature:
Email Specific Targets

This serves as the classic method for inviting targeted people to take your survey. 

You ought to email consumers at specific times in their customer buying journey.

There are

various points in the customer journey and sales funnel that are opportune to survey your target market

, such as: post-purchase, cart abandonment/ lack of purchase, bounces, email list sign-ups, a discussion with a representative, etc.

There are several best practices you should use to increase your

survey completion rate

if you choose to email your targets.

Social Media survey invitations.

With the Distribution Link feature, you can copy/paste the link to the survey you want to deploy across any social media channel.

This way, you can compare visitors from social media with other means of extracting data, whether it is with other Distribution LInk methods or via RDE sampling.

B2B Feedback via

B2B surveys

You can gain critical insights with your business clients, vendors and partners to smooth various contracts, processes, integrations and other business dealings.

With this feature, you can contact these entities directly, so

you'll know exactly who has provided answers to your survey

.

Create this survey type with the correct

B2B survey questions

. 

Content Marketing Strategy

campaigns

With RDE sampling, you cannot reach out to specific site users that visited and interacted with your website and its content.

With the Distribution Link feature, you can survey people who have interacted with your content, are subscribed to your newsletter, visit your site regularly, have signed up for a mailing list, etc.

The link allows you to attach your brand and its experience to the survey, which is also useful for

brand visibility

.

Demand Generation campaigns

If you do not want to directly mention your survey in social media or email messages/campaigns, you can still use the Distribution Link in your landing pages.

This provides a more indirect way to access your survey, however, a landing page can provide an in-depth explanation, or a bulleted list describing your survey.

Use CTAs in your landing pages to link to your Distribution Link survey.

Employee Feedback Survey

Campaigns
How to Use the Feature
Select

if

you want to ask a demographic question. 

In another version, researchers will have the ability to profile the respondents. 

Screen your audience with screening questions.

Create your questionnaire.

Add Drules to enhance the quality of your responses.

Link Settings:

Set up maximum responses if need be.

Allow multiple responses from the same respondent.

Select if you want to be informed for new responses.

Set an expiration date for your survey.

Add a custom "thank you" message.

Select what will occur when a respondent adds a complete

Send them to the Pollfish homepage.

Send them to the results.

Add custom redirect links.

The results will be the same as regular ones, with the ability to delete a response.
Personalizing Your Survey Campaigns
Personalization is crucial in marketing and market research and with the Distribution Link feature, you have the option of personalizing your survey to its targeted respondents. You may know exactly who you seek to target if you're setting up a B2B survey with a client, vendor or partner.
Or, if a customer on your website provides their key identifying details, such as their name, location, email address and more, this also gives you an avenue for personalization. You can then set up a personalized survey and send it to specific individuals with the Distribution Link.The key is to use a strong online survey platform like Pollfish, which now arms you with this link feature that makes it easy to make your own survey in only three steps. With the Distribution Link feature, Pollfish empowers your market research and general research campaigns more than ever before.
---
Do you want to distribute your survey? Pollfish offers you access to millions of targeted consumers to get survey responses from $0.95 per complete. Launch your survey today.
Get started