New Services on Our Platform! 🎉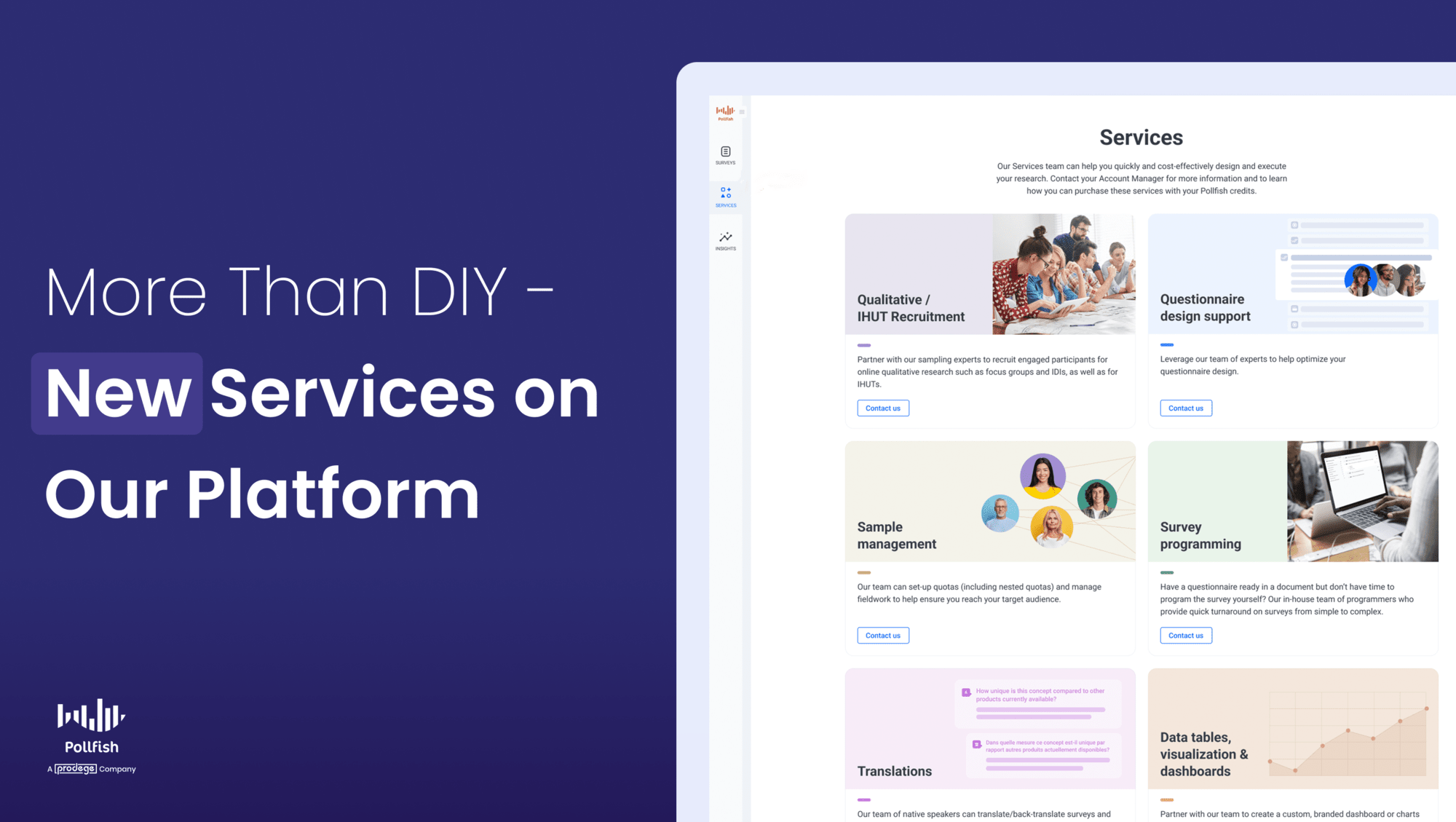 Get ready for some exciting news! Pollfish, your go-to DIY market research platform, has just leveled up! Thanks to our partnership with Prodege, we now offer additional services directly through our platform. This means that Pollfish clients can now access the whole suite of Prodege market research services in a snap!
🤝 Pollfish & Prodege: A Dynamic Duo
While some of you are familiar with our relationship with Prodege, many of you may not be aware of the valuable services they offer. To make life easier, we've integrated a section in our platform for users to select Prodege services directly. Let's take a closer look at what's new!
📢 Announcing 7 New Services at Your Fingertips!
🎤 Qualitative / IHUT Recruitment – Need engaged participants for online qualitative research, focus groups, IDIs, or IHUTs? Our sampling experts have your back! Ensure the right audience is recruited for valuable insights, improving research reliability.
📚 Questionnaire Design Support – Optimize your questionnaire design with the help of our team of experts! Achieve better data quality and reduce potential biases through a well-designed questionnaire.
🎩 Sample Management – Let our team set up quotas (including nested quotas) and manage fieldwork to ensure you reach your target audience. Streamline fieldwork and reduce sampling errors for more accurate and representative data.
💻 Survey Programming – Need to program a survey from a document? Our in-house team provides quick turnaround on surveys from simple to complex. Save time and effort while ensuring your survey is programmed accurately and efficiently.
🌐 Translations – Have your surveys and open-ended responses translated/back-translated into 50+ languages by our team of native speakers. Reach a global audience and enhance cross-cultural understanding with accurate translations.
📊 Data Tables, Visualization & Dashboards – Create custom, branded dashboards or PowerPoint charts and graphs using our innovative Insights Builder tool. Make your data more understandable and visually appealing for impactful presentations.
📈 Topline Insights Report – Collaborate with our insights experts to generate topline reports with key findings from your survey data. Quickly identify essential trends and findings, simplifying data-driven decision making.
DIY to DI-WHY-Not: Expanding Your Capabilities
We know that Pollfish users are used to doing things themselves. However, we also understand that you may be pressed for time, need help, or require market research services beyond our capabilities. With our new Prodege-powered services, you no longer have to choose between DIY and expert assistance. You can have it all! By teaming up with Prodege, we're providing you with a seamless, end-to-end market research experience that saves you time 🕒, money 💰, and resources 🌳.
How It Works 
As you'll see in the screenshot below, all you need to do is select services tab on the left when you're logged into the Pollfish platform, and you'll be able to select from these 7 services, in which you'll be connected with the appropriate expert:

A Celebration of Collaboration
Ready to try our new services? They're available right now on our platform. Simply select the Prodege services you need, and let us do the rest! Whether you're a seasoned Pollfish user or new to our platform, our team of experts is here to help you take your market research to the next level.
Let's make market research more accessible, efficient, and enjoyable together! Don't miss out on this amazing opportunity to enhance your research capabilities and achieve even greater success with Pollfish and Prodege! 🥳
---
Do you want to distribute your survey? Pollfish offers you access to millions of targeted consumers to get survey responses from $0.95 per complete. Launch your survey today.
Get started