How to Do Away with Typos With the Edit Questionnaire Feature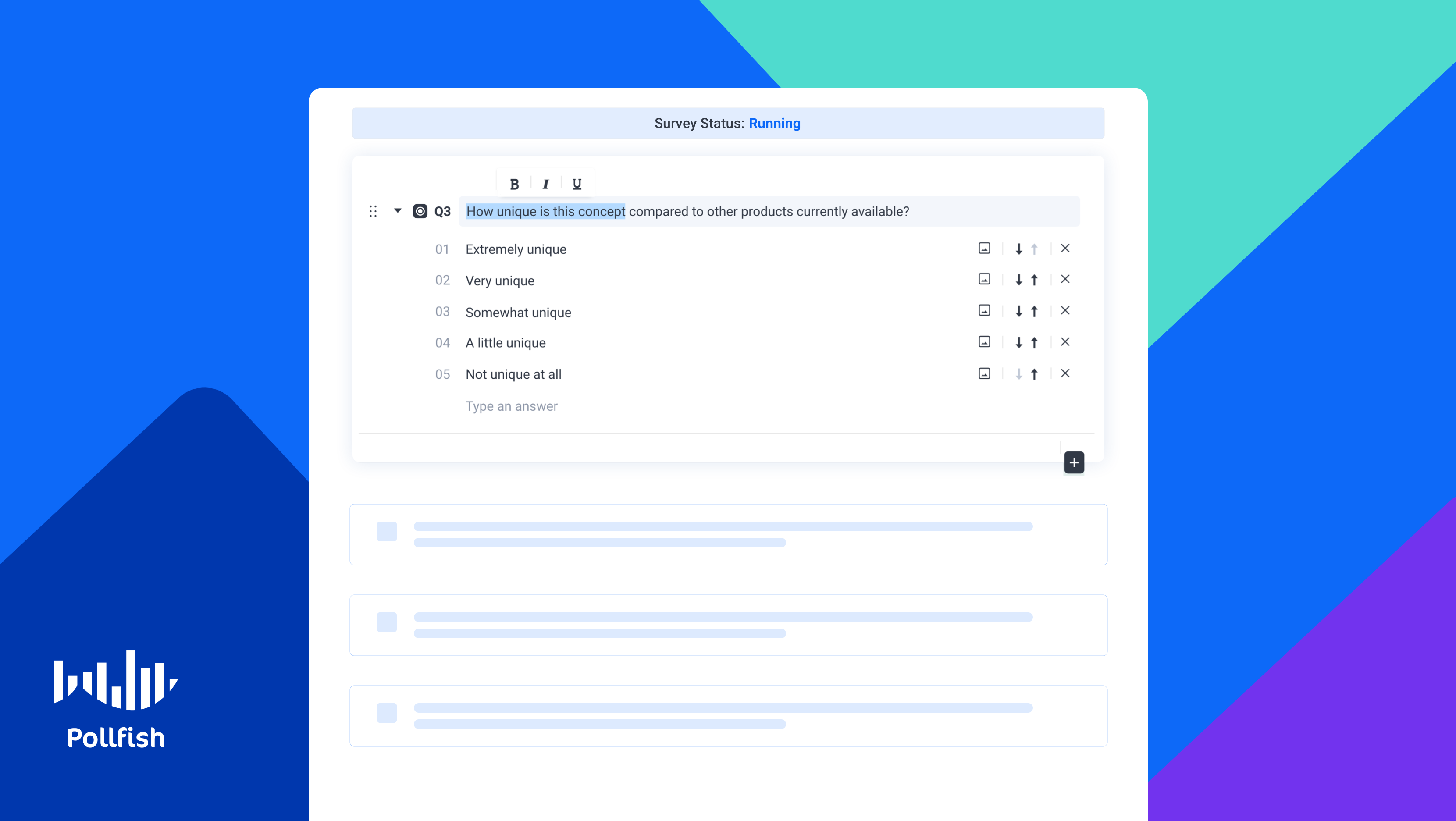 When forming the questionnaire — the heart of the survey — even the most diligent market researchers are bound to come upon errors. At Pollfish, we've created a solution that can nip this issue in the bud without needing to slow down the survey process. 
Pollfish has released a new feature that allows researchers to quickly remove typos and correct any text-based errors in all surveys.
With the new Edit Questionnaire feature, researchers can edit their typos and other text if need be, in any survey they choose, regardless if the survey is still running or complete. This creates a much more smooth survey experience for the researchers, as they don't have to stop a running survey, or even pause it to adjust textual errors.
This article explains how to use the Edit Questionnaire feature and how any market research campaign can benefit from it.
Understanding the Edit Questionnaire Feature
Market researchers have likely caught a typo error in a running survey in the results of a completed survey. Researchers now have the ability to correct typos and edit all text fields regardless of the survey status, thanks to the Pollfish Edit Questionnaire feature.
This includes making the corrections and other textual edits in questions, answers, statements, scale points, concepts, etc.)
This new feature is available to all researchers under all of our plans.
The Edit Questionnaire does not require researchers to make any status changes to the survey they are editing. As such, researchers don't need to pause, stop or resume any survey they use this feature with. 
The Usefulness of the Edit Questionnaire Feature
This feature is useful for virtually any survey research campaign, as it equips market researchers with a handy and practical way of fixing typos without halting or pausing a survey. Typos can occur even among the most meticulous researchers. It isn't practical to stop a survey or change its status, as this delays the survey process. 
The Edit Questionnaire feature is the solution to this pesky issue, as researchers can now fix typos within their running studies and share them with their peers. They can do so without stopping a running survey or duplicating it to launch a copy. They can edit any text while the platform is deploying surveys and extracting responses. 
This is useful as it helps researchers make changes as soon as they find them, allowing them to edit their questions as they please. 
How to Use the Edit Questionnaire Feature 
In line with the Pollfish commitment to user-friendliness, this new feature offers ease of use and efficiency. The following explains how to use the Edit Questionnaire feature on the Pollfish platform.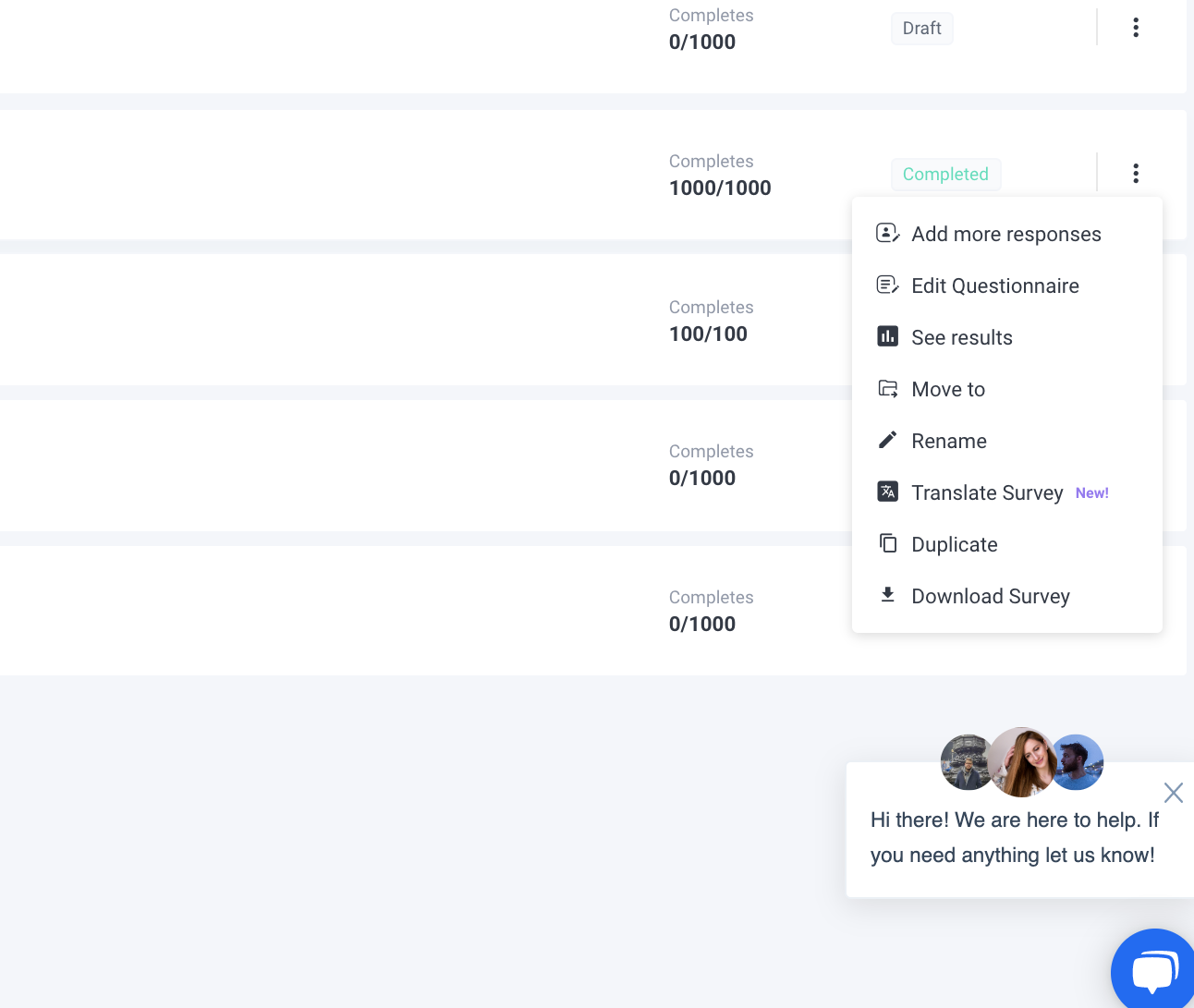 On the Pollfish dashboard, go to the surveys and hover over the survey you would like to edit.

Here, you'll find the three-dot button that grants you options on changing the survey status and using a feature. 

Click on the three-dot button on the right of the survey you would like to edit.

A dropdown menu will appear.

Click on "

Edit Questionnaire

" and you will be taken to the questionnaire of the survey you clicked on, which you can then edit.

The ''Audience'' & ''Checkout'' pages will be grayed out. 

Here, you can also apply changes to the ''recall information'' option. The rest of the options at the left panel are grayed out (

carry forward

,

skip logic

, etc). 

However, you can review (only) the ''apply logic'' rules per question.

Select "save changes'' in the questionnaire page to save any changes you made. 

After clicking on ''save changes', these changes will be reflected on the results page. 

Please bear in mind that there is no ''auto-save'' button.

When the survey's status is ''Under edit'' (Edit Audience), the option ''Edit Questionnaire'' is also available.

If you want to discard your changes, click back and confirm the action.
Creating Quality Surveys
In summary, researchers can improve the quality of their surveys as their surveys are running. They can ward off both their own typos along with those of their respondents. After hitting "save," the changes become instantly available to respondents and the results.
Thus, using this feature is effective and friction-free. 
Remember, as our surveys are running, our online survey platform uses AI and machine learning along with random device engagement (RDE) sampling to ensure the highest quality of responses. 
Machine learning performs quality checks that disqualify gibberish and other low-quality answers, those using a VPN. RDE sampling engages digital users across a wide net of digital properties, without pre-recruiting them to take a survey.
The Pollfish platform is, therefore, best equipped to extract and deliver the best results.
---
Do you want to distribute your survey? Pollfish offers you access to millions of targeted consumers to get survey responses from $0.95 per complete. Launch your survey today.
Get started