Creating an audio, video, or image survey with Pollfish
Surveys that support media files offer more ways to learn from respondents. They're a great way to gather more qualitative feedback, such as emotional responses to an ad or concept.

Benefits of adding media to survey questions
Adding media to survey questions is a great way to let respondents get more context about what you're asking. It can offer an element of accessibility for people who respond better to visual stimuli or those who have trouble reading. Not only that, media components like images and videos are engaging for respondents and add a nice look and feel to the survey. 
Media is especially useful in measurement of more abstract concepts, like emotions and reactions. A picture is worth 1000 words, and you can let it speak for itself to convey stronger messaging to respondents that you might not be able to put into words in a single written survey question.
What media in survey questions are used for
Surveys using media questions are a great way to compare different concepts against one another or test and measure consumer reactions against their other, more emotional senses. Many brands use image-based surveys to test corporate logos and color schemes or measure brand recognition. Videos and gifs are excellent ways to test ad concepts before launch to see what consumers like or respond to. Audio additions to your survey may be the perfect way to choose the introductory theme song to your podcast or test for accessibility issues, ensuring that the tone, pitch, and accent being used is understandable and appealing for your target audience. 
You can also allow your audience to respond to questions using an image, which is great for testing ad recall. Survey tools (like Pollfish) that offer these are a great help to people in all industries across a variety of different audio and visual testing needs, just make sure you have permission to use all media prior to testing.
Tips and FAQs for media survey questions
What kinds of media can you upload to Pollfish questions?
We support 3 different media types: Images, Video, and Audio files. You can add these into any of our question types, including screening questions. You can also include images in answer choices for the respondent to select a visual response. There is no limit to the number of images and videos you can include in your survey. There is also no limit to a video's duration. 
Media, when used sparingly, can help the engagement of a survey, but when overdone can increase drop-offs. We don't allow videos as answer choices, as these are typically too long for a mobile survey environment. 
What sizes and file types are supported for media?
We allow one media file per question (image or video). The maximum size specs for each are as follows. These are NOT the recommended sizes. See below the image for recommended sizes.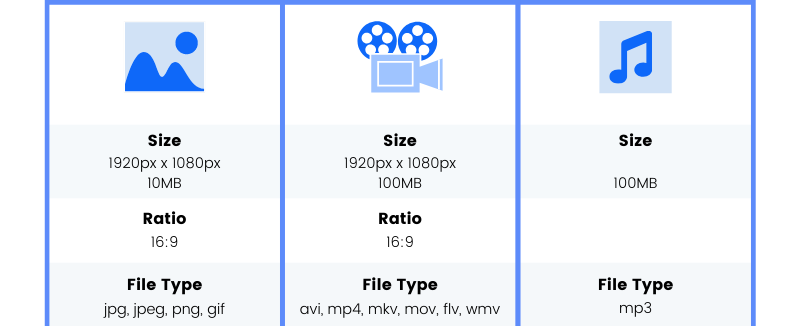 The recommended sizes of each media file are as follows:
Image: 
Max Size: 10MB

Recommended: 1

920px x 1080px,

2MB

Ratio: 16:9

File type: jpg, jpeg, png, gif
Video:
Max Size:  100MB

Recommended:

1920px x 1080px,

25MB

Ratio: 16:9

Duration: Unlimited

File type: avi, mp4, mkv, mov, flv, wmv
Audio:
Max Size: 100MB

Duration: less than 120 seconds

File type: mp3 
What plans allow images, video, or audio?
Media additions come standard on all Pollfish plans. You may add as many images, audio files and videos to the questionnaire as you want on any of the question types. Video duration is unlimited while audio files have a maximum of 120 seconds.
Can you upload more than one image to a question in Pollfish?
You are only able to upload one image or video in the question type and one image per each answer selection. However, you can show two images side by side if uploaded as a single photo. Try to ensure a clear line of distinction to show a left and right image.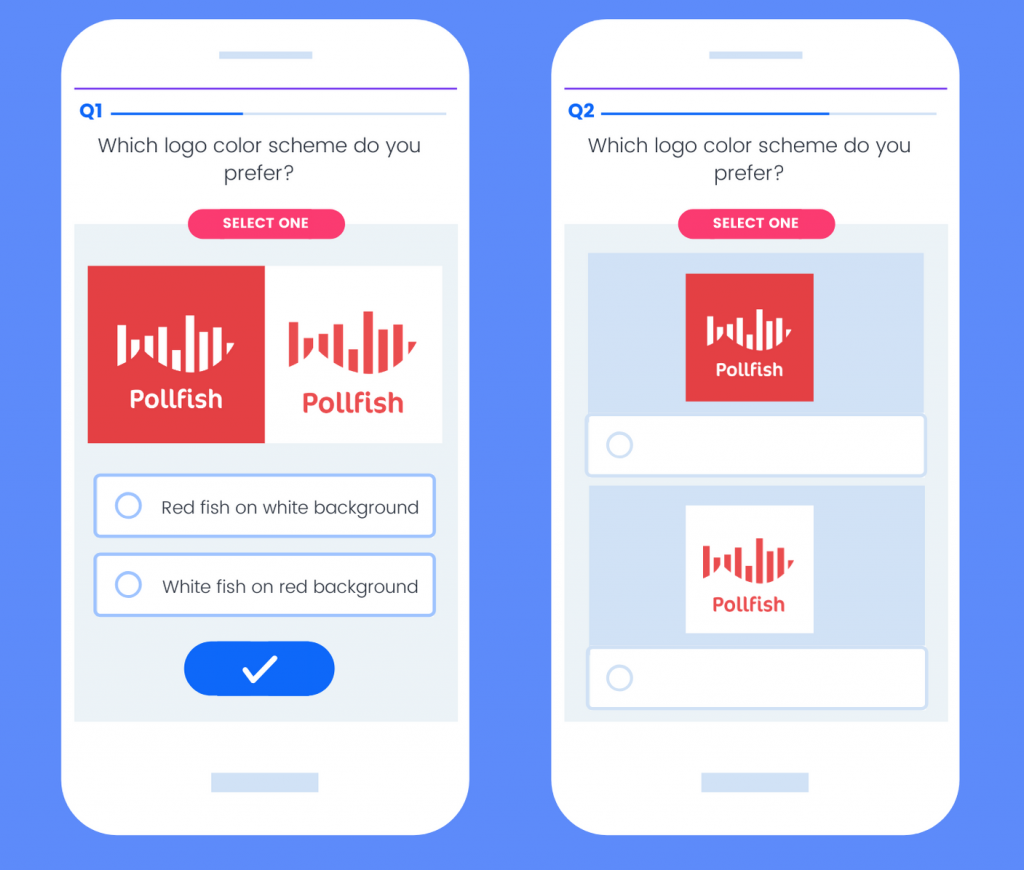 Can you use media in Pollfish screening questions?
You can add images to screening questions and their answers. Like all Pollfish questions that support media, you can add one image for the description and one image each for the answer choices.
Can you link to a video on a third party site?
We don't allow any links to be added to our surveys, in text or in visual media. This is to protect surveys from re-routing respondents out of the experience. However, media can be uploaded into the questions so that they are embedded in the survey, keeping all respondents and data in one location.
How do you know if respondents have watched the full video?
Respondents cannot skip questions (unless they are in a skip-logic flow). That includes video— respondents aren't able to move on to the next question until the video is complete. If the video is too long and the respondent opts out, it will be considered a drop-off and their responses will not be included in the final data. To encourage engagement and reduce drop-offs, we only support videos up to 2 minutes in length, although we suggest making them even shorter when you can.
How do you know what the image or video will look like?
In the Pollfish platform, it's recommended that you preview your questionnaire before launch. This shows you a mock-up mobile screen with an interactive version of your questionnaire. While this is helpful in viewing your media survey, you can also see how questions are formatted, catch any typos, and ensure your answers are shuffled prior to launch. Respondents are able to zoom in on images, but it's better if they don't need to take this action or rotate their device. We recommend uploading images in a vertical direction when possible to ensure they're upright and as large as possible to provide a better respondent experience.
If you have additional questions about our media capabilities or how to use Pollfish, please reach out to our 24/7 customer support team for assistance.
---
Do you want to distribute your survey? Pollfish offers you access to millions of targeted consumers to get survey responses from $0.95 per complete. Launch your survey today.
Get started