Buy Survey Responses With a DIY Market Research Platform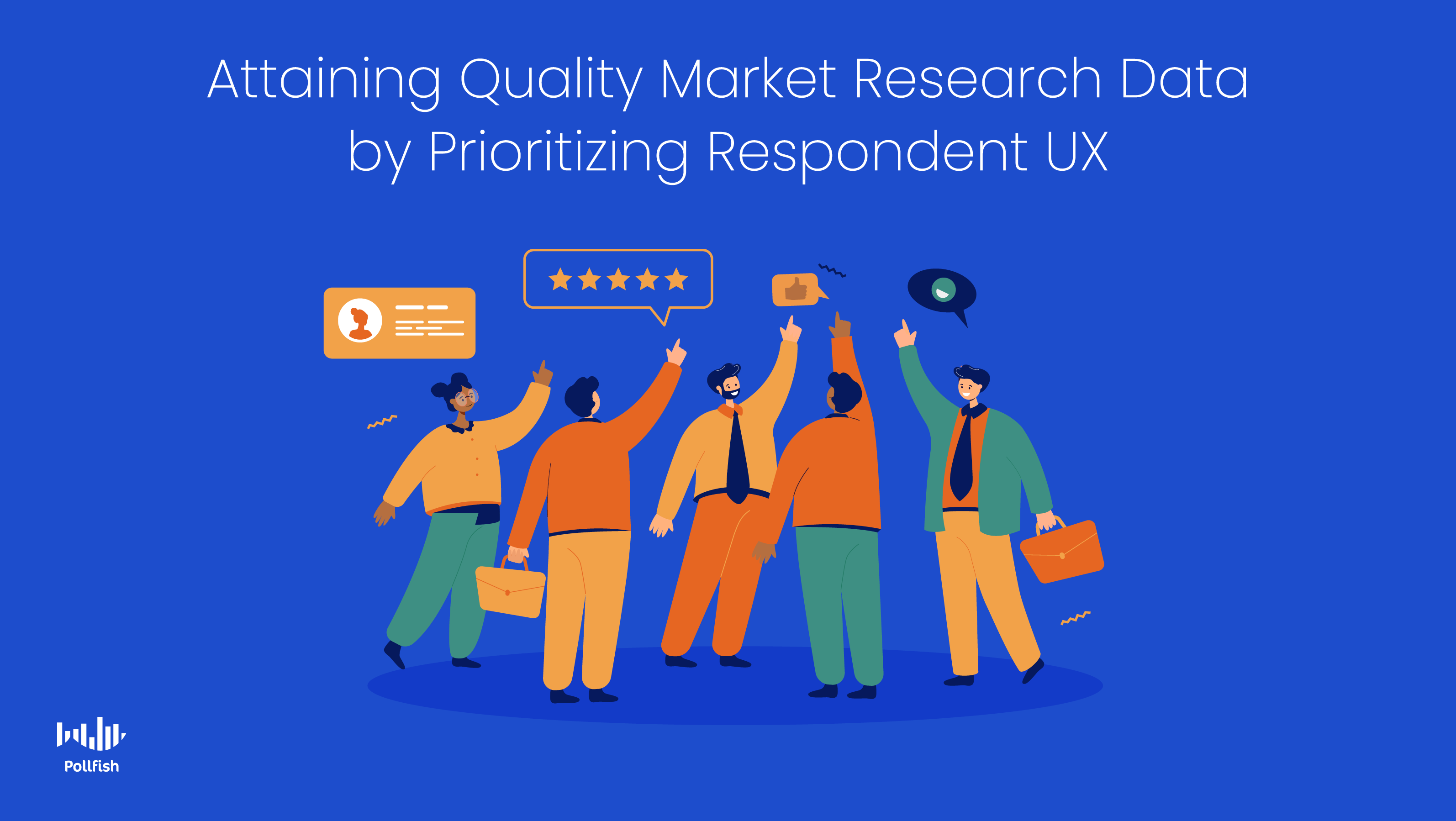 Rather than relying on survey panels or syndicated research, you can buy survey responses and access highly sought insights yourself when you use a DIY market research platform. 
Such a platform evades many issues present within the aforementioned research methods, such as panel fatigue, which is found in survey panels and exerting less control over a research project, which occurs in syndicated research.  
Additionally, in keeping with the idea that any team member can perform quality market research — very much in tune with data democratization — you can buy a set amount of survey responses for your market research needs. You can do so without breaking your budget.
On the contrary, research firms and various market research platforms don't offer the ease of performing and sharing market research as does a DIY market research platform. What's more is that many research projects are expensive and time-consuming. As a matter of fact, brands spend $60,000 and more on market research, with an estimated 6 weeks or more to complete a market research project. 
With a DIY research tool, you can buy responses, which is far more cost-effective and quicker.
This article explains what it means to buy survey responses and how to do so on the Pollfish online survey platform. 
What it Means to Buy Survey Responses
Relatively speaking, buying survey responses is much like buying a survey sample, which is an exclusive pool of all the respondents that make up your survey. As such, it does not mean you'll need to reach out to individual respondents or send your survey via an online portal yourself. 
So what does buying survey respondents entail? In the context of a DIY market research platform, it means you buy the participation of your target audience based on a particular number of individuals.
Given that you and your team are at the helm of market research study, it is up to your team to decide the number of respondents you would like to partake in your survey. It is key to note that you are not buying for participation in an entire campaign. Rather, you pay for individual respondents' participation in a specific survey.
By buying survey respondents, you're allocating all the data you need for any survey; at times, one survey is all you'll need for a market research campaign, unless you're seeking out other market research techniques.
Thus, when you pay for individual survey respondents, you're building the entirety of the subjects that make up a DIY survey. 
As such, when you buy responses in a DIY market research platform, you're hastening the speed to insights and reducing the span of the research project. This is one of the many benefits of buying your responses. 
Benefits of Buying Survey Responses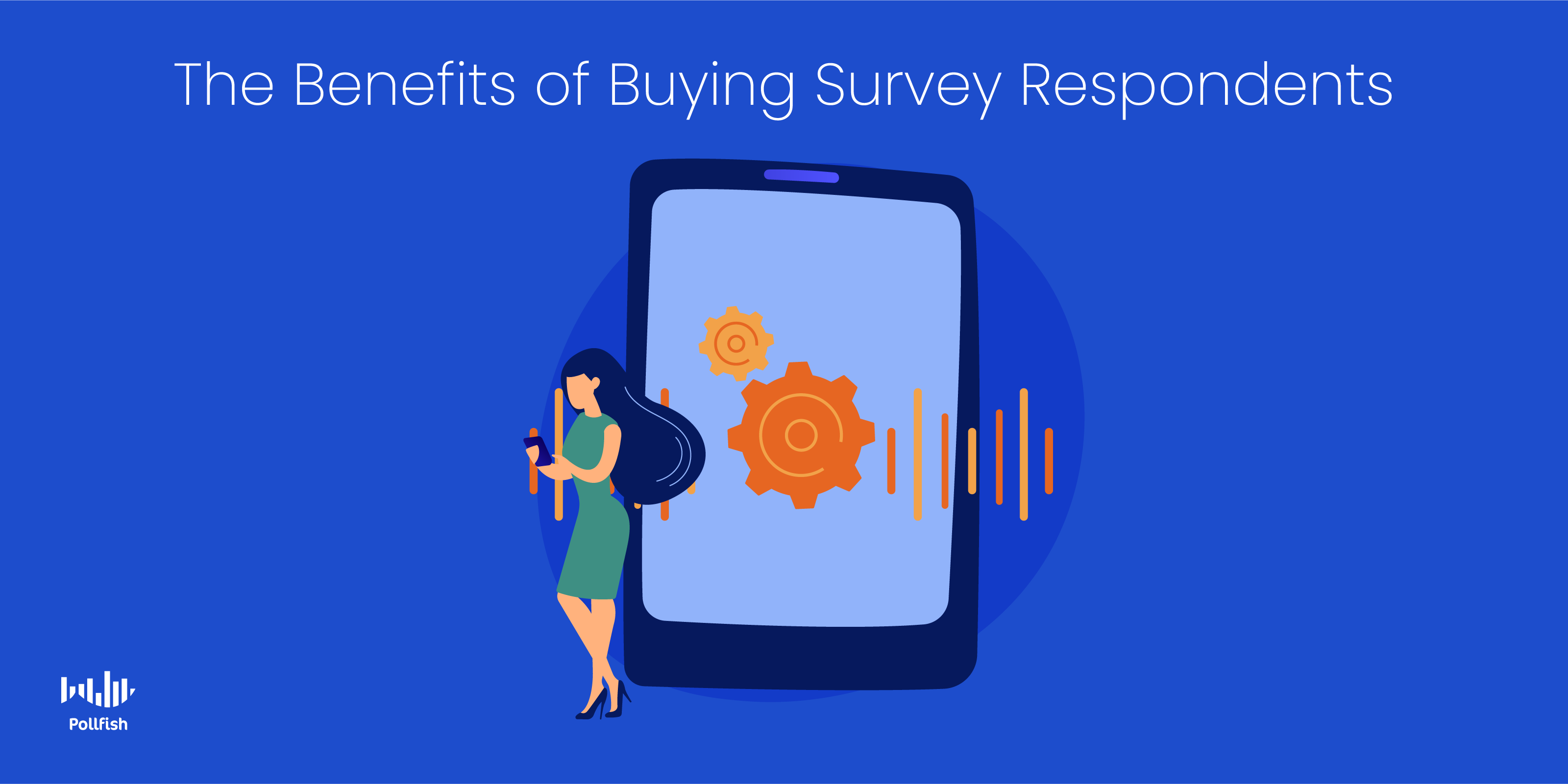 When you buy survey responses on a DIY market research platform, you're doing more than just opting in research participants. A strong DIY market research platform offers various benefits. These include the following:
Reaching the exact number of respondents you need

Obtaining respondents where they naturally exist online 

via

RDE sampling

or random device engagement

Market segmentation

and targetting

Quicker insights

Reaching your particular

target market

Dictating the demographics, psychographics and geolocation of respondents

All the data you reap is proprietary to you (not the DIY survey platform)

Being equipped with key

data for decision making

Insights for business decisions

Steering the direction of a research campaign
How to Buy Survey Responses on Pollfish
Buying respondents is easy and hassle-free — with the right DIY research platform. You can buy individual survey responses on Pollfish.
All respondents are pre-screened and pre-qualified to take part in a survey study. This means, only the respondents you target can take your survey. They will need to tick off all your requirements, from location to demographics and more, depending on how you set up your screener. 
To buy responses on Pollfish, you'll first need to choose a pricing plan. On this page, you have the option of choosing a basic or elite plan. In the basic plan, you can buy survey responses at an individual basis.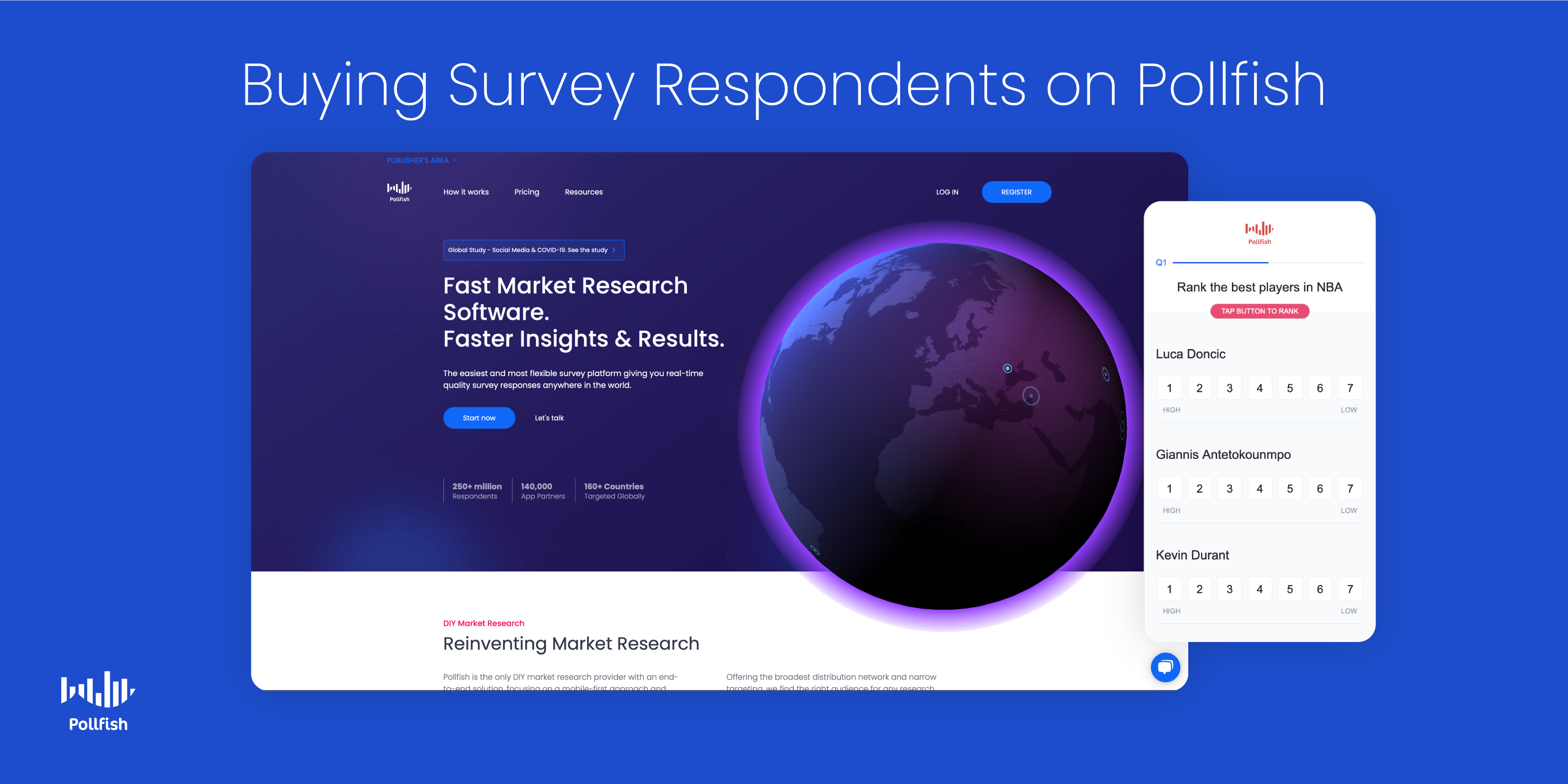 Each completed survey, aka, individual survey respondents starts at $0.95. Prices range from $0.95 to $1.25 based on the number of questions in your survey.
Once you choose a pricing plan best suited for you, you can then begin your market research endeavors. The Pollfish dashboard is easy to access and allows you to make your own survey in just 3 steps. 
Then, commence targeting your respondents by setting up various qualifications in the screener section of your survey. In Pollfish, this interface is referred to as the Audience section. Here you can also set the exact number of survey completes in your survey. Each complete is done by an individual survey respondent. As such, a survey with 800 survey completes = 800 survey respondents.
You can also create custom quotas to narrow down specific people and see how different groups answer questions. For example, you can create quotas such as: 300 middle-aged men with a salary between $100,000-$250,000.
Constant Access to Any Target Population
All business and non-business entities can conduct their own research via a potent DIY market research platform. Even individuals who seek data on a specific target population can do so at speed when they buy survey respondents. 
You should opt for an online research platform that makes buying survey respondents a quick and simple process. This way, you'll collect all your necessary data from the right respondents in a short space of time. 
Opt for a platform that features artificial intelligence and machine learning to remove low-quality data and offer a broad range of survey and question types.
It should include advanced skip logic to route respondents to relevant follow-up questions based on their previous answers. 
Most importantly, it should allow you to survey anyone.  As such, you'll need a platform with a reach to millions of individuals, along with one that offers the Distribution Link feature. 
This feature will allow you to send your survey to specific customers, instead of just deploying them across a network. 
With all of these capabilities, you'll be able to reach any target audience and run quality research campaigns. 
---
Do you want to distribute your survey? Pollfish offers you access to millions of targeted consumers to get survey responses from $0.95 per complete. Launch your survey today.
Get started