Understanding and Using White Label Market Research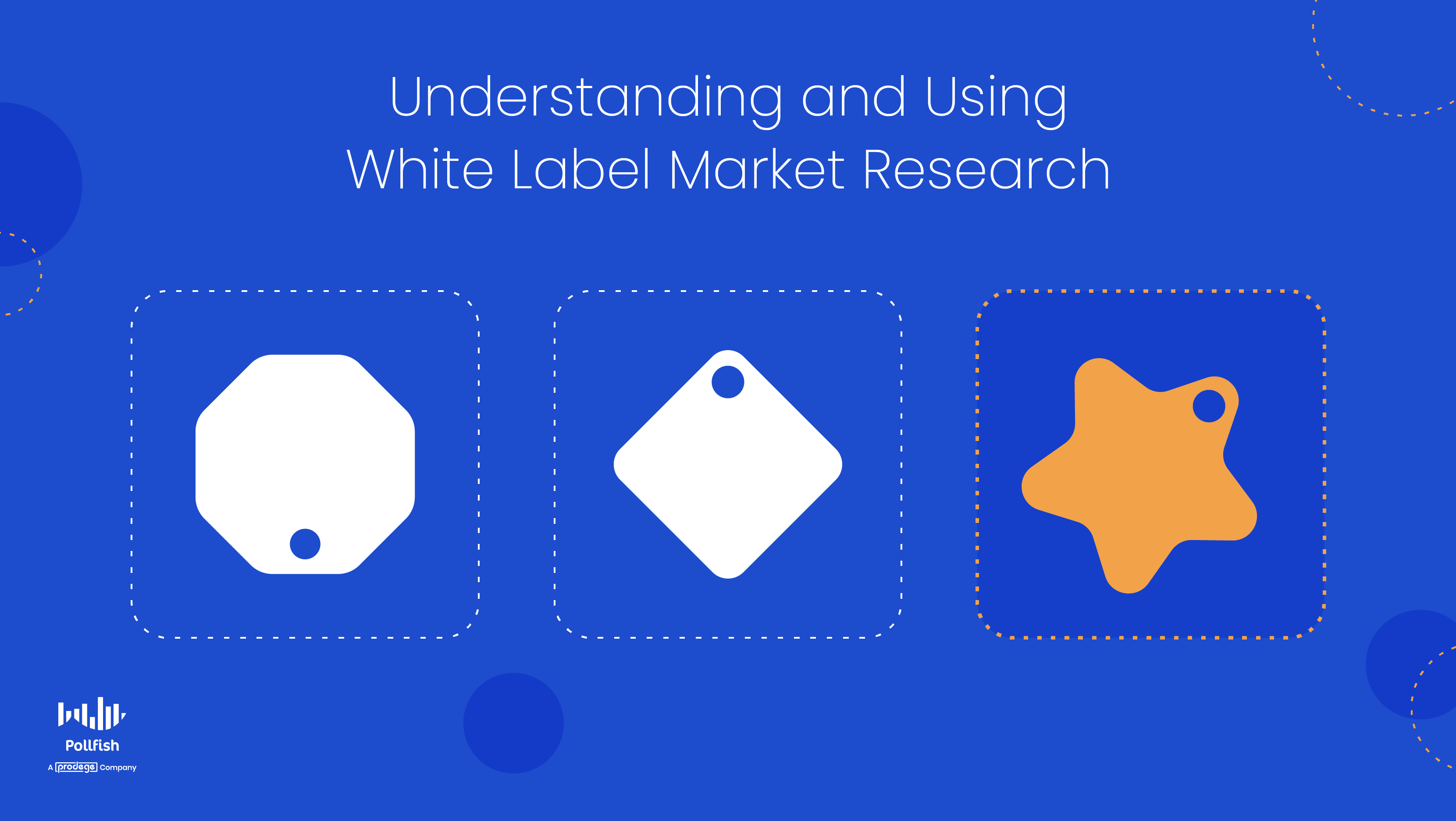 You may have heard of white label services available for a variety of industries, including the ecommerce industry and its various SaaS offshoots. But did you know that it can apply to market research as well?
White label market research can power survey studies, as it exists as a kind of survey model, specifically relating to conducting surveys and the way post-survey data is presented externally. 
As we've frequently mentioned, surveys are useful for all kinds of endeavors, including boosting your website's credibility and yours as an industry expert within your space. 
But when it comes to white label research and its surveys, is it necessary for strengthening your business? And what exactly is it?
This article explores white label market research, its importance and why you may need it, its pros and cons and whether you truly need it or can opt for an alternative. 
Understanding White Label Market Research
To properly nail down the concept of white label market research, first we'll dive into the meaning behind "white label."
What is White Label?
White label is a business model in which one company (the manufacturer) produces a product for another company (the buyer). The company that purchases from the manufacturer uses the manufacturer's products by selling and marketing them under their own name and branding.
This way, the purchasing company makes it appear as though the manufacturer's products are instead their own, with their own logo, names and other branding elements. 
A white label product is therefore often generic and sold to various entities who seek to then brand it as their own. 
White label products can already come branded as the buying party's company,  should there have been an arrangement to do so. That's because some white label providers also sell products with branding services tailored to their purchasing companies' needs.
What is White label market research?
The same concept of white label and white labeling relates to the encompassing field of technology, specifically to research tech and the field of market research. 
As such, in market research, "white label" refers to a company that sells products to another company wherein the buying company takes the seller's product and rebrands it as its own.
To put it plainly, the company that manufactures and sells the product provides the product and all the work to make it functional, while the client (or purchasing company) sells it as if it were their own. 
Specifically in market research, when a company uses a manufacturer's software to conduct survey research, for example, it will present the research campaign and all of its findings as its own endeavor and itself as the owner of the resultant data.
White label market research, like other white label services, is a form of outsourcing, except you are not outsourcing workers, but software. 
Why You May Need White Label Market Research
There are several reasons a business may want to buy from a white label research company. There are also plenty of reasons to go a slightly different route. 
First, let's touch upon the importance of white label research.
Up to 80% of consumers research a company online before visiting it or making a purchase. Thus, having a strong online presence is vital for all brands. 
With the rise of businesses going digital and internet-only businesses, there is also a growing demand for white label services.
White label market research can help enhance your online footprint and provide much more.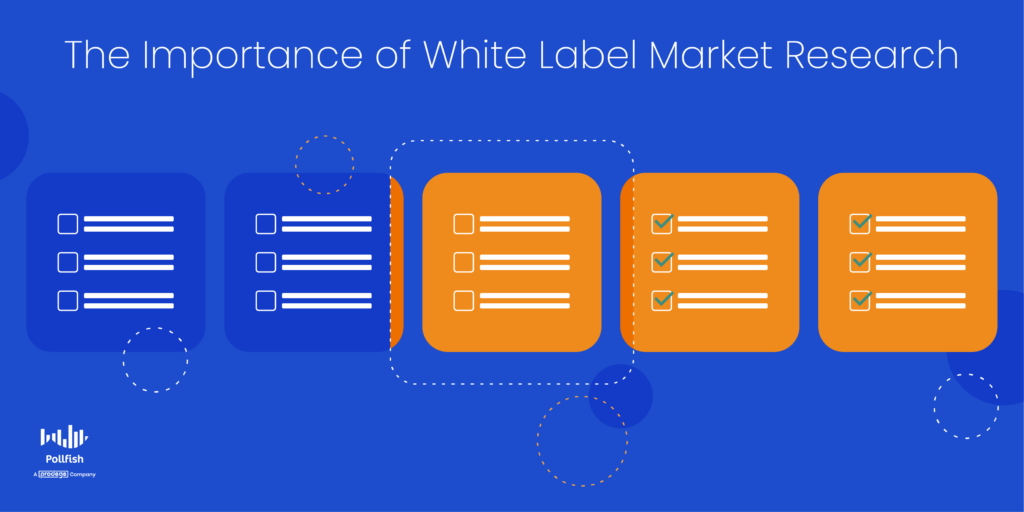 That's because you can use it as part of your content marketing strategy. When you include original insights and statistics, you're granting more weight and credibility to any of your online content. You're also positioning yourself as a thought leader in your space.
What's best is that with primary market research like surveys, the data you provide in your online content, such as your website or social media, is completely yours. At least it is presented as yours with the white label approach. 
This shows your digital visitors that your data and content isn't recycled or secondhand. Instead, it is derived and produced from your brand.
At least, that's what white label res-tech products will make it appear to look like. 
Thus, with white label res-tech products, you can make your business stand out by presenting the research you conduct as your own.
This will make you appear to be knowledgeable, original and a leader in your space. Thus, this will help you both attract and retain your customers at best and attract their attention at the very least. 
Meanwhile, the white label company providing you the research platform is doing all the heavy lifting and providing you with its expertise. A strong one, that is. 
However, the white label model has both pros and cons, even in the market research space.
The Pros and Cons of White Label Market Research
This form of research has its share of disadvantages and advantages. That's why it shouldn't be the sole route you take for market research.
The following lists some of the major drawbacks and positive aspects of using a white label service for your research needs:
The Pros
Have short lead times.

Generally easy to work with.

Often offer a dedicated team of experts to help you.

All the work is done by the manufacturing company.

Great for those who have no other research experience or options.
The Cons
Relinquish all the advantages of associating with another company.

Not all white label companies make it easy to use your own branding.

You give up on bringing more buzz to your business (backlinks, awareness, etc)

Some res-tech companies would have given your research pursuits and business at large a positive reputation. Failing to give them credit deprives you of this benefit.

You give up on the edge of using a more renowned research company than your competitors. 
How Pollfish Fits in with White Label Market Research
The market research res-tech company Pollfish doesn't neatly fit into or outside of the white label model.
That's because our survey platform sits somewhere in between or "on the fence" of this approach.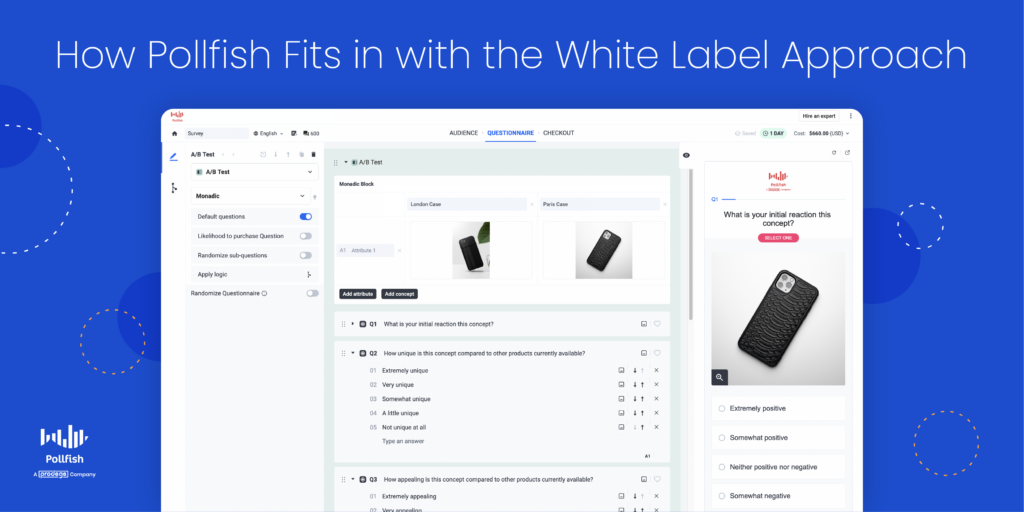 Pollfish provides a diverse suite of market research products under one platform. While we're generally most known for surveys (a wide range of templates, question types and questionnaire capabilities), we also provide other market research methods and functionalities. 
We offer the following market research methods on the Pollfish platform:
With Pollfish, most of our clients generally cite us for their research and findings. After all, we're a well-established company and have become even more so in 2022, after joining forces with Prodege. 
In this way, Pollfish is not a white label market research provider. 
However, this is not the only way our customers work with us. With customers across business sectors and beyond them (including education, government and editorial), no company uses our platform in the same way.
As such, not all Pollfish companies present their data from Pollfish in the same way. Some businesses that conduct research through the Pollfish platform do not mention us. In this way, some businesses use Pollfish in a rather white label way. 
This is especially true with market research agencies; these companies will use Pollfish in an entirely white label manner. They conduct their research campaigns entirely through the Pollfish survey platform but present their studies as completely their own.
This includes the purpose of the study, the targeting, conducting the research and the resulting data. 
By keeping us under wraps and presenting themselves as the sole owners and conductors of their survey research, these companies prove that while it is not a traditional white label company, Pollfish can also be white labeled.
All in all, there is a duality in Pollfish when it comes to white labeling. On one hand, we do not market ourselves as a white label platform. We are first and foremost a market research res-tech business. 
On the other hand, some brands don't cite us and present themselves as the sole party involved in their research. Thus, we too can be seen as a kind of white label approach to market research. 
The choice is yours on which approach you take with Pollfish. What's most important is the quality and outcome of your research campaigns. 
Mastering Your Research Projects
White labeling your market research can be an effective way to carry out your campaigns and strengthen your brand image. 
But it is not the only research approach you should consider. Luckily, the Pollfish research platform isn't white or black when it comes to this. It fits into a gray area, where although we don't market ourselves as white label providers, we can be used as such.
Once again, the choice is yours on how you leverage Pollfish. We would recommend mentioning us, however, as we are a renowned market research company that are now working under the even larger research company, Prodege.
We want to conclude by stating that a valuable market research provider will grant you all the functionalities necessary for your studies, whether it is white label or not. Thus, that is where your focus should lie when choosing a research platform: its functionalities and the quality of the data.
Our survey software allows you to establish a thorough survey data collection, one you can customize as you see fit, view however you please and organize to the maximum.
In addition, with our vast array of question types, you can create any survey type to aid any research campaign.
Researchers can reap a wide breadth of information on their respondents and access a wide pool of insights in their survey results dashboard.
In addition, there's the advanced skip logic feature, which routes respondents to relevant follow-up questions based on their previous answers. 
As such, the Pollfish survey platform is optimized for both the respondent and the researcher. 
With a research platform offering all of these capabilities, it's clear that Pollfish is the best market research provider — white label or otherwise.
---
Do you want to distribute your survey? Pollfish offers you access to millions of targeted consumers to get survey responses from $0.95 per complete. Launch your survey today.
Get started