Understanding and Using a Survey Distribution Service for all Your Research Needs

A survey distribution service is a necessity for all surveys — whether they're of the snail mail, telephone or digital variety. 
Given that American internet usage keeps rising, with an increase of 8.4 million new internet users between 2021-2022, it is of little surprise that online survey usage has also risen. 
Moreover, it's not just businesses that can benefit from surveys, as educational institutions, research firms and even editorial sites can all reap critical data on their target audience with survey research.
More online surveys are also in keeping with the fact that internet usage is steadily growing globally as well, with an annual rate of 3.7%. Thus, brands can easily conduct global market research, with the right distribution method, that is.
This article explores all that a survey distribution service entails, its importance, its types and more. 
Understanding What a Survey Distribution Service Is
As its name suggests, a survey distribution service is any type of service that administers surveys to their intended audiences. 
Essentially, this kind of service is tasked with getting a survey from point A to point B, with Point A representing the creators of the survey and Point B the recipients. But there's much more to survey distribution, as it is not solely a delivery service.
Instead, such a service should do the following to complete your survey process:
Identify

your

survey audience

.

This will depend on the survey provider you use. 

In an online survey platform, your dashboard, specifically the audience section allows you to set in your audience qualifications.

Reach your target audience

.

For business purposes, this is going to be your

target market

— the group of people most likely to buy from your business.

Reaching the right respondents is at the heart of distributing surveys.

Prompt potential respondents to take the survey

.

Prompting your respondents to take your survey includes first getting their demographic and psychographics data should they opt-in. 

In this way, you determine if they're qualified to take your survey.

It's key to make a good first impression, along with designing a strong survey so that you encourage respondents to complete the survey.

Continue iterating until all respondent quotas are reached

. 

With an online survey campaign, you should be able to set the exact number of completed surveys in each survey campaign.

This includes setting quotas on your respondents.

For example, you may seek to gain 300 men and 300 women to take your survey, while getting a particular number of respondents that fall under certain categories like income or ethnicity. 

Iterating until reaching completion is what agile market research is all about.

Save and organize all the data collected

.

It is key to save and organize all the data that your survey collected so that it can be easily accessible to you, the researcher. 

Organizing the data involves granting it accurate percentages and stats, along with presenting it in various formats such as tables, charts and graphs.

In addition, organizing the survey data involves allowing researchers to

filter data

as they please.

For example, the researchers should see post-survey results by filtering them by respondent location, age, ethnic group and all other qualifications.

This provides them a granular analysis of which respondents answer in which particular way.
As you can see, this kind of service is bent on more than just deploying surveys, since you want them to be taken by the right people and get a particular number of participants.
Thus, you can have different types of providers and use different methods of survey deployment.
The Importance of a Survey Distribution Service
The previous section delves into all the capabilities that such a service should provide, proving its importance.
But if you aren't convinced of the need to use a strong survey distribution provider, here's more about its importance.
As mentioned in the introduction, online survey usage is naturally growing with the growth in global and domestic internet usage. Thus, it is critical to reach the correct audience and do so in a timely manner.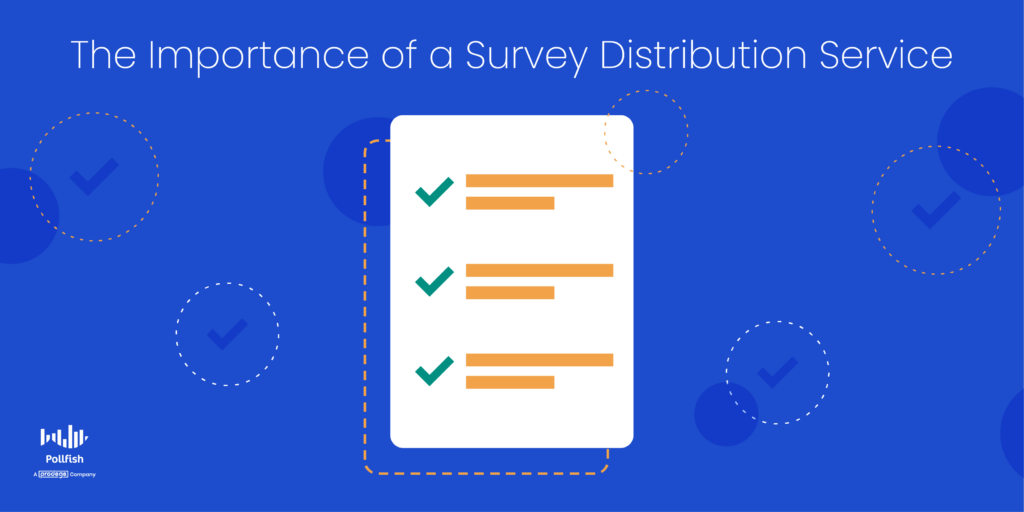 A worthwhile survey distribution model and service remove this task from the researchers, freeing them of what otherwise would have been a major burden. It would be implausible to reach all your designated respondents via snail mail or over the phone if you don't have their contact information. 
That's why you need to instead use an online survey platform. Added to this need is the aforesaid fact of the growing worldwide group of internet users. Luckily, the online survey software industry has been growing in the past five years, keeping up with the widening pool of netizens.
With a potent distribution service, you can distribute a survey to virtually anyone, which includes anyone in the world. Thus, you can easily partake in global research, all you need is a strong provider to deploy global surveys. 
A quality survey distribution service also makes it far easier to study anyone in your target market, along with its various subgroups and customer personas. 
Because of this, you can easily set up a target market analysis, as you can rest assured that the number of completed surveys you preset will be reached. In addition, given that this service also organizes all the survey data, you won't have to go out of your way to make it neatly presentable; the service takes care of this.
Best of all, a strong distribution service ensures all the data you receive is accurate, error-free and fraud-free. That's because a strong provider will perform quality checks to ensure you're not getting gibberish answers, VPN users and other undesirable data. 
Just keep in mind that not every survey service provides this feature. It is obviously in your best interest to seek a service that performs continuous quality checks, so your data is representative of your audience and doesn't result in low-quality answers. 
All in all, this kind of survey service is invaluable to your market research and virtually all types of research needs.
But equally as important as having a survey distribution service is the kind of provider and survey deployment method you choose, which brings us to the next section.
Main Types of a Survey Distribution Service
There are all kinds of ways to distribute your survey. When it comes to how you choose to do so, there are various service providers. Each takes a different approach to distribute your surveys to their rightful target audiences.
The Main Types of Survey Distribution Service Providers
First, let's explore the main provider types for distributing a survey:
Syndicated research

:

Syndicated research

is predicated on using a research firm that conducts the entirety of the survey campaigns.

The firm, therefore, owns all the resultant data and can sell it to interested parties. 

This kind of survey distribution method is generally industry-specific and is therefore funded by several companies within a particular industry.

While you can buy this survey data, the firm and its partnering companies wield full control over the direction of the survey study.

Custom research

:

This is a kind of research conducted by and for one company — the client, aka, the researchers, who own the resulting data.



Market research companies, such as

online survey platforms

are the providers of this service, offering the data distribution,

which clients can customize. 

The client that uses the market research platform

has full control of the survey data and the entire campaign,

controlling the respondent qualifications of the survey, the questionnaire, the quotas and all else. 

A survey platform in particular can be as customizable as the client makes it. 
Both of these provider types will usually use online surveys, however, there are still some telephone and even snail mail providers. Some providers will even use various means to create and distribute surveys.
The Main Types of Survey Distribution Methods
Finally, let's dive into how exactly survey providers, particularly online survey platforms distribute your survey to the masses. Remember, not all survey platforms are built the same and thus, not all will offer the following survey distribution methods.
Here are the main ways to distribute your survey:
Random Device Engagement

(RDE)

A kind of

organic sampling

, Random Device Engagement allows you to distribute surveys to a wide network of randomized internet users.

RDE reaches and recruits respondents where they naturally frequent in the digital space, yielding voluntary, anonymous and randomized participation.


It lowers the biases associated with professional panelists, who may be pressured to answer things in a particular way, as they are not anonymous (or there on their own will).

Panelists are also more subject to

survey fatigue

,

unlike a random user who chances upon your survey.


It provides you with a

mass network of publishers,

that is,

if you use Pollfish.

This method can deploy your survey to millions randomly.

This method works best via random organic sampling and

Random Device Engagement

(RDE).

Specific Digital Channels and Respondents

As opposed to sending surveys to a mass network of randomized users and digital spaces, you can distribute your survey in a more narrow and targeted method.

You can deploy your survey to specific respondents and/or specific digital channels. 

This

requires a link you can drop wherever

you please on the internet and to whom you want to send it.

You'll need the

Distribution link feature

, which allows you to distribute your survey to specific people. You can do so by email or via social media.

In addition, you can send your survey to nonspecific people on specified digital platforms. Thus, in this method,

the survey platform you use won't be in charge of the places your survey will exist.

You'll be able to choose where you place your link to your survey. This can be done through various digital channels:

On the homepage

Landing pages 

Emails

Social media 

Newsletters

Static web pages

Partner sites
A strong online survey platform will offer both methods of survey distribution. This way, you are not tied to just one way to reach your desired audience. You can choose either or, or mix and match these methods.
This is why it is key to rely on custom research instead of syndicated research, as it ensures that the client company sets all the requirements of a research campaign, chooses the respondent qualifications and can access and filter the resultant data to their liking. 
Thus, you have more options and control over your research campaigns when using a custom research platform, especially when using an advanced survey provider.  
Make sure to ask about and peruse all the capabilities of your survey provider; this applies to how they distribute their surveys, along with how you can create a questionnaire and all the special features that are on offer. 
Easing through all Your Research Campaigns
Distributing your survey is never difficult with a strong survey distribution system. That's why you ought to look for a platform that offers top-tier survey distribution.  
Such a platform would allow you to conduct both types of survey distribution methods. In doing so, it allows you to buy a survey audience. That's essentially what you can expect from a robust distribution service, an easy means to connect with your target market.
We want to conclude by stating that a valuable market research platform will offer you all the functionalities necessary for your survey studies. You should therefore focus on a survey platform's functionalities, the quality of the data and its distribution model.
Our survey software allows you to establish a thorough survey data collection, one you can customize as you see fit, view however you want and organize in any manner.
In addition, with our vast array of question types, you can create any survey type to aid any research campaign.
Researchers can reap a wide breadth of information on their respondents and access a wide pool of insights in their survey results dashboard.
In addition, there's the advanced skip logic feature, which routes respondents to relevant follow-up questions based on their previous answers. 
With a research platform offering all of these capabilities, performing market research is not only doable, but it is also easy and enjoyable.
---
Do you want to distribute your survey? Pollfish offers you access to millions of targeted consumers to get survey responses from $0.95 per complete. Launch your survey today.
Get started