How to Advertise a Survey to Maximize Campaign Awareness Via 6 Key Methods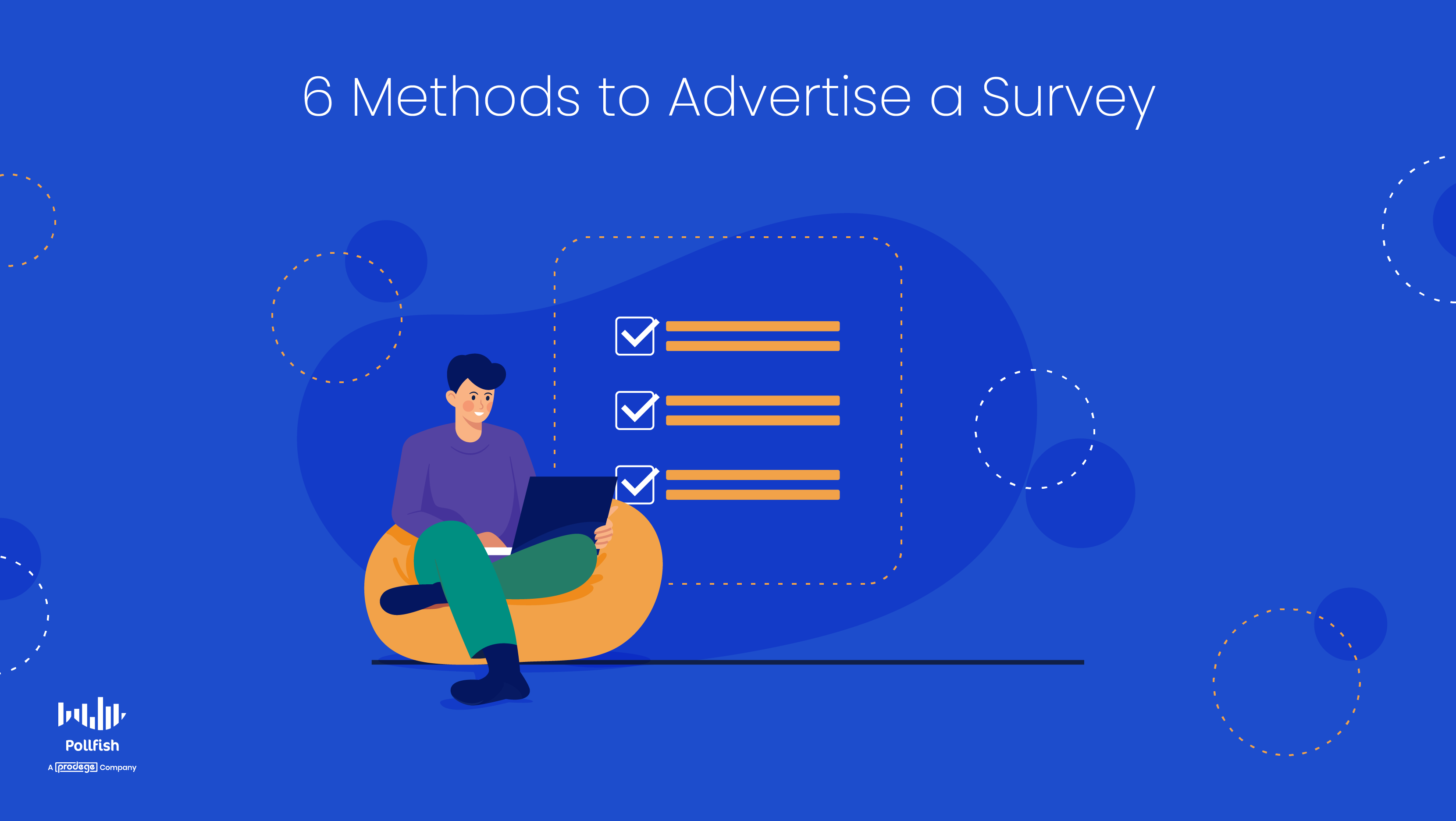 You may be pondering how to advertise a survey to attract as many respondents to your survey studies as possible. After all, you'll ideally need to reach a sizable number of people in your target market for validity. 
While targeting your survey and setting up a strong questionnaire are important aspects of the survey process, reaching an audience and distributing your survey is equally important.
Advertising your survey allows you to do just that, as it is a major step towards luring in your survey target audience. This is critical, given that a significant amount of customers hate taking surveys, leading businesses to lose faith in the power of survey research.
But fear not; there are various methods you can deploy to win over survey respondents by way of advertising. 
This article guides you through how to advertise a survey with six key methods and all their underpinnings so that you can increase your survey response rates and most importantly, solidify your research with a high survey completion rate. 
How to Advertise a Survey
In some respects, advertising a survey is much like advertising a product. Both pursuits involve grabbing your audiences' attention, enticing them and commanding them to take action.
But in other respects, advertising a survey is a completely different affair; the outcome doesn't involve customers paying for something in return. Unlike product advertising, the outcome of survey advertising involves your respondents expending more of their time while not shelling out any money.
On the contrary, the outcomes of product advertising, when successful, are customers who grant businesses some of their time and spend their money.
Thus, you'll find some of the methods for advertising surveys are similar to advertising a product or service, while other methods are completely unalike.
The following sections illustrate the six major ways on how to advertise a survey, along with the many activities associated with each method.  
Share Your Survey on Digital Spaces
One of the best ways to advertise a survey is by utilizing the web and its various digital landscapes. This is a multi-pronged approach that does not require relying on just one digital space, such as one website or one mobile app.
When it comes to advertising your survey, think of the world wide web as your playground (more on this in the Rely on a Survey Platform section below).
While it may be challenging, if not nearly impossible to advertise your survey across all the digital spaces you wish, you can still do so on all of your digital properties. This means you should engage in both promoting and hosting your survey across all of your digital properties.
First, consider all the digital real estate your business owns. This involves obvious places, such as your website's homepage, along with less clear-cut places, such as a static webpage. 
Then, plan out how you're going to present your survey throughout all the digital spaces your business is a part of. 

The two main ways to display your survey across the digital space:
At times, your survey will exist as a pop-up, an image, or a button with a call to action that solely contains your survey. You can take this route if you want to cut to the chase quickly.
In other instances, you can insert your survey into your website content or even base a content asset on your survey. In this way, the surveys your business or organization conducts is highly useful for your content marketing strategy.
Where and How to Advertise Your Surveys Across Digital Spaces
Now, let's explore where (and how) you can advertise a survey across the massive and ever-growing digital landscapes:
Website content

Use various available pages and elements on your website

to advertise and take your survey. This includes:

Webpages:

Homepage

Landing pages

Static pages

Contact page

FAQ page

Blog

Evergreen content places

Event sign-up pages

Reports and whitepapers

Web elements

Page openers

CTA buttons

Within the text of long-form content

Sliders

Large images 

Below subheadings

Links within content pages

Social Media

Leverage all your social channels to advertise your surveys. These include:

Facebook 

Instagram

Mention the survey in your bio, a post and in your stories.

LinkedIn

Make posts and ads showcasing your survey.

Twitter

Make posts and ads showcasing your survey.

Create polls to quantify interest in taking a survey. 

Reddit

Create posts, answer questions and create carousel and gallery ads for your survey.

Create a unique hashtag for your survey.

Emails

Email your survey to your customers, along with those you don't have direct email access to. (there are services that provide email addresses, especially business emails, which are ideal for

B2B surveys

).

You can use a mass emailing tool such as MailChimp or a CRM platform like Hubspot.

It's always useful to add personalization to emails. 

71% of customers say they expect personalization

, as such, use personalized emails when promoting your survey.

External websites

Reach out to the advertising and editorial departments of popular websites and blogs, especially those relevant to your niche.

These will provide backlinks to your site and survey, as well as spread its message to digital properties aside from your own.

You should also reach out to your own business partners and business customers for collaboration projects that you can pitch your survey to.
Advertise a Survey through Advertising Platforms
While there are various means through which you can advertise your survey, sometimes the best place to do so is by advertising it via the "traditional" one. By traditional, we're still predominantly alluding to digital advertising, but on platforms designed specifically for advertising.
You can deploy survey ads across the internet via specialized services, such as the following:
Google Adwords

Ads from Adwords appear on both desktop and mobile devices and when using the display ads, you can target people by device type. 

You can publish ads within apps, browsers, and Google search results.

Bing Ads

These ads cost significantly less than Google Adwords advertising.

They grant you more control over the language, location, and scheduling of your ad campaign.

Criteo

This platform provides online display ads via its Commerce Media Platform.

It shows personalized online display advertisements to customers who have previously visited their advertiser's website.

AdMob

AdMob allows users to decide which ads they want to see and to set filters, so that only the ads that are relevant to them are shown.

This platform is useful for businesses that seek to monetize by showing ads in their mobile app.

AdColony

A mobile ad platform that specializes in video ads. It's typically used with mobile games that display video ads after users complete a certain level.

Publishers can show video ads during in-app usage.

Airpush

This is the second largest mobile ad platform for Android, and is also available for iOS.

Airpush offers 12 different ad formats, including video ads, push notifications, in-app banners, landing page ads (post-click), interactive experience ads and overlay ads.

Amazon Ads

These ads are usually used to promote your Amazon store but can be applied to promoting other things as well. 

Ads on Amazon can also appear as display ads on third-party sites, instead of being solely the search results on the Amazon platform itself.

AdRoll

This is known as one of the best ad networks due to its retargeting applications.

It uses Google and Facebook to track almost all your website visitors to retarget them with ads that incite them to return.
These are great ad platforms, but did you know there's more to digital advertising than just PPC ads? In addition, not all PPC ads are limited to search engines and external websites.
In the prior section, we mentioned social media as a worthwhile platform for advertising a survey. 
That's because, aside from posting and sharing survey content and links to your survey, you can also post ads to social media networks. Ads get far more engagement than organic posts, and for good reason.
Since you're paying for them, social media ads get exponentially more exposure, thus bringing your survey to a wider audience. 
Facebook Ads

LinkedIn Ads

Instagram Ads

Twitter Ads

Pinterest Ads



Perform A/B Testing to Advertise a Survey
Whichever route you take to advertise a survey, you'll need to assure you have an effective ad, one that viewers won't just brush aside as a nuisance or ignore. 
As such, we suggest that you perform A/B testing on your survey advertisements. Think about it; businesses perform A/B testing and other kinds of testing to certify the effectiveness of their marketing messages, including their ads.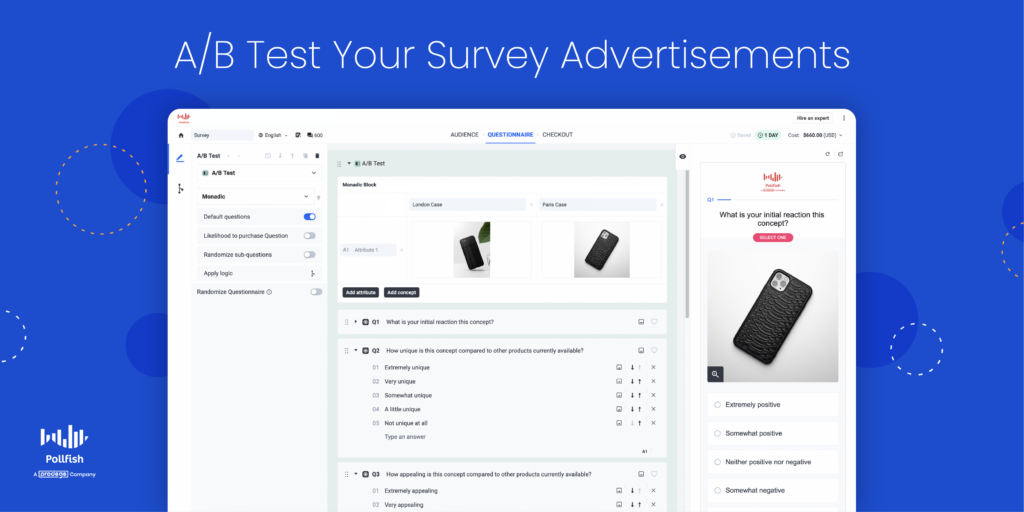 So why stop there? A/B testing ads that lead to or promote your survey is just as beneficial as A/B testing all your other ads and marketing campaigns.
A/B tests are useful for comparing product concepts, communication ideas, as well as survey ads, by way of using equally structured groups of participants. 
Use a reputable platform that you can trust to run your A/B testing. You can run A/B tests via Google Ads and other PPC advertising providers. Social media ad providers also allow you to run A/B tests. These include Facebook, LinkedIn and Twitter.
You can even use an online survey platform to create and launch A/B testing. Not every such platform will provide this market research capability. 
Luckily, Pollfish provides two types of A/B tests on its market research platform:
Monadic A/B testing

Sequential A/B testing
With Monadic A/B testing, your respondents will claim their preferences for one ad or concept that they will get randomly. This ad is just one of the many that the researcher wants to test and compare, instead of being exposed to two or more ads at once.
Focusing A/B test participants' attention on just one ad at a time provides researchers with a deep dive into making data-backed decisions on specific survey ads.
In sequential A/B testing, researchers can test multiple concepts at once, as opposed to just one with the monadic version.
In this iteration, the A/B testing is also done within one group of questions, yet allows researchers to test more concepts per respondent. This grants researchers added flexibility and efficiency, as only one survey is able to test multiple advertisements for your survey.
Another strong approach to advertising a survey is to reward the participants with survey incentives. These incentives can be both monetary and nonmonetary. You can get creative with your incentives to stand apart from your competitors.
Survey incentives are especially important when your survey clearly mentions or displays your brand. Given that you're advertising your own survey, which probably exists in your digital properties, it is key to posit your brand in a good light. 
After all, your respondents will know which company they are dealing with. Thus, you should consider using incentives to frame your brand in a positive way. Survey incentives will do so, showing your brand to be interactive and generous, along with considerate of the respondents' time.
If respondents see your brand with your survey and it doesn't offer incentives, this will lead to a negative impression of your brand, even if your respondents are longtime customers. 
Survey incentives are essentially a gesture of giving thanks to the respondents, who have taken the time out of their day to provide you with key data.
Just make sure it is clear that your survey offers incentives at the outset. When dealing with a survey ad, always mention the incentive in your ad!! 
If you're using a PPC ad service and lack character space to mention the survey incentive, mention it in the image of your ad. That way, your respondents will be made aware that your survey offers an incentive, even if you cannot say so in the text of your advertisement.
Bring Referral and Influencer Marketing to the Mix
While there are plenty of ways to advertise your survey yourself, that is, through your brand's digital properties (and even physical ads), you can always apply outside teamwork to advertise your survey.
As such, another crucial method for advertising a survey is to use external sources, such as referrals, influencers and partner marketing.

Referral marketing
Referral marketing represents the activity of having a customer share a specific referral link with others for others to complete a certain action. In this case, it involves completing a survey.
If the person who the customer referred to clicks the link and completes its desired action, (in this case,) both of them benefit in the form of some sort of prize, bonus or discount. 
Brands usually reward their referral marketers with a discount or free product. 
Influencer Marketing
Although influencers are typically enlisted when brands want to promote a physical product, they can also be used to advertise your survey.
This form of advertising usually includes social media, as people advertise a product or service on their social media channels in return for money, or free products. 
The influencers are the people in a niche with a high social media following and a strong engagement with their posts. Influencers can be internet celebrities, traditional celebrities, along with other people or companies with a high level of influence and knowledge in their niche.
Advertising with influencers entails having the influencers in question promote your survey on their social networks. Essentially, they provide endorsements for people to take your survey.
As opposed to regular, text-based or video advertising, influencer advertising brings a more human side to it. That's because influencers have followers that look up to them and view them as a trusted source for all things in their field. 
As aforesaid, influencers commonly advertise physical goods, but they can promote digital ones as well, assuming that your survey exists in the digital realm.
This is a less-used route to survey advertising, but that makes it more unique and creative.
Partner Marketing
This approach entails two or more businesses that join forces for the purpose of advertising (or broadly speaking, marketing). By advertising your survey with a business partner, or through a partner, you can reach a greater audience.
Gather all the partners in your business network into a document. Consider using one that isn't also your direct competition. While you can use a direct competitor, you ideally want customers to focus on your survey alone.
Partner marketing campaigns allow your business to collaborate with a supporting business that has a similar target market. When pitching your collaboration for the purpose of advertising a survey, remember to explain why it is mutually beneficial.
Then, work out a plan of which digital channels to use for advertising your survey. 
Rely on a Survey Platform to Attract Your Survey Audience
Last but certainly not least, use a potent survey platform to advertise your survey. With such a platform in tow, you won't have to worry about the specific nuances of your ad.
That's because a strong market research platform will do all the heavy lifting for you when it comes to attracting respondents to your survey. 
First off, a strong survey platform will allow you to buy a survey audience. It will do so by enabling you to set all of the respondent qualifications that you wish, along with quotas and integrating multiple audiences in one survey.
In this way, you'll only receive completed surveys by the people you target, along with a specific number of completed surveys. 
Thus, you won't have to worry about reaching a high survey completion rate, as the survey platform won't stop iterating until it gathers the entirety of the required completed survey count. 
In addition, a strong online survey platform will send all your surveys to the masses, through an extensive network of publishers. These publishers include popular websites, apps and mobile sites. 
With Pollfish, our network includes over 250 million customers worldwide. Our app partner network is composed of 140,000 app partners, in over 160 countries.
Organic Sampling and Random Device Engagement (RDE)
Our platform distributes surveys in a randomized way, to catch people who visit a digital property voluntarily. This is known as organic sampling.
Organic sampling allows you to reach non-professional survey takers and gain a far larger reach than you otherwise would.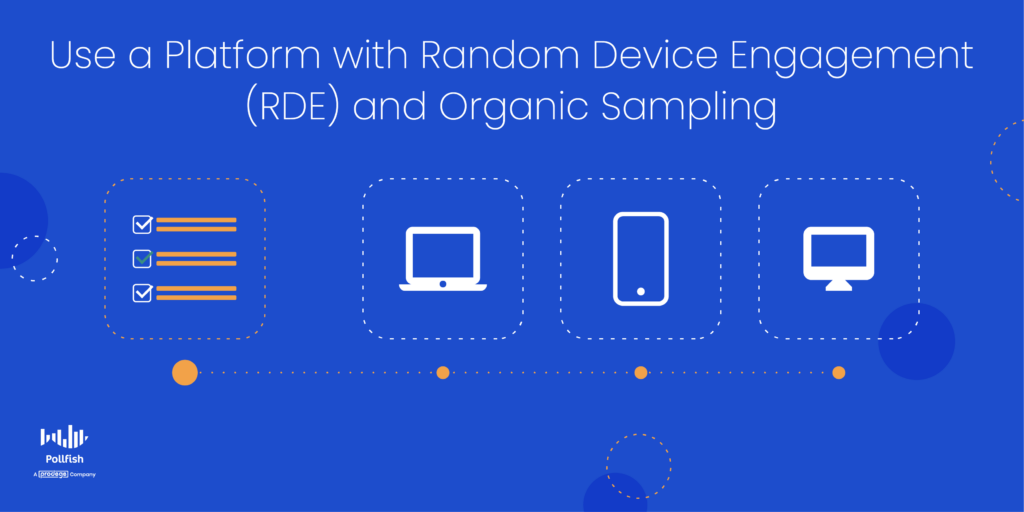 This is because organic sampling involves what's known as Random Device Engagement (RDE), a kind of survey collecting that relies on advertising networks and other digital portals on devices, to engage random people where they are, voluntarily.
Moreover, in Random Device Engagement, the surveys are delivered to users in their natural digital environments, capturing them where they prefer to be. They were not pre-recruited and thus do not face the same pressures and conditioning that they would in a research panel.
As such, respondents are more likely to answer questions truthfully, as they have no one to answer to, are not pressured to answer in a particular way and are kept anonymous and have got nothing to lose. 
All in all, a reliable survey platform provides all the necessary tools to not merely create a survey, but to reach its intended audience. Thus, it essentially removes the need to do any advertising to your surveys. 
Getting the Right Audience for Your Survey
Getting the right survey audience isn't as daunting as it seems, at least not with Pollfish. That's because Pollfish essentially removes the need to advertise a survey if you send it via our RDE network of publishers. 
This survey platform continues deploying surveys until the requisite number of completed surveys is reached. Thus, there's no need to fret over attracting a certain number of respondents, nor the right respondents, as the platform offers granular respondent targeting. 
We want to conclude by stating that a valuable market research platform will offer you all the functionalities necessary for your studies. Thus, that is where your focus should lie when choosing a research platform: its functionalities and the quality of the data.
Our survey software allows you to establish a thorough survey data collection, one you can customize as you see fit, view however you please and organize to the maximum.
In addition, with our vast array of question types, you can create any survey type to aid any research campaign.
Researchers can reap a wide breadth of information on their respondents and access a wide pool of insights in their survey results dashboard.
In addition, there's the advanced skip logic feature, which routes respondents to relevant follow-up questions based on their previous answers. 
With a research platform offering all of these capabilities, it's clear that Pollfish is the best survey provider that mitigates the need to advertise a survey.
---
Do you want to distribute your survey? Pollfish offers you access to millions of targeted consumers to get survey responses from $0.95 per complete. Launch your survey today.
Get started