The Guide on How to Get People to Take Your Survey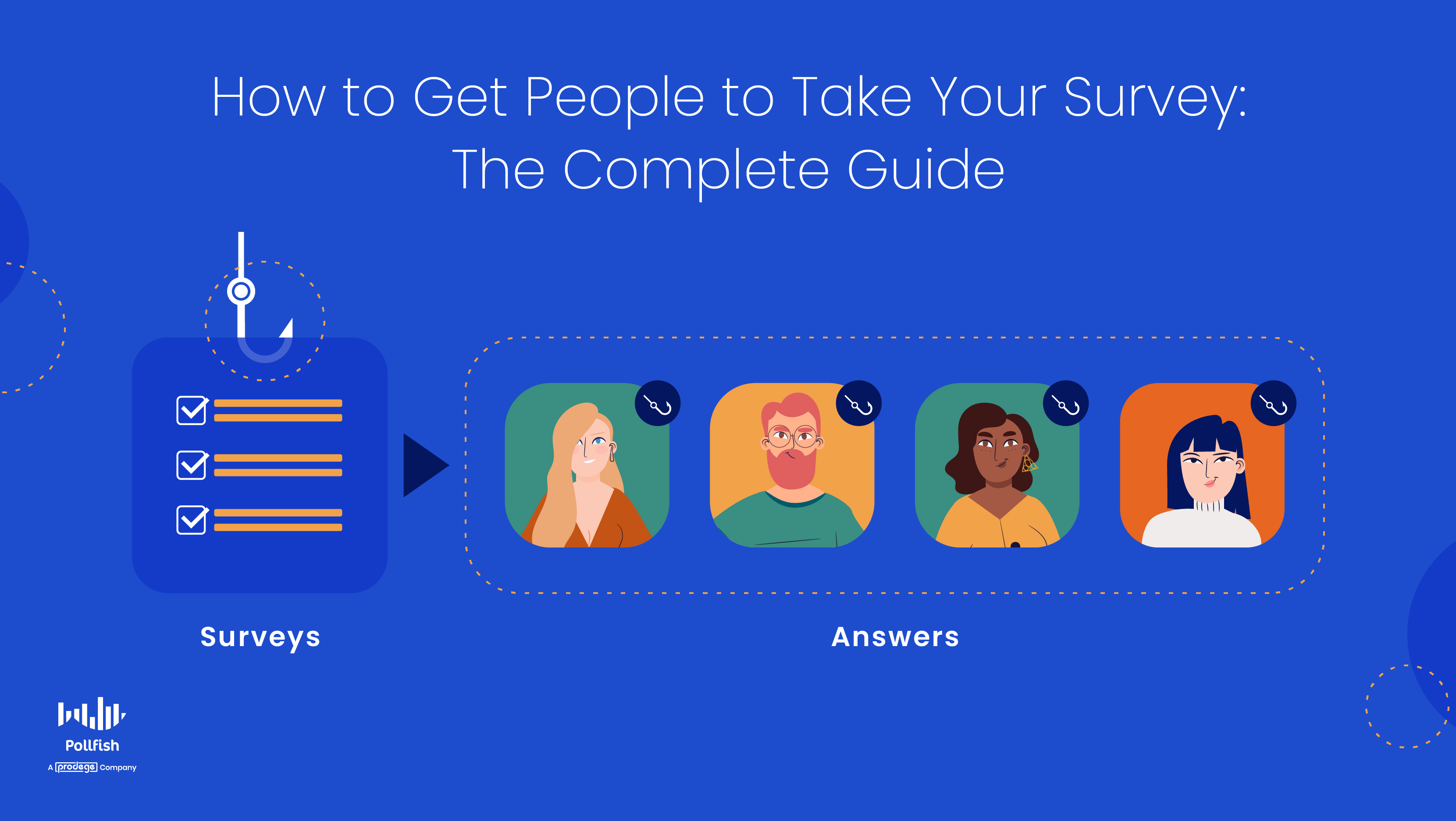 You're in the right place if you've ever wondered how to get people to take your survey.
Surveys have become an increasingly vital way to study your target market, as they are no longer obsolete pieces of paper that get snail-mailed and ignored.
Instead, surveys are currently distributed via polling software through an online survey platform (like Pollfish). Such a platform can include various capabilities to fine-tune and optimize your survey, from targeting to deployment, to analysis and beyond. 
In addition, surveys are crucial, as they can be deployed at any stage of the customer buying journey. This extends what you can learn about your potential and current customers.
As such, you can study your customers before doing anything, thereby forming your marketing strategy from your survey. You can also survey people after you released a product or completed a campaign.
At any rate, surveys provide an invaluable means for understanding your target market so that you can serve it well and retain your customers. 
This article explains how to get people to take your survey at length in the two major methods of survey deployment. 
Two Major Ways to Deploy Surveys Digitally
While there are countless ways to send surveys digitally, your survey deployment method is entirely dependent on your online survey platform — unless you send surveys through other means, such as syndicated research.
This form of research isn't as potent as using a DIY survey platform, since, in syndicated research, the direction of the survey campaign is entirely decided and owned by a research firm. With a DIY platform, you are in full control and have full ownership of your survey results.   
With a market research platform, there are usually two main ways you can distribute your surveys:
A

mass network of publishers

This method can deploy your survey to millions randomly.

This method works best via random organic sampling and

Random Device Engagement

(RDE).

Respondents are reached randomly, where they exist online voluntarily. 

Distribution

through

chosen digital places / specific people

 

This involves sending your surveys or making them available on particular digital properties, often, the ones you choose.

These digital spaces can include:

Website home page

Landing pages

Static site pages

Carousels

Checkout

After a customer service session (ex: chat)

Social media pages

Emails

Websites you've partnered with

Mobile apps

With this method, you can reach people randomly, as well as prompt specific people to take your surveys. These can be customers whose contact information you already have.

This method requires using the

Distribution link feature

.
How to Get People to Take Your Survey
Now that we've established the two major ways to distribute your survey, it's time to get to the crux of the matter: what you can do to get respondents to take your survey — and complete it.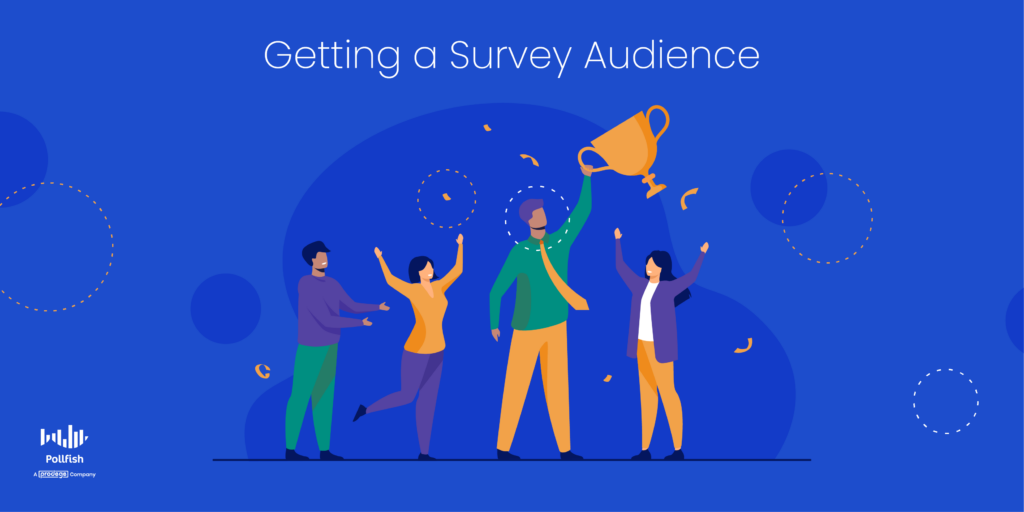 While it may seem like you need to follow two separate sets of best practices to align with the two key ways of deploying your surveys, you don't. 
That's because the tricks to get people to take and finish your survey are relatively the same throughout any means of distribution. The same things will continue to irk your respondents, much like the same best practices will quell their irritation and motivate them to complete their surveys. 
Thus, you should heed the following advice and incorporate it into all your surveys, regardless if you deploy the surveys across a vast network of random users or send them to specific places or to specific respondents.
By doing so, you'll get more responses, thereby increasing your survey completion rate and obtaining your responses sooner. 
1. Keep your questionnaires short.
No matter how convoluted the topic is, it is always best to keep surveys short.
If you've won over respondents to fill out your survey, a feat in itself, don't sabotage this by creating long-winded questionnaires.
Just because someone agreed to partake in your survey, doesn't mean they'll stay. They can drop out at any time they feel overwhelmed by too many questions or as though they are wasting tier time. 
Or, they may simply get bored and abandon your survey. 
Keeping your surveys short will stave off survey attrition. Ask no more than 10 questions, 15 at most. Any more will require an incentive to partake.  
2. Lure respondents in with a strong introduction.
This exists as the first page respondents will see in their survey.It can also take the form of the title or call-out of your survey.
You'll need to lure in respondents with something that sounds both interesting and easy for them to do. 
As aforementioned, no one wants to waste time with lengthy surveys. As such, promise that the survey is short with language such as: "Take a quick, 5-minute survey" or "take a fast 5-question survey." 
This will entice potential respondents of a survey experience that won't take too much time from them from the get-go. 
3. Make your respondents feel special.
You can make respondents feel special by acknowledging the importance and usefulness of their participation. 
No one has to take a survey and your respondents know that they are primarily for the benefit of your business. 
Remind them of how important their responses are. You can mention the specific purpose of the survey, along with what and who it's meant to help.
As such, you'll partially reveal your survey campaign to them, but it's okay, as you're not revealing your exact goals. You're simply going to state why it's helpful for customers such as themselves.
4. Keep your questions highly relevant.
The advanced skip logic feature, which routes respondents to relevant follow-up questions based on their previous answers is key to this. 
This feature directs respondents to different questions, specifically, a question that is most relevant to the respondent, based on the answer they had previously provided. That way, the experience is far more personalized and the questions make more sense.
You wouldn't want to ask a question that contradicts the answer that the respondent provided in a previous question. Not only will this annoy the respondent, but you'll also be bogged down with data from question that you don't need.
For example, if you asked if a respondent has heard of a particular brand and they haven't, it would be irrelevant and useless to follow up with what they like or dislike about the brand in question.
There are a number of incentives you can use to create buy-in from your intended respondents. This is especially important if you're sending surveys the second major way: to specific places or specific people.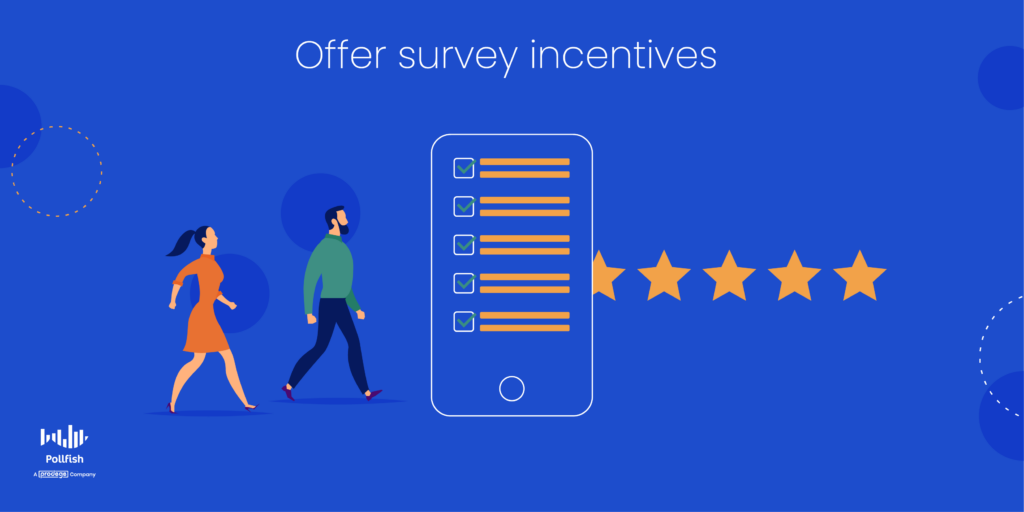 In this case, respondents will know exactly who is reaching out to them. This is true even if they opt-in to take a survey themselves that they've found by visiting, say, your social media, (as opposed to you reaching out to them directly). They'll still know the brand they're working with.
Thus, it's even more important to have your survey framed in the best possible light, as your respondents know it's tied to your business.
A survey incentive will do just this. In addition, incentives are some of the biggest motivators to complete a survey or do virtually anything else. Even if it is a small incentive, it is useful in that respondents know that they're somehow being rewarded for their participation.
Essentially, they'll have something that's in it for them rather than simply knowing they're helping others.
Remember, survey incentives can be monetary and nonmonetary alike.
Some survey campaigns will deal with sensitive topics, the kind that not everyone is comfortable with sharing.
Most people aren't willing to discuss private information, especially if it deals with heavy subject matters such as death or loss. 
Many people will be hesitant to answer questions that simply mention the aspects of their lives they intend to never share. Thus, be careful in how you ask sensitive questions. Sometimes, you may want to omit them altogether.
Sensitive questions can include questions on the following topics:  religion, politics, self-identification, unpopular ideas, illegal or frowned upon behaviors, as well as questions that seem to require socially acceptable responses. 
As such, be as reassuring as possible and don't make judgmental implications or use such a tone.
7. Assure respondents of their privacy.
Whether it's in the call-out, the introductory page, the title or the thank you page, make sure you guarantee respondents their privacy. 
It's ideal to make this known as early in the survey as possible, because no matter how light-hearted or inconsequential the topic of the survey may seem, users will still want to remain anonymous. 
As such, your respondents will be less hesitant to take your survey if they know their privacy is assured right off the bat.  
Don't forget to make your surveys adhere to digital privacy laws! 
This cannot be overstated, especially when it comes to the GDPR. Although the GDPR is an EU regulation, it can also apply to the United States and other countries in certain conditions. The GDPR applies to the US when you're dealing with European netizens. ​​
This means U.S. businesses, nonprofits and universities that target or track the online activity of users in the EU must comply with the GDPR. There are various ways to do this, such as asking for respondent consent, including an opt-out button and using end-to-end encryption. 
9. Ensure that all questions are straightforward.
Avoid confusion or questions that involve a lot of deep thought.
That's why it's critical to use simple and easy-to-understand language. 
This will differ, of course, based on the target audience of the survey. Some audiences understand scientific jargon, some understand technical language, and some are perfectly familiar with literary language.
But not everyone is. Most people don't care to put much thought into a survey, especially one they are taking for free. Thus, avoid any ambiguity in your questions and assure that they make sense to your target market. 
If you need help constructing your survey questions, we offer various survey templates, which you can use for inspiration and edit them to your liking. 
10. Make your survey lively and retain interest throughout the process.
This is where you get to flex your creative muscles.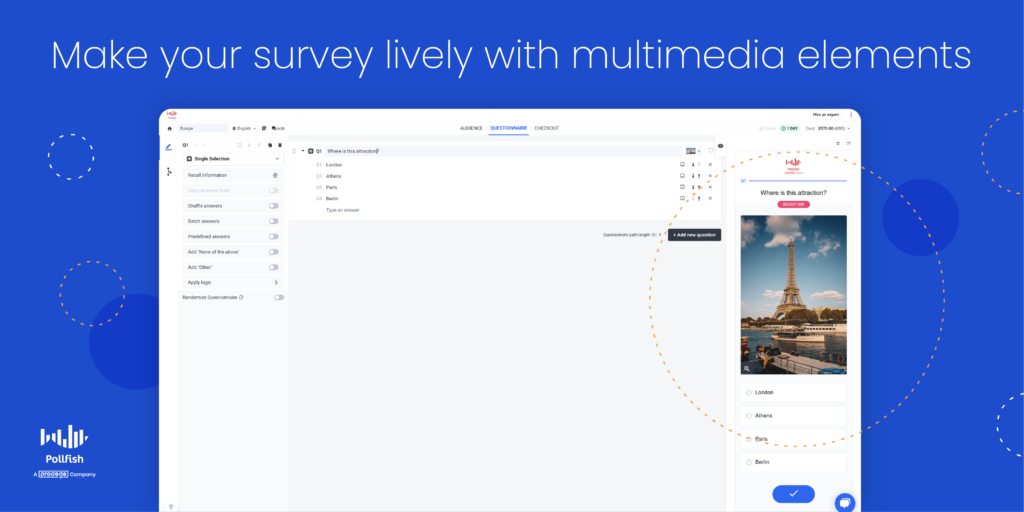 There is no hard and fast rule to make your surveys interesting. However, we suggest doing the following to spruce your surveys up:
Ask questions that are not just relevant, but presented in a creative way, one that's not common.

Depending on the subject matter, use humor to draw out laughter.

Add text that prompts respondents to continue the surveys. Ex: Ready to take a dive into [a cool ad, keys news of the day, the world of…]

Use multimedia elements, such as images, GIFs, videos and other files so that your survey isn't as text-heavy and offers something pleasing to the eye.

Use a variety of questions (

Matrix questions

, stars and emoji scales,

bipolar questions

,

drill-down questions

and more. This too provides visual appeal and wards off boredom.
As you can see, there are various ways you can make your survey lively and retain respondents' interest. With a strong online survey question, it should be easy to do all of the above and more. 
Remember to mix and match questions. And yes, surveys can be visually appealing too. 
11. Provide access to results.
This does not have to be immediate and likely won't be. After all, you'll need to have collected all required survey responses before you even have any results to share.
Thus, provide them with the option of having the results sent to them. This can be in the form of a link or asking respondents to share an email address.
The latter is even more useful, in that it gives you access to your customers' emails. But bear in mind that not everyone will be willing to share their emails.
As such, it's useful to have a webpage with survey results that you can create before you've gathered data. This page should mention that it will be updated with the results, once they are ready. 
Doing so will not simply make your survey more appealing to take part in, but it will also build brand trust, a must to retain customers and attract new ones. When it comes to the latter, it's important to build credibility, as that is key to the onset of your relationship with new customers. 
Attracting Everyone in Your Target Market
When it comes to getting people to take your survey, there are various approaches you can take. From simplifying language, to offering different question formats, this can all be executed well with a strong online survey platform.
A valuable survey provider will grant you all the functionalities necessary to build a good survey, one that draws in interest and gets respondents to complete the survey.
Our survey software allows you to establish a thorough survey data collection, one you can customize to your liking, view however you please and organize to the max.
In addition, with our vast array of question types, you can create any survey type to aid any research campaign.
Researchers can reap a wide breadth of information on their respondents and access a wide pool of insights in their survey results dashboard.
In addition, there's the advanced skip logic feature, which routes respondents to relevant follow-up questions based on their previous answers. 
Needless to say, our survey platform is optimized for both the respondent and the researcher. Thus, everybody wins!
With a research platform offering all of these capabilities, you'll be able to easily lure and retain a survey target audience, one that will work through your surveys until they're complete. 
---
Do you want to distribute your survey? Pollfish offers you access to millions of targeted consumers to get survey responses from $0.95 per complete. Launch your survey today.
Get started