Excelling with a Fiverr Market Research Alternative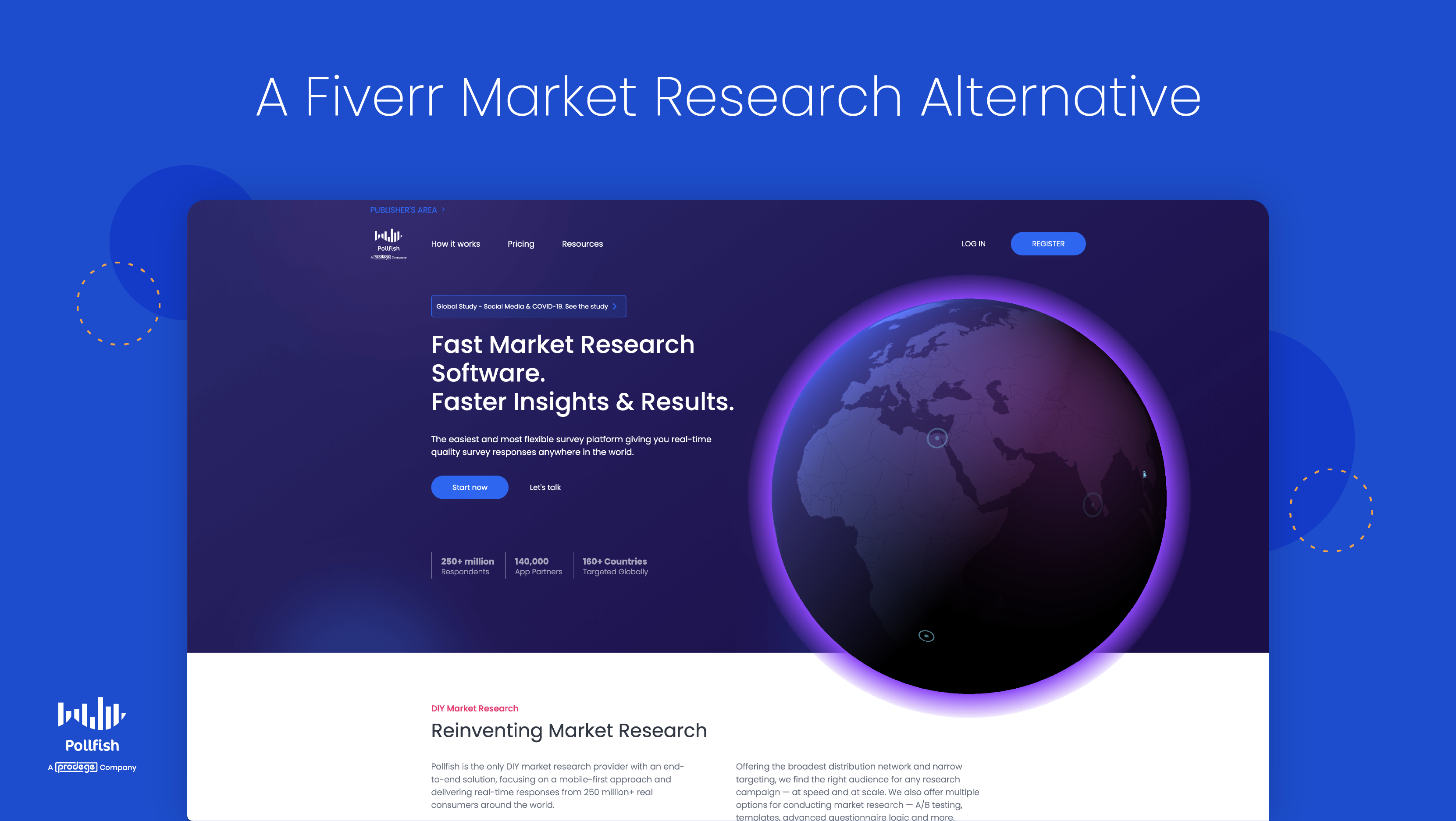 For small businesses, market research can seem expensive.
Sometimes they turn to low-cost freelancers on Fiverr or Upwork to conduct their market research because they don't know how easy and cheap it is to do it themselves with Pollfish.
Fiverr market research is yet another research option many businesses can leverage. Given that you can choose from a variety of market research techniques, it's easy to see why Fiverr may appear to be an appealing platform for conducting such research.
After all, more and more businesses have been using this platform, owing to its 57% year-over-year increase in 2021 alone. 
It achieved a 20.59% annual growth spend in 2022, while maintaining over 3 million active buyers. Many more use the site as casual patrons, along with its high concentration of freelancers. 
While these statistics and facts prove the popularity of the website, how useful is it for conducting market research? — an absolute must for understanding and catering to your customers.
Is there a better way to conduct market research and study your target market?
We're here to show you that there is.
This article delves into how Pollfish is an excellent Fiverr market research alternative, comparing it with the Fiverr platform and explaining how it provides a superior experience. 
Understanding Fiverr Market Research
Before diving into the market research factor, it's important to first understand what exactly is the Fiverr platform and what it does for businesses.
What is Fiverr?
Like Amazon, Fiverr is a global online marketplace, except rather than selling physical goods, this platform puts freelancers on offer for various services. Businesses and various other entities use it to find and connect with freelancers for a variety of digital services.
Although businesses of all sizes can use Fiverr, it is especially pertinent for businesses that seek to outsource workers, rather than hiring full-time staff.
Thus, businesses hire freelancers on this platform to perform what's known as "micro-tasks," which are assignments that are relatively small and quick. These assignments are usually one-off tasks which are called "gigs" on the site.
These gigs can range from $5 to $995 per task, depending on the pricing that the freelancers set for their work. 
The platform offers a wide range of digital gigs, including odd tasks (think silly videos) and professional services that require specific skills. The latter is where market research comes into the mix.
What is Fiverr Market Research?
Fiverr market research is composed of a breadth of users offering their research services to buyers on the Fiverr platform. These users are the freelancers that put their services on offer on this website.
The platform offers both primary and secondary market research. The latter involves conducting internet research, which does not contain the full picture when it comes to studying your target market (more on this in the following section).
While secondary research can be extremely limiting on Fiverr, the platform also hosts primary market research services. The following sections allow you to get fully acquainted with Fiverr market research. You'll learn of its capabilities and drawbacks. 
These are both important to consider before we compare them with Pollfish, a Fiverr market research alternative.
Secondary Market Research on Fiverr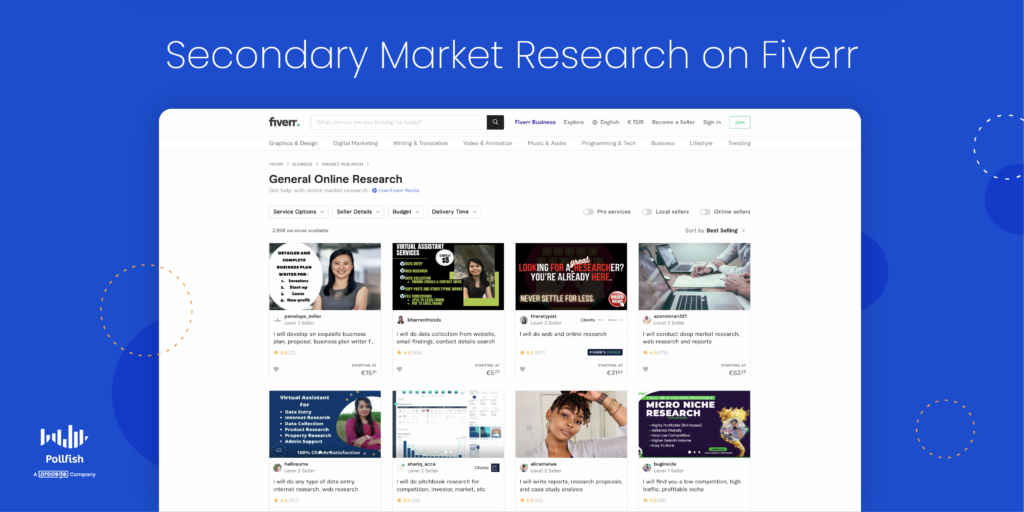 The platform offers the following secondary market research services:
General Online Research

Domain Name Research

Consultation

Full Package Qual & Quant
Although secondary research is important to conduct, and it's often used in the early stages of survey studies, it is far from complete. You would need to conduct both primary and secondary research to paint a full picture of your target market, or a specific campaign geared towards it.
Let's first examine secondary research on this platform. It includes sections under its top navigation of market research for different services (the bulleted list above).
General Online Research
The first is called General Online Research. This can be useful but has various deficiencies. 
That's because the scope of the online research, that is, the sources that the freelancers use, is entirely up to the freelancers. That means, they may use sources that bear little relevance to your research needs; they also may include outdated information. 
Or they lack the specific sources you seek for your secondary research needs, such as a particular report or trade association literature, etc.
You won't know this, as it is the freelancers that are conducting this research. 
Domain Name Research
Another secondary market research section is called Domain Name Research. This provides researchers with lists of expired domain names. This can be useful if you are starting a new business ( or a new subsidiary of a business) and seek a strong domain name before you build its website. 
It's also of use for website name brainstorming and can be used as a supporting document for your business plan. 
As such, it is not very useful for established businesses — or any that have already built out their websites/ have a domain name.
Consultation
The Consultation services section provides a miscellaneous swath of research-related offerings. 
This includes guidance, expertise-sharing and advice, especially in relation to a specific industry. 
It also includes services such as corporate strategy, ideas for product and business growth, trend forecasting, mood boards and more.
In essence, this is another section for gathering secondary market research, but more randomized and broader in services and their accompanying documents. 
It can be useful if you're looking for something specific in your secondary research sources and findings. 
Full Package Qual & Quant
This section offers "quality and quantitative market data." 
It is yet another section with mostly secondary research services. Unlike the General Online Research and Consultation sections, this section has a greater focus on reports.
It also promises to provide both qualitative and quantitative market research, as its name suggests.
Many of the services in this section are focused on specific industries. You'll need to look at each service provided to see all the details. 
You'll find services that offer competitive analyses, market segmentation, a SWOT analysis and more. 
Some of the services claim to include reports on an industry at large, providing more of a market analysis offering than market research.
The Setbacks of Secondary Fiverr Market Research
No research platform is absolutely foolproof, but there are weaknesses and drawbacks specific to the Fiverr market research approach. First, we'll explore the weaknesses of Fiverr's secondary research offerings.
The biggest setback with this kind of research is that while the freelancers may offer a wide range of services, they don't provide the source of the research — not for the secondary research, that is. (In the Fiverr primary market research section, freelancers may mention the source of their survey provider).
This means that you won't know any of the following:
Where the data is coming from

Who and what entities created the information

How old the data is and when a study was performed

If there have been any changes since the research was performed

Who the respondents are (no info on specific targeting)

If there was specific targeting of respondents at all

How the research was performed
Because of all these setbacks, as a researcher (or a business owner, marketer or other employee), you won't have any way to validate the research.  
Many of the freelancers claim to have years of market research experience. This may be true, but again, most freelancers do not explain or provide any information on how, where or who they derive their research from. 
As such, it may be better to conduct the secondary research yourself, or have an employee do so. With this route, at least you'll know where and what is providing you with data. 
Your employees aren't going to lie to you, especially if you ask them to provide the source of all the secondary research they've conducted.   
Primary Market Research on Fiverr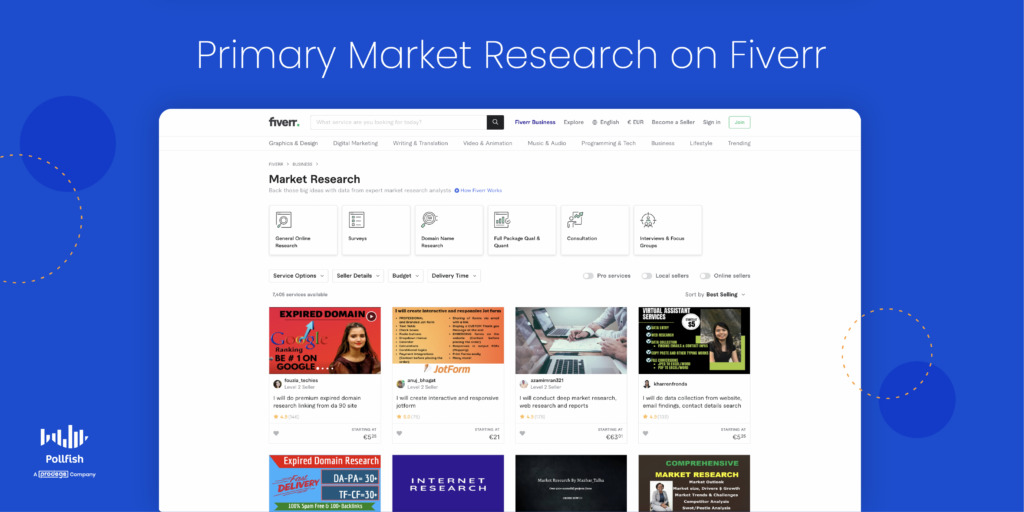 The platform offers the following primary market research solutions:
Surveys

Interviews and focus groups
And now, we get to the heart of market research, or virtually any type of research: primary research. This is important, as it allows you to be in more control of your study, as you get to come up with the specific research subject, along with the questions.
Primary research on this platform also includes sections under the top navigation of the different services offered (the bulleted list above).
Let's see exactly what primary research is like on this platform.
Surveys
Freelancers offer a variety of survey-based tasks. Unlike the secondary market research services, the services here almost always reference a source. In the case of surveys, freelancers usually mention the kinds of survey providers they use upfront.
However, even in this section, some freelancers don't mention the source of their surveys; this means, they don't mention the survey platform that the freelancers use, nor any info on where the surveys are coming from. 
The survey platforms that freelancers on Fiverr use often include a mix of the following:
Google Forms

Jotform

Typeform

SurveyMonkey
This list isn't comprehensive, as freelancers are free to use whichever survey platform they choose.
Interviews and Focus Groups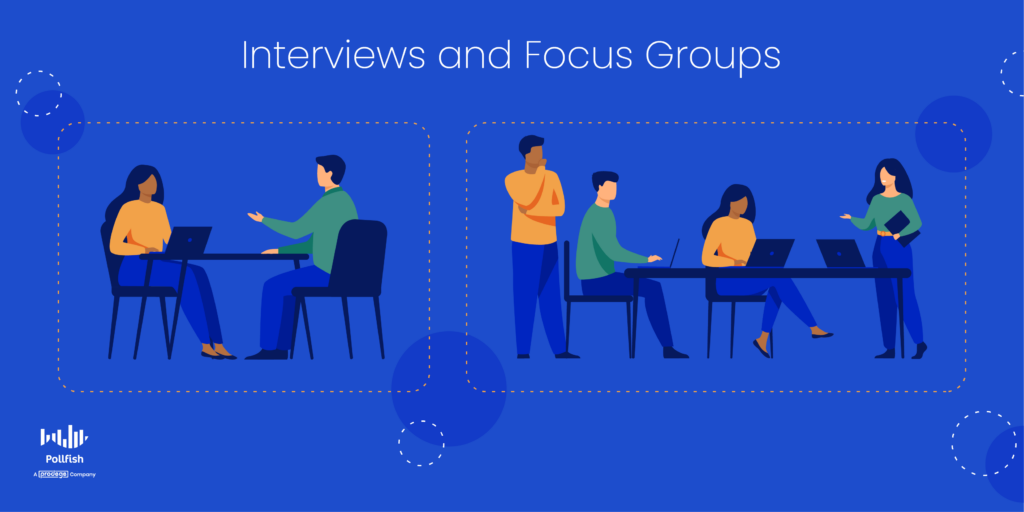 In this section, freelancers offer focus groups and interviews, the latter of which is conducted through different methods.
When it comes to focus groups, freelancers most often offer moderating a focus group. Although this section is called Interviews and Focus Groups, interviews make up most of the services on offer.
The interviews are varied: some consist of user discovery interviews, some services offer interview protocols, some claim to find your ideal customers, while others offer interviews via survey panels. 
In regards to the panels, some freelancers claim they have a specific number of panelists that will take part in an interview.    
The Setbacks of Primary Fiverr Market Research
As with secondary research services sold on this platform, the primary research offerings also have certain drawbacks. These prove that this platform may not be the best for your market research needs.
The first major setback is that in both surveys and the focus groups/interviews sections, not all surveys mention the source of the research. This is less common in the surveys section, as most gigs mention the survey platforms the freelancers use.
However, many if not most of the services in the focus groups/ interviews section, once again, do not provide the specific source or method of gathering the research. 
For example, a freelancer may tout the fact that they have a research panel and even provide a specific number of panelists that it comprises. However, they don't mention any other key facts, such as: where the panelists are from, how they put together the panel, what product and/or firm they used (also called syndicated research) to form the panel and more.
Thus, you are once again not privy to where your research is coming from, who it's coming from, who its participants are and how it is being conducted. Because of this, you won't be able to cite your sources properly, should you choose to create content assets from your research. 
Another major setback in using Fiverr for survey research is that it essentially deprives you of many of the benefits of conducting a survey yourself. 
By using Fiverr for survey research, you're giving up and missing out on the following benefits:
Advanced, hyper-granular audience targeting

Setting quotas and

multiple audiences

Forming specific questions and question logic 

Do any editing of your questionnaire

Being able to pause, stop or edit your survey as it is running (collecting responses)

Multiple methods of survey distribution that you can choose

A wide variety of survey templates

Customer support on technical issues and more
Another major weakness of survey research on this platform is that none of the survey platforms that the freelancers use measure up to Pollfish. That's because Pollfish has higher customer satisfaction ratings and greater capabilities (more on this in the next section). 
Most importantly, by outsourcing survey research to Fiverr freelancers, you're giving up your rights to your own data, as the freelancers will be the primary owners. 
When you conduct primary research yourself (as you should, hence its name), you have full control over your research project and will get to wield all the benefits of conducting primary research.
Pollfish: A Fiverr Market Research Alternative
And now, let's discuss a strong alternative to Fiverr market research. And yes, we're talking about our own market research platform, Pollfish.
Objectively speaking, Pollfish offers a greater amount of functionalities, as it is a kind of polling software that consistently gets updated with new features and advanced capabilities. As such, you can rest assured that you're getting one of the most if not the most robust survey platforms on the market.
And we're not the only ones lauding them. 
You'll find plenty of review sites that posit us as potent survey providers. For example, Pollfish has higher customer satisfaction ratings than Google Forms and Alchemer. 
Granular Survey Audience Targeting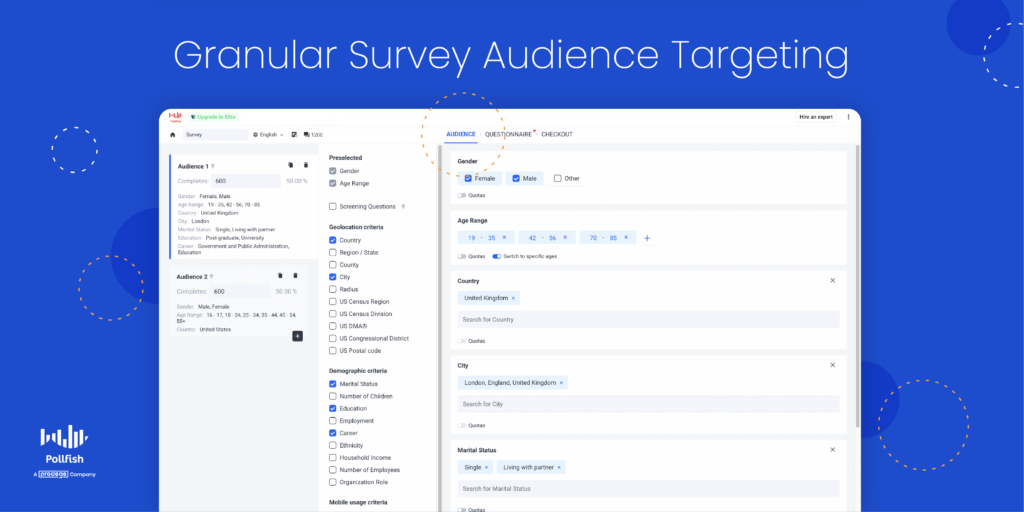 Pollfish also has a unique value in its wide swath of survey functionalities. We particularly excel at granular respondent targeting and question types. 
That's because when setting up your audience on our platform, you can qualify respondents from a wide variety of demographic, location and psychographic criteria, as well as set up screener questions to qualify or disqualify respondents. 
As such, you can target anyone around the world. Pollfish doesn't charge more to conduct global market research. That means researching customers abroad has never been easier.  
Wide Variety of Question Types & Predefined Answers
There's also a wide variety of question types you can choose to customize your survey to the fullest and keep respondents engaged throughout, thereby lowering survey attrition. 
You'll find the following question types and many more on the Pollfish platform that you can choose as you please:
Single-selection questions

Multiple selection questions

Open-ended questions

Slider questions

Matrix tables

Rating stars
In addition, Pollfish makes it easy to set up your questionnaire, as we run the gamut when it comes to predefined answers. 
Rather than entering rows of multiple-choice answers, you can just choose a predefined answer set, such as ineffective-effective, disagree-agree, satisfied-dissatisfied and many more. 
Large Batch of (Growing) Survey Templates
Don't fret if you ever get survey writer's blog. 
Or, perhaps, you need some additional ideas. Not to worry. 
That's because, at Pollfish, we offer a growing list of survey templates for various usages. Some even go beyond business purposes and include templates for educational facilities, such as our University Instructor Evaluation Template.
We currently offer 19 survey templates on a wide variety of topics, including customer satisfaction, employee engagement, brand awareness, advertising testing and much more. 
You can take full control by editing the templated questionnaires to your liking. You can thus add or delete questions or answers. It's easy and grants you full sway over your market research surveys and projects at large. 
After all, questions form the crux of the surveys.
Potent Market Research Capabilities 
Pollfish is not just a survey platform; it provides a large scope of market research capabilities. That's because you'll find more than just survey creation on this platform. 
You'll find the following market research methods on the Pollfish platform:
Random Device Engagement (RDE) and Organic Sampling
Pollfish operates via random organic sampling in our primary survey distribution model. 
The other method prompts specific people to take your surveys. 
With the second method, respondents can be customers whose contact information you already have. It also can involve random users but is sent to specific digital channels. This is done via our Distribution link feature. 
Organic sampling allows you to reach non-professional survey takers and gain a far larger reach than you otherwise would have.
This is because organic sampling involves what's known as Random Device Engagement (RDE), a kind of polling that relies on advertising networks and other digital portals on devices, to engage random people where they are, voluntarily.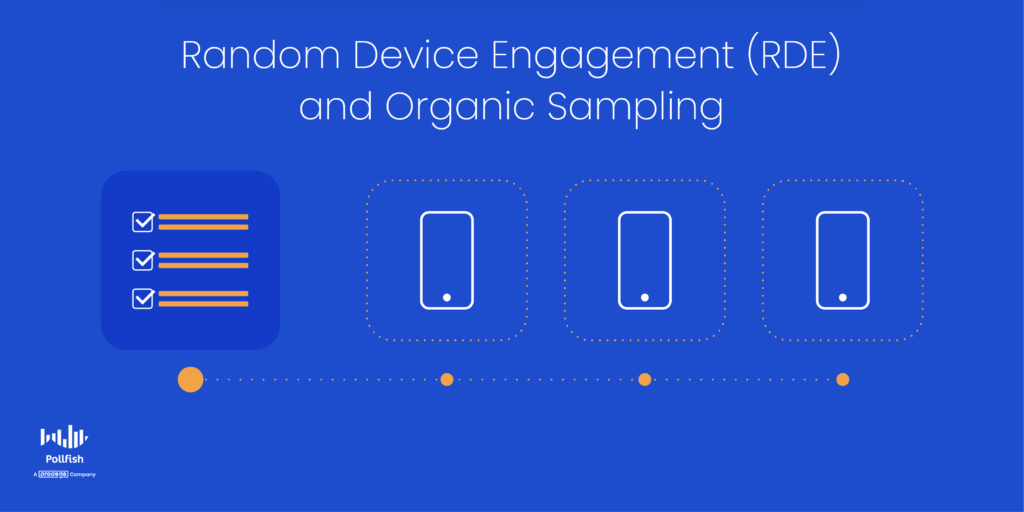 Additionally, in Random Device Engagement, the surveys are delivered to users in their natural digital environments, capturing them where they prefer to be. They were not pre-recruited and thus do not face the same pressures and conditioning that they would in a research panel.
As such, respondents are more likely to answer questions truthfully, as they have no one to answer to, are not pressured to answer in a particular way and are kept anonymous and have got nothing to lose. 
What's also incredibly important and beneficial is that our survey distribution network reaches over 250 million customers worldwide. Thus, there will always be the respondents whom you seek and that fit your niche. 
Our extensive reach involves a network of 140,000 app partners, in over 160 countries.
We don't charge extra for conducting global surveys. 
Only the Finest Quality Data with Quality Checks
Given that we reach over 250 million consumers across the wild wild west, known as the Internet, we understand the possible effects on the quality of the survey data in such an environment. 
In an effort to curb survey bias, survey fraud and other below-par data, Pollfish performs a wide range of technical quality checks to ensure you obtain the highest quality of data. 
Our quality checks vary as a means to be as comprehensive as possible so that you reap only the most quality pool of data.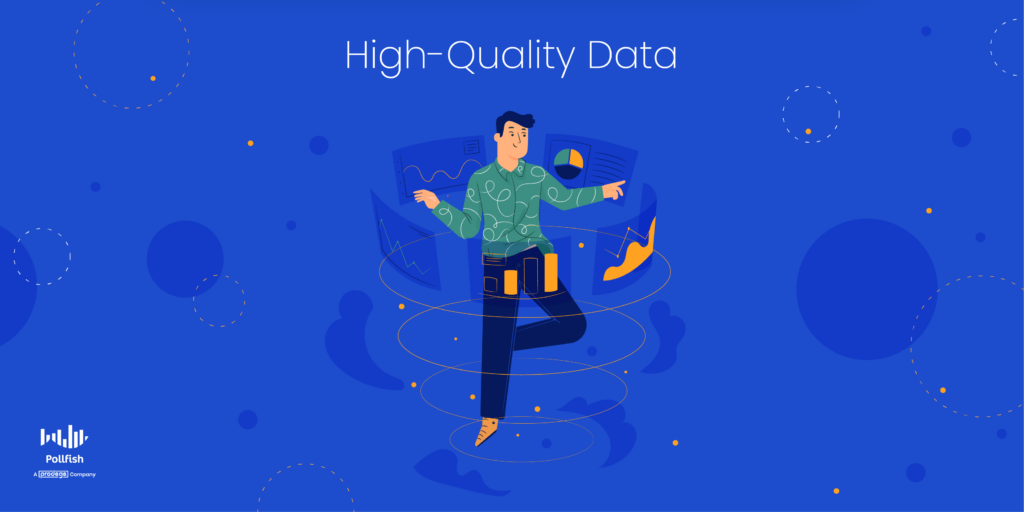 Our quality checks include the following:
Respondent verification

Bot detection

VPN disqualification

Disqualification of gibberish answers

Carrier consistency

A strong adherence to targeting

Same IP Participation

This checks if a survey has been completed before within a certain time from the same IP address of the respondent's device.

Trap questions, red herring questions, quality questions

Reset ID Check

This check occurs when the responder answered the same survey previously, but with a different device to avoid the same respondent from partaking more than once.

Other verifications

These involve checking ahead for duplicated IDs via IP or MAC addresses, Google Advertising and mobile device identifiers.
All of these checks are critical to providing quality data for your survey campaigns. But what else do quality checks do?
These checks are a mechanism for bypassing survey fraud, a major issue for many survey platforms.
Survey fraud, also called market research fraud, is the adverse phenomenon that occurs when survey respondents submit fraudulent or bogus responses. This can occur accidentally, such as when responders undergo survey fatigue, or purposefully.
In any case, it is critical to use a research platform that avoids this issue and grants you accurate, bias-free data. This may appear to be a challenging demand, as no platform is perfect and fraudsters will always find a way to do their dirty deeds.
However, it is possible to get around this problem with a robust system of quality checks. 
Luckily, at Pollfish, we offer such a system, along with 24/7 customer support, so that if you ever come across any stumbling blocks or just need some help running your surveys, our support team is always here to help.
24/7 customer support means that you can contact our agents regardless of where you are in the world and thus, which time zone you're in.
Full Command and Ownership of the Data
Since Pollfish is a DIY market research platform, you don't have to rely on any party outside of your organization to carry out your market research. Instead, you have full control over the direction of your study, its respondent qualifications, timing, questions and most importantly: the resultant data. 
As such, you are at liberty to conduct your research in any way you please, at your own pace. If you decide to pause your survey for whatever reason, you are free to do so. You can also edit them before relaunching them.
You can customize your surveys as you please and you'll never be left in the dark on any step in the process: it's your dashboard and your data. 
Since it's your data, you will dictate how you use it and where or not you share it. If you do decide to share it, it will frame your business as a thought leader in your niche. 
That's because you'll be providing your own, unique and original insights, rather than recycling information that is already available on the internet. 
Reeling in the Best Research Campaigns
This article is not comprehensive when it comes to explaining why Pollfish is the best Fiverr market research alternative. We can go on and on. 
You yourself will notice how our platform excels over others, by simply visiting our website, or checking out the Pollfish blog or our rich market research resources section.
We want to conclude by stating that a valuable survey provider will grant you all the functionalities necessary to build a valuable survey, one that draws in interest and gets respondents to complete it.
Our survey software allows you to establish a thorough survey data collection, one you can customize as you see fit, view however you please and organize to the maximum.
In addition, with our vast array of question types, you can create any survey type to aid any research campaign.
Researchers can reap a wide breadth of information on their respondents and access a wide pool of insights in their survey results dashboard.
In addition, there's the advanced skip logic feature, which routes respondents to relevant follow-up questions based on their previous answers. 
As such, the Pollfish survey platform is optimized for both the respondent and the researcher. 
With a research platform offering all of these capabilities, it's clear that Pollfish is the best Fiverr market research alternative for all your needs. 
---
Do you want to distribute your survey? Pollfish offers you access to millions of targeted consumers to get survey responses from $0.95 per complete. Launch your survey today.
Get started