How to Develop a PR Market Research Study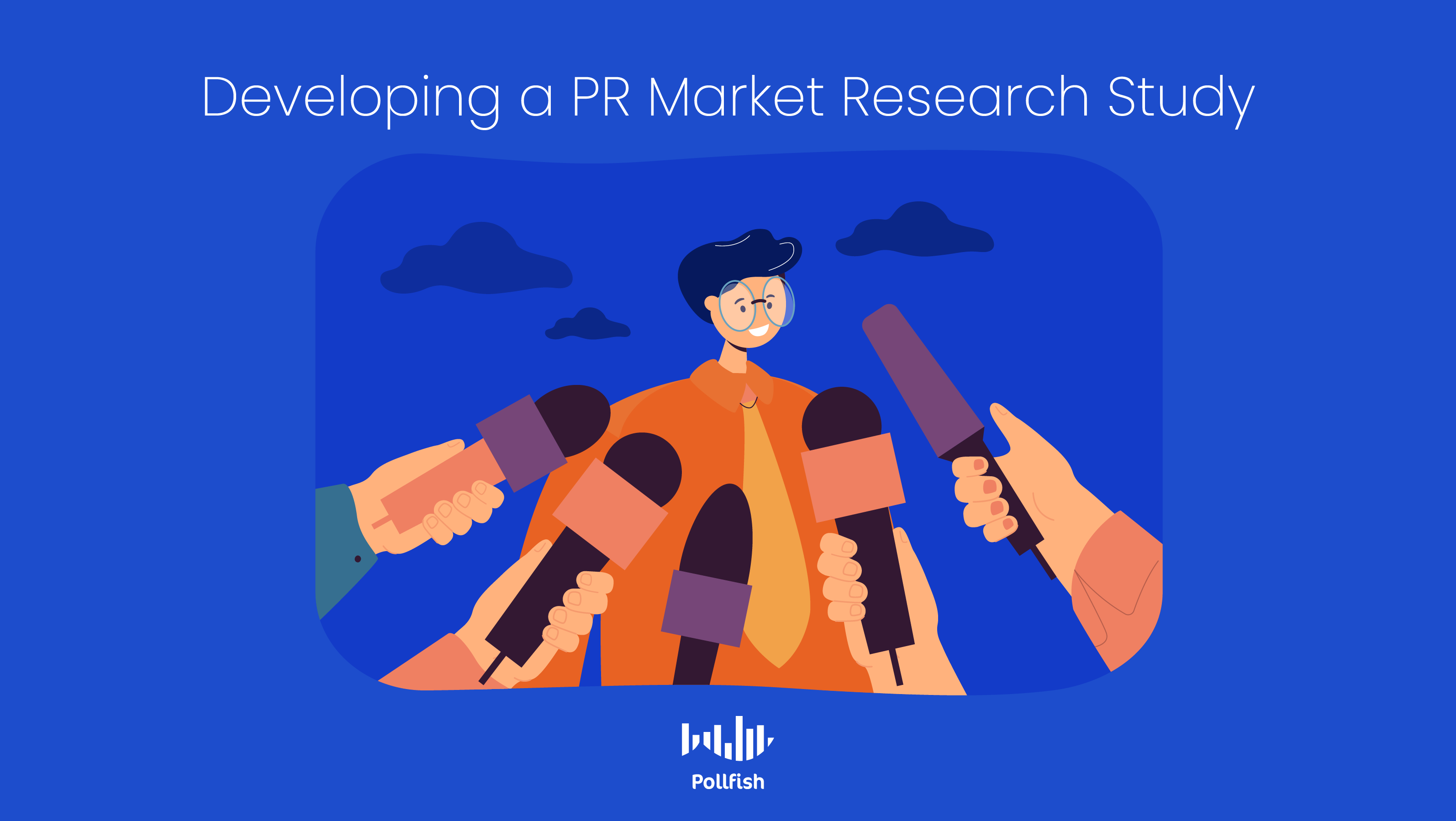 A PR market research study couples two business concepts that appear unlikely to be linked together. After all, PR and market research have maintained a steady distance from their business cousins, known as advertising and digital. 
As such, PR and market research are not known to be typically used in tandem, if used together at all. 
However, given all the changes in market research over the past several years, from the possibility of agile research, to the emergence of mobile market research and the advancement of data democratization, the realm of PR has much to gain from conducting a market research study.
Much of these changes in the market research sector have already been detected by PR professionals, 58% of which believe that technology will drive considerable change to the PR industry. 
In addition, the global PR market is forecasted to grow by 10.2% by the end of 2021, chiefly due to businesses recovering from the COVID-19 pandemic and using technology to reorganize their business.
With technology and innovation acting as the chief drivers behind market research progress, the PR industry can feasibly take advantage through the use of a PR market research study.  
This article explores the PR market research study, its use, benefits and how to develop and promote one for your business or PR agency.  
Understanding the Meaning of a PR Market Research Study
Market research has extended into all subsets of marketing and business practices. You're probably familiar with or at last heard of how to do market research for a business plan. A PR market research study essentially takes this concept and implements it for PR purposes.
As its name suggests, this is a kind of market research study designed to extract primary data to support public relations campaigns. This involves empowering a range of PR intelligence and campaign requirements. 
How a PR Market Research Study Works
This kind of study is conducted to use the research results that you garner for broadcasting, whether it is for press releases, company outreach, branded content, blogs, news sites and other media outlets, including print. 
You can conduct a PR market research study through various market research techniques, including secondary research sources such as industry blogs, news sites, statistics sites and more. 
No market research campaign is complete without conducting primary research, as this form is the most unique to a brand, along with being the most relevant, precise and up-to-date kind of research. 
This is because, given that primary research is self-conducted, the business or PR agency wields complete control of the study. As such, the party conducting the study decides the topic at hand, the direction of the market research campaign, the types of survey questions, the specifications of the target market sample and virtually all else. 
You can conduct a PR market research study through PR surveys. A DIY survey leads the way in innovation when it comes to performing market research for PR purposes. This is because it accelerates the survey completion process, allowing anyone to conduct a survey rather than relying on a firm via the syndicated research method. 
When you run a DIY survey campaign on a strong online survey platform, you won't sacrifice speed for quality, as a strong platform offers various quality checks to stamp out low-quality data and survey fraud.
The Importance of a PR Market Research Study
This study helps gain critical insights for a wide array of public relations needs. As such, it carries importance for various PR efforts, fulfilling the needs of companies' in-house PR teams, along with those of PR firms.
When it comes to pitching branded content, a press release or any other PR content to media outlets, a PR market research study allows you to gain all the insights you need on any demographic. This way, your brand can forge compelling storytelling and much-needed content for your company, the kind that captures the attention of journalists, bloggers and other media mavens within your niche.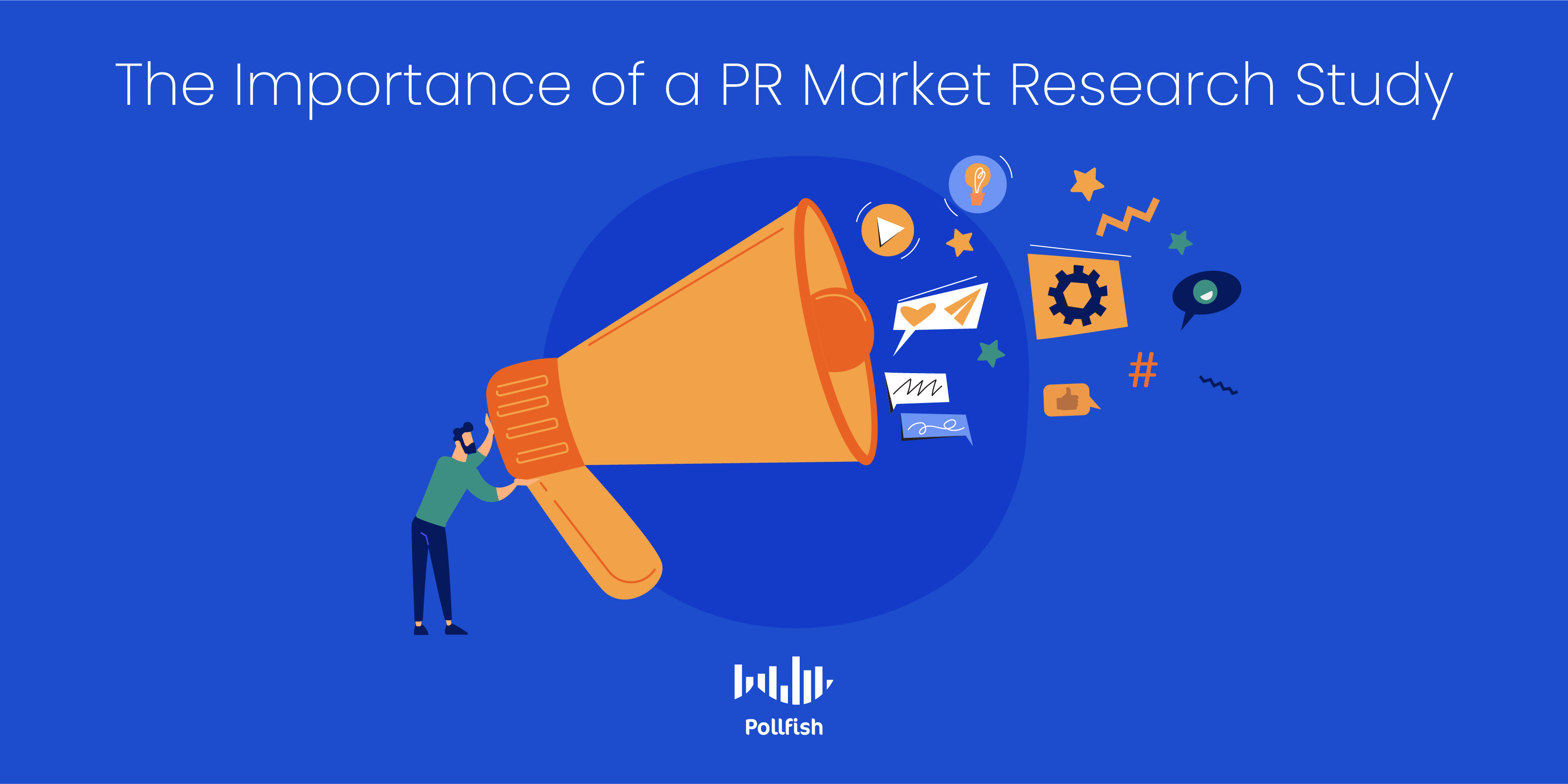 This allows you to maximize the effectiveness of your pitch and press efforts, given that this kind of study aids you with credible data to reel in the attention of your desired publication, support your claims, make headlines and build brand trust.
There are also various efforts a PR market research study can assist with when it comes to planning a new project. This involves gaining insights on how competitors are faring in their PR efforts and their brand equity, how to perform on different channels including traditional and social media and how to tinker with your messaging to frame your brand in the best possible light.  
A PR market research study allows you to measure existing attitudes from your target market in regards to your brand. This also helps put your brand awareness and brand visibility into perspective. 
When examining the attitudes, opinions and perceptions of your target market or even the public, you can track how these aspects have changed before, during and after a campaign to understand its effects. This will help you decide whether to continue with a campaign, change its course or end it completely. 
You can A/B test the communications you intend on releasing, whether it is for forming the basis of a PR story, the images you seek to test or the opinions on the statistics you've gathered from an earlier market research study.  
These PR elements, along with any others you seek to test or survey your respondents on, are vital to the success of your PR campaign. Thus, a PR market research study benefits your business in regards to all of your PR efforts, as the data you extract can inform your ongoing PR efforts and support new ones.  
How to Develop and Promote a PR Market Research Study
Performing a PR market research study is not as difficult as it may appear to be. By following instructions in a step-by-step fashion and using a strong online survey platform, the kind that allows you to make your own survey in three simple steps, you can establish an insight-driven PR market research study. 
The results of a well-planned PR survey will enable you to produce the media placements you seek, as many news outlets are keen on publishing B2C and B2B survey results. The media is especially bent on publishing controversial survey results, as these kinds gain more reach and therefore media coverage. 
However, there are some survey reports that generate little to no publicity. As such, the reporters and editors you pitch to will discard your media pitches. This is because not all survey studies manage to obtain media attention, especially from the companies that don't frame their results properly.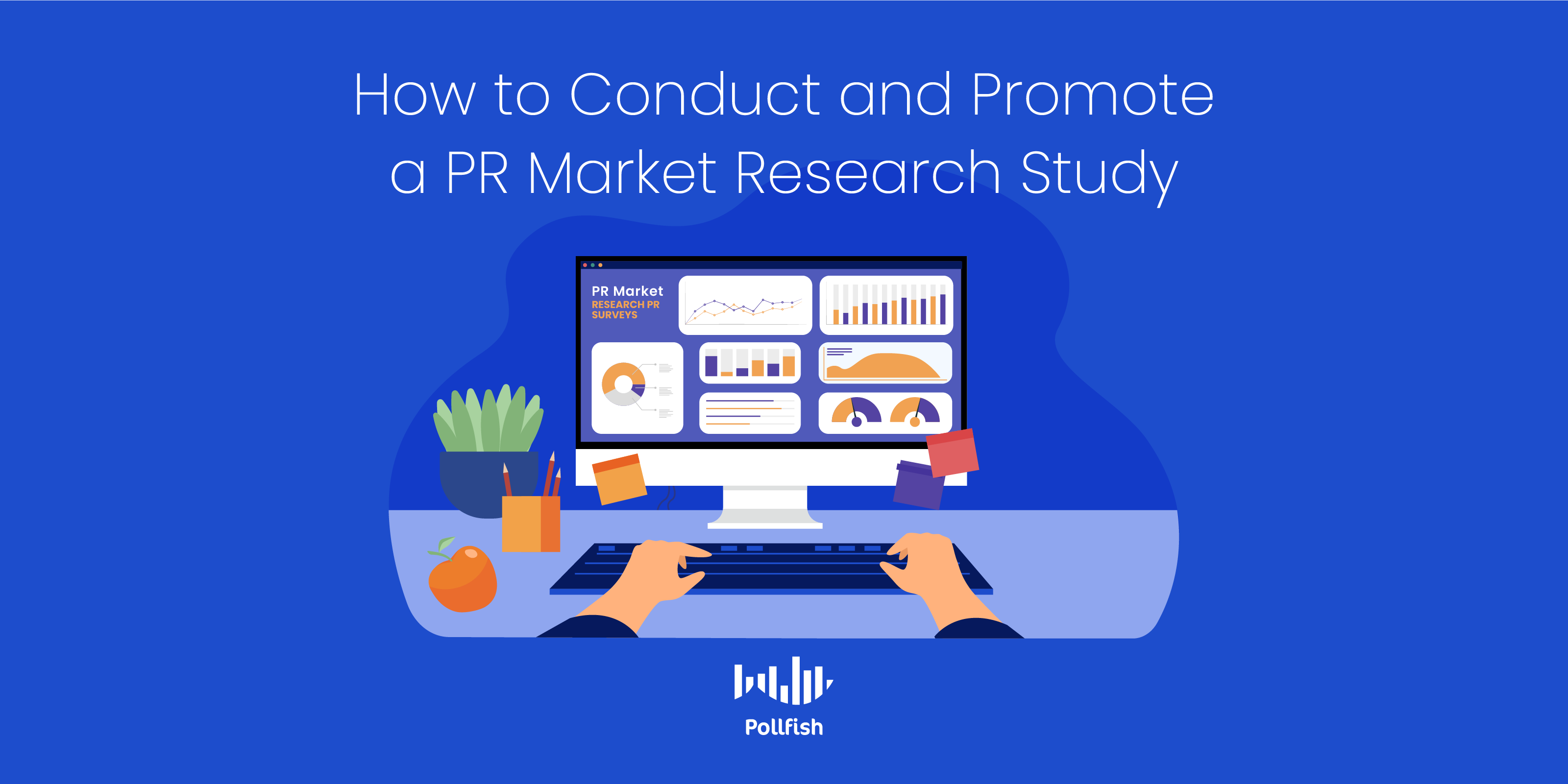 A PR market research study helps you prevent rejections, by testing your post-survey findings via the aforementioned A/B testing and other surveys.  The following provides the steps you ought to take to develop and promote a PR market research study
Find a topic or issue that you would like to study. 

This will serve as the basis of your market research study. Make sure that your topic is culturally and thematically relevant to your industry.

Come up with a few key questions you need answers to, especially as they relate to the topic of your study. These preliminary questions should involve your niche.

Maintain a study topic and questions as original as possible.

You

should attempt to frame them to extract compelling results

, the kind that

sparks media attention.

For example, you can frame your findings as follows: "25% of readers are unhappy with the fashion industry and seek more relatable models." This headline points out a problem, one that your business can potentially fix, which you can include later in your content.

Choose a potent online survey platform and a

survey research method

. 

You ought to opt for a DIY survey, as aforementioned. This will grant you speed to insights and grant you full control over the PR market research study.

Online surveys tend to be a cost-efficient method for running your

business survey

.

Make sure you use the correct survey sampling size.

This will ensure accuracy within your studied population and statistical significance.

The platform you use should assist you with this with a

sample size calculator

. 

Promote your PR survey study. 

You can do so

via direct mail, PR, social media and online advertising to promote the survey for its intended respondents. In order to do this, your survey platform will need to offer the Distribution Link feature, which allows researchers to send individual surveys to specific people

, rather than being mass-deployed. 

You can also advertise the survey on websites, especially those that you would want to publish the survey results.

Consider using

survey incentives

.

These can be either monetary or monetary.

Depending on the online survey platform you use, some incentives may exist within a mobile game or app. As such, the prizes you can award to respondents who complete your survey would exist in their game or app, such as points, lives, extra time, etc. 

Analyze your survey results. 

You can do so by

filtering data

options available on your survey platform.

Do not exaggerate or misuse the findings. Otherwise, your brand will lose credibility and will mar its reputation, since your data will be illegitimate. 

Survey publicity won't work when it misleads or downright lies about results.  

Try to look for interesting results that your industry may not have expected.

Mull over relevant and news-worthy pitch angles and headlines. 

Write an outline of your story with your headlines in mind.

Write a pitch based on your story content. Consider two or more versions of it.

Run another survey to see which version your respondents find the most interesting and compelling.

Make sure your survey doesn't have duplicative information. 

Conduct secondary research to assure your competitors haven't released similar findings and stories

. These won't generate demand from media outlets or readership. 

If your survey resembles a competitor's, conduct another one that is either more in-depth, or covers another topic. 

Contact the media.

Have a list of media contacts you'd ideally like to get in touch with to publish your findings and/or their PR assets.

Provide a high-level description of your study survey so that they open your email pitch. 

Ask if they are interested in surveys and if they prefer to see the raw results or your writeup of them.

Highlight the main points in your pitch. 

Summarize a few key findings that deal with a specific business issue is a favorable approach for increasing your chances of landing media coverage. 

Don't put off reporters by sending raw data.

However, some outlets may require submitting the complete survey data for review.

Keep product promotion to a minimum if you must mention it at all. 

Pitches that are overly self-promotional are unlikely to convince journalists to use your pitch.

Lead your story with an unexpected statistic, even if it doesn't fully bolster the sponsor's key message. 

Include promotional content further down in the news release.

Take part in as many other promotional activities as possible.

Doing so will generate attention, brand awareness, interest and leads.  

Write an op-ed; this kind of asset has the prowess of swaying opinions. In addition, there are online media channels that distribute op-eds. 

Blog about the findings/ PR asset on your website.

Create social media posts touting your findings. 

Reach out to social media influencers to post about your results. You should ask them to link to your blog, op-ed or other PR content asset.
Meeting All PR Expectations
You can meet all of your PR expectations by conducting a PR market research study. Such a study will grant you unique insights you can use to churn out PR content and learn which kind of stories and assets resonate with respondents the most. 
In order to adequately run this kind of study, you'll need to use the proper online survey platform. While there are many such survey platforms, choose the one that offers the most capabilities.
For example, you ought to use the kind that operates on random device engagement (RDE) sampling, allowing you to reach respondents in their natural digital environments, which reduces various kinds of survey bias. 
You should also opt for an online survey platform that implements artificial intelligence and machine learning to disqualify survey fraud and poor-quality data and provides a mobile-first approach design.
An online survey tool with these functionalities will allow you to carry out all PR market research studies and other market research campaigns, at speed and at scale.  
---
Do you want to distribute your survey? Pollfish offers you access to millions of targeted consumers to get survey responses from $0.95 per complete. Launch your survey today.
Get started